Winds of change blow through UK's world of gardening
India-origin landscape designer appointed royal horticultural society envoy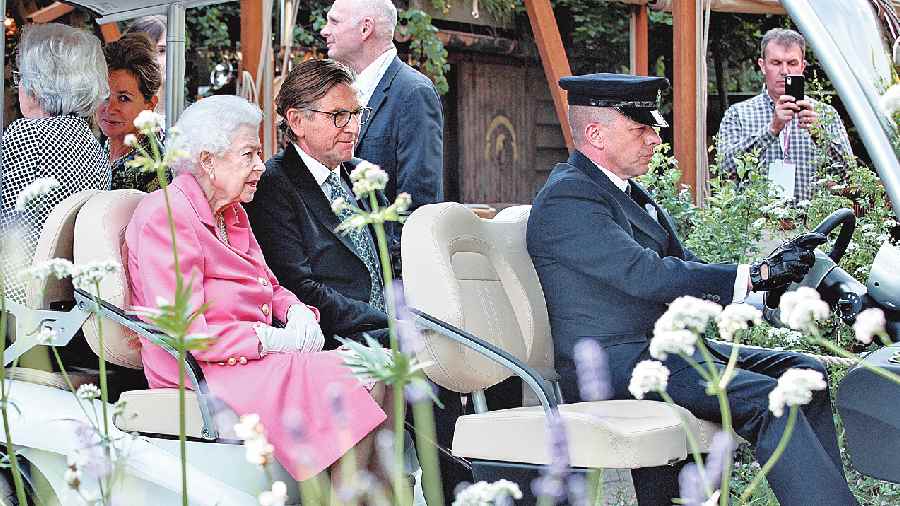 Queen Elizabeth arrives at the Chelsea Flower Show in London in a specially adapted golf cart.
Picture credit: RHS / Luke MacGregor
---
London
|
Published 25.05.22, 01:00 AM
|
---
The Queen, who is 96 and has "mobility issues", was shown round the Chelsea Flower Show on Monday evening in a specially adapted golf cart and admired the floral tributes to mark her Platinum Jubilee in the 70th year of her reign.
One thing that has not changed is the Chelsea Flower Show, generally acknowledged as being the world's premier event of its kind.
The Queen is a patron of the Royal Horticultural Society, which was established in 1804 and has run the Chelsea Flower Show in its present location since 1912.
The UK has some 30 million gardeners, among them Indians, but few have joined the RHS which has 600,000 members. And that is the problem.
Discounting the security guards and serving staff in the cafes, there are very few non-white faces to be seen at the Chelsea Flower Show, which, like most RHS events, is seen as the exclusive preserve of the English upper and middle classes.
The RHS, which recognises it has had a problem reflecting wider society, has just appointed Manoj Malde, an Indian landscape designer who was born in Mombasa in Kenya into the Gujarati Oshwal community and came to London as a four-year-old in 1973,  as its ambassador with a remit to boost its "inclusivity".
As the Queen toured the Chelsea Flower Show surrounded by English roses, the RHS announced that "Manoj will help the RHS open its doors wider and be more accessible for all".
"I want people from certainly from my cultural background, my heritage, but also other cultural backgrounds to partake in gardening and shows like this," said Malde.
He had told the RHS: "Your gardens are too English."
The RHS does want change but without alienating its hitherto loyal and very English membership. The last thing it would want are culture wars in the world of gardening.
But it is known that ethnic minorities prefer not to buy homes in the countryside where the passion for gardening is fiercest.
On British Asian engagement, he has some ideas: "There are amazing Asian businesses out there. Wouldn't it be lovely to see some of those businesses sponsoring gardens at the show? I would love to see somebody like Tata Steel maybe featuring and sponsoring a garden here."
At home in Brookman's Park in Hertfordshire, Malde cares for his frail, 88yearold mother. "I took her outside in the garden and said, 'Come on, let's plant some chillies.' I think all of that is very therapeutic. I grew peas as well. Actually, I managed to harvest two batches of peas, and cook them that day. It was the most delicious curry that you could have ever tasted. To have fresh vegetables from your garden is lovely. You can grow things like dhaniya  and fenugreek. I would love to get my hands on curry leaves."
For the first time, an Indian food stall, Karma Streeterly, has been allowed to enter the inner sanctum of the Chelsea Flower Show, with chef Nand Kishore Yadav, originally from Patna, dispensing masala dosa and chicken kaathi rolls.
These is also a stall celebrating the Commonwealth Games to be held in Birmingham from July 28 to August 8, with Indian style marigolds and a bat and wickets to signal the women's cricket competition.
Chelsea, coming back to its regular May slot for the first time since 2019, also sees the return of a regular – Christo MckinnonWood, of Wilstone, a Shropshire firm, who has been to India "50 times", sourcing iron and stone artefacts from Gujarat and Rajasthan.
He travels around India on his three Royal Enfield motorcycles which "my friends there looks after for me".
He hopes to spend October and November in India, urg¬ing locals not to pull down old buildings with intricate carvings.