Strife between Palestinians, Israel widens to the West Bank
Move comes as Israeli airstrikes brought mass evacuations and funerals to Gaza, and as Hamas rockets singed Israeli towns for a fifth consecutive day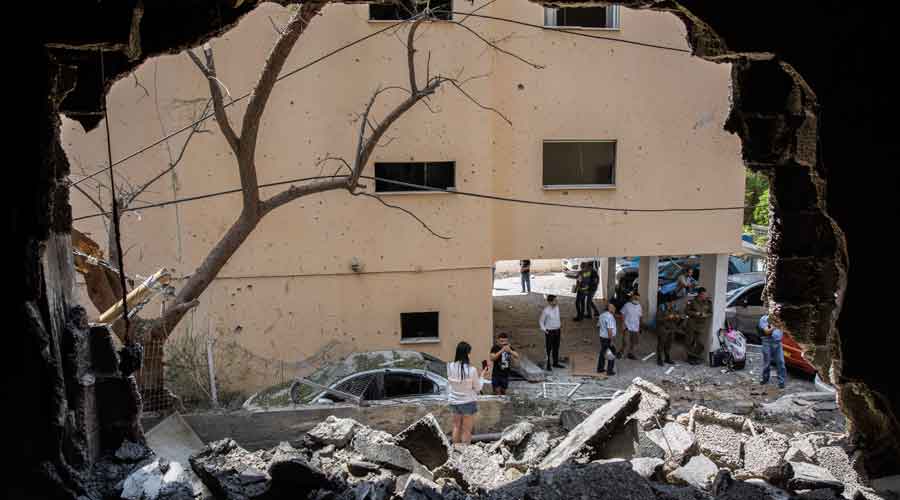 A building hit by a rocket fired from the Gaza Strip in Petah Tikva
NYTNS file picture
---
Cairo
|
Published 16.05.21, 01:18 AM
|
---
Violence between Israelis and Palestinians expanded in new directions on Friday, with deadly clashes convulsing the occupied West Bank and anti-Israeli protests erupting along Israel's borders with two Arab neighbours.
The widening sense of mayhem in Israel and the Palestinian territories came as  Israeli airstrikes brought mass evacuations and funerals to Gaza, and as Hamas rockets singed Israeli towns for a fifth consecutive day.
Hamas and Israeli officials signalled they were open to discussing a ceasefire amid global calls for peace and frantic diplomacy aimed at heading off a further fracturing in one of West Asia's most intractable struggles.
But the violence, which has metastasised with startling velocity compared with previous Israeli-Palestinian conflicts, was finding new footholds and threatening the veneer of Israeli society in ways not seen before.
By Friday evening, Israel faced furious demonstrations in at least 60 places across the West Bank and new protests just across the borders with Jordan and Lebanon, all atop the vigilante violence between Arabs and Jews within Israel, and the continuing battle with Gaza militants.
The Israeli military claimed to have significantly weakened Hamas in its latest offensive by killing dozens of high-ranking commanders and damaging the militant group's tunnels under Gaza.
As Gazans waited to hear what might come next, their misery was deepening: Power was down to five hours a day in some places, and water came out of the pipes only once every few days.
But if the coastal strip's immediate future was murky, the multiplying front lines of the conflict made it even harder to forecast what was next for Israel, where the idea of coexistence between Arabs and Jews, never simple, seemed finally to be cracking.
Mob violence that killed and wounded dozens across Israel over the past few days — apartments and synagogues burned, stones thrown, Jewish vigilantes clashing with Arab rioters — has profoundly shaken the country.
New York Times News Service