Sheikh marriage shakes UK ties
Sheikh Mohammed bin Rashid Al Maktoum is now involved in a quarrel with his youngest wife who is has fled in fear to London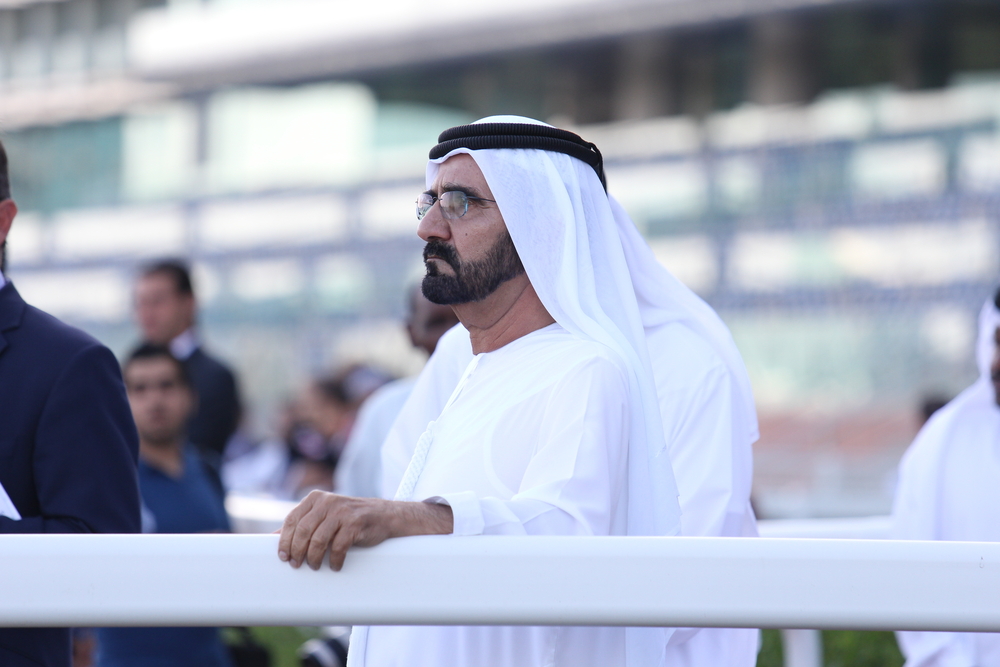 Sheikh Mohammed bin Rashid Al Maktoum (in picture) is a key British ally whom the foreign office in London will be loath to offend. His sixth wife Princess Haya Bint al-Hussein is the half-sister of King Abdullah II of Jordan, an even closer British ally
(Shutterstock)
---
London
|
Published 03.07.19, 09:52 PM
|
---
The wealthy and powerful ruler of Dubai, who managed to get his runaway daughter back from India in controversial circumstances, is now involved in a messy quarrel with his youngest wife who is reported to have fled in fear to London with her two young children.
This has posed a diplomatic headache for Britain since Sheikh Mohammed bin Rashid Al Maktoum, 69, often seen chatting to the Queen at Royal Ascot, is a key British ally whom the foreign office in London will be loath to offend.
But since Princess Haya Bint al-Hussein, 45, is the half-sister of King Abdullah II of Jordan, an even closer British ally, there is no way she can be deported back to Dubai.
Princess Haya, whose father was the late King Hussein of Jordan, is said to be holed up in her £85-million house in Kensington Palace Gardens which she bought from the Indian steel tycoon Lakshmi Mittal two years ago, the Daily Mail reported.
According to the paper, Princess Haya "is reported to have fled the Arab kingdom with £31m to start a new life". She is said to have come via Germany, where she initially sought asylum, and now wants a divorce.
Mittal, who has a 19-bedroom mansion in Kensington Palace Gardens, known as "Billionaire's Row", had apparently bought two nearby properties in the same street for his son and daughter, Aditya and Vanisha, but they live elsewhere with their respective spouses.
The Indian high commissioner's (smaller) residence is on the other side of the road from Mittal's home.
In Britain there will be natural sympathy for Princess Haya, who was educated at Bryanston, a public school in Dorset, and read PPE (philosophy, politics and economics) at Oxford. She became Sheikh Mohammed's sixth wife in 2004.
"The billionaire racehorse owner has launched an unprecedented legal action against his wife Princess Haya in the Family Division of the High Court" in London for the custody of his children, with a hearing set for July 30, the paper said.
According to The Times, London, Sheikh Mohammed has released some verses about his wife's disappearance.
He wrote: "We have an ailment that no medicine can cure."
Another said: "No experts in herbs can remedy this. I have tried and tried again to meet you but my efforts to approach were in vain."
British aristocratic circles will probably be inclined to root for Sheikh Mohammed, owner of Godolphin horseracing stables. The latter are described as "a global thoroughbred breeding and horseracing operation, with first-class stables and stud farms situated in several countries around the world".
But the BBC's security correspondent Frank Gardner posed the very pertinent question: "So what prompted her to flee her luxurious life in Dubai and why is she said to be 'afraid for her life'?"
He said: "Sources close to her have said that Princess Haya had recently discovered disturbing facts behind the mysterious return to Dubai last year of Sheikha Latifa, one of the ruler's daughters. She fled the UAE by sea with the help of a Frenchman but was intercepted by armed men off the coast of India and returned to Dubai."
A source close to Princess Haya told the BBC that "she fears she may now be abducted herself and 'rendered' back to Dubai. The UAE embassy in London has declined to comment on what it says is a personal matter between two individuals."
There has been one report in The Sunday Telegraph that Christian Michel, 57, a British arms consultant, "was handed over to India in an exchange for Princess Sheikha Latifa", who was "intercepted by the India Navy during her attempt to flee the UAE last year".
Radha Stirling, chief executive of the campaign group Detained in Dubai, which follows events in the Gulf state closely, said: "We already know that Princess Latifa, Sheikh Mohammed's daughter, fled the UAE seeking asylum and alleging unspeakable abuse at the hands of her father. Now, it seems, Princess Haya, Sheikh Mohammed's wife, has also fled the country and sought refuge (initially) in Germany.
"Obviously, this raises serious questions as to what prompted her to flee… She is, after all, a free adult woman, and the sister of the King of Jordan; yet apparently, she feels unsafe."
The status of Princess Latifa, 33, is unclear.
Tiina Jauhiainen, of the Free Latifa campaign, commented: "We would urge Princess Haya to use her global power and influence to help free Latifa who is suffering because of her own father's abusive treatment of her. Princess Haya has the chance to help save her life.
"Princess Latifa's life is at stake. She may be a princess, but this is about freedom and equality. Equality, dignity and the right of self-determination for millions of women across the Middle East are at stake."