Shanghai starts China's biggest lockdown since 2020
Two-phased shut down to be used to carry out mass testing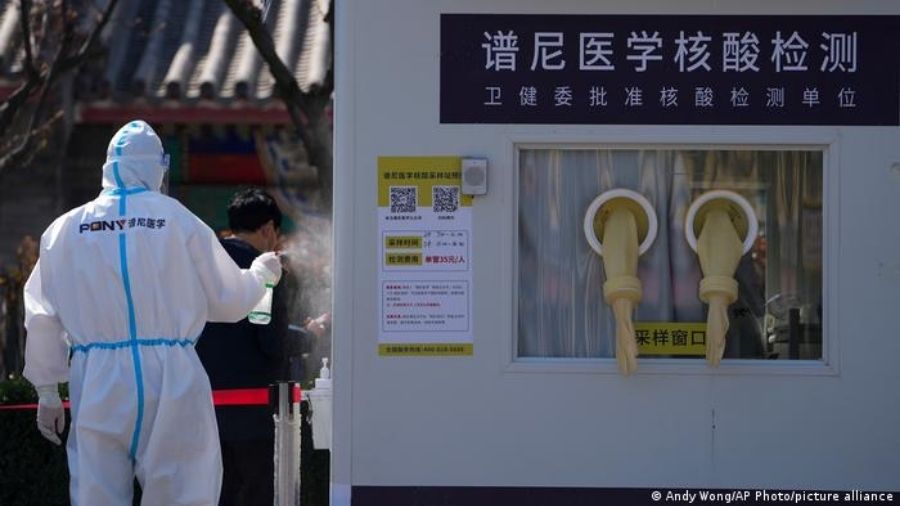 China has begun its biggest lockdown in two years to control an outbreak in Shanghai
Deutsche Welle
---
Shanghai
|
Published 28.03.22, 05:31 PM
|
---
China has imposed a COVID lockdown on half of its largest city and financial capital, Shanghai. Meanwhile, Israeli PM Bennett has tested positive for COVID-19. Follow DW for the latest.
China began its largest coronavirus lockdown in two years, as millions of people in the financial hub of Shanghai are to be confined to their homes starting Monday to curb an ongoing outbreak of COVID-19.
Shanghai, China's largest city with 26 million people, had previously managed smaller outbreaks with limited lockdowns of housing compounds and workplaces. The citywide lockdown will be China's most-extensive since the virus first broke out in Wuhan.
SARS-CoV-2 was first detected in the central city in late 2019, which led to the confinement of its 11 million people for 76 days in early 2020.
Authorities said the two-phase lockdown of Shanghai will be used to carry out mass testing.
In the first phase, the sprawling eastern district known as Pudong has been placed under confinement. The area will remain under lockdown till Friday, after which the more-populated western Puxi section will be placed under lockdown.
They city has seen regular spikes of COVID-19 infections, with another record high of 3,500 cases reported on Monday.
Here are the latest major developments on coronavirus from around the world:
Europe
Germany has recorded around 9,000 politically motivated crimes linked to COVID-19 in 2021, according to the country's Federal Criminal Police Office (BKA).
"A large part of this movement is apparently less about the individual coronavirus measures than the question of whether this constitutional democracy is the right system," BKA President Holger Münch told the German publishing group Redaktionsnetzwerk Deutschland (RND).
Middle East
Israeli Prime Minister Naftali Bennett has tested positive for the coronavirus, his office announced Monday. Bennett's positive test comes soon after he met US Secretary of State Antony Blinken in Jerusalem on Sunday.
The meeting took place on the sidelines of a "historic summit" of Israeli and Arab diplomats. The US State Department has said Blinken will take a coronavirus test.
Bennett's office said he "is feeling well and will continue his schedule as planned from his home."
A recent study from Israel showed that senior citizens who received a second booster of the Pfizer–BioNTech vaccine had a 78% lower rate of mortality from COVID-19, when compared to those who only received one shot.
Clalit Health Services, Israel's largest healthcare provider, said the 40-day study included over half a million people between the ages of 60 and 100.
Asia
Myanmar's detained former leader Aung San Suu Kyi is in quarantine after a member of her staff tested positive for COVID. She missed three days of her trial in a junta court to quarantine.
"Some people in her company have been infected by COVID-19... and so she's kept in quarantine, although she's not infected," AFP reported a source saying. "We are worried because we haven't been able to see her."
South Korea reported a decline in the daily average of new infections last week for the first time in over two months. However, the number of critically ill patients and deaths was likely continue rising amid the omicron-fueled outbreak, officials said Monday.
Last week, South Korea reported an average of about 350,000 new cases, the Korea Disease Control and Prevention Agency (KDCA) said Monday. This was the first drop in the weekly average in 11 weeks, KDCA Commissioner Jeong Eun-kyeong said.