Rishi Sunak: Uproar over assassin tweet
Foreign secretary Liz Truss has so far been happy to allow Dorries to make personal attacks on Rishi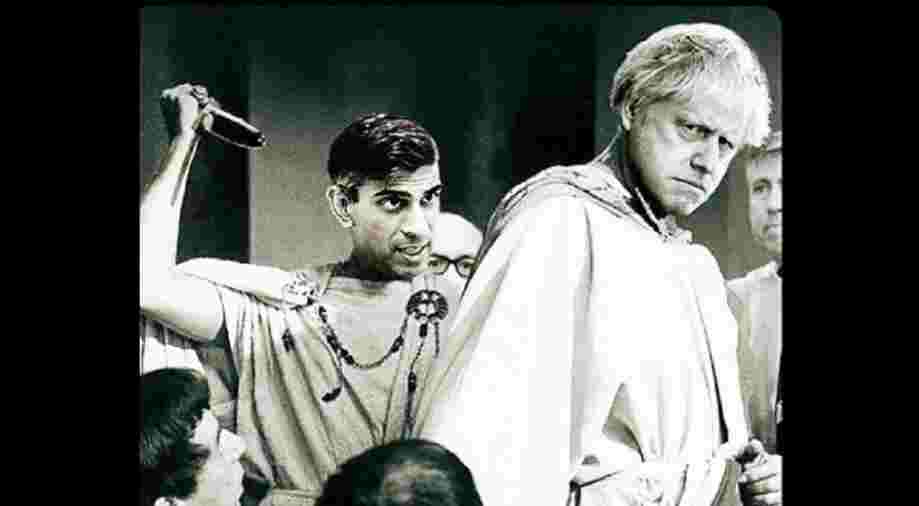 Image uploaded by Nadine Dorries shows Sunak as Casca about to stab Boris Johnson as Julius Ceaser.
Sourced by The Telegraph
---
London
|
Published 02.08.22, 01:56 AM
|
---
In the heat of a Tory leadership battle, politicians make all manner of disparaging comments about their opponents but Nadine Dorries, secretary of state for digital, culture, media and sport since 2021, offended even her own side by retweeting an image of Rishi Sunak as an assassin with a knife about to stab Boris Johnson in the back. "He is running to become PM," it said, adding, "His name is @RishiSunak." The foreign secretary Liz Truss has so far been happy to allow Dorries to make personal attacks on Rishi. In this case, context is everything.
David Amess, Tory MP for Southend West MP, was stabbed more than 20 times in Leigh-on-Sea, Essex, on October 15, 2021, by an Islamic state supporter Ali Harbi Ali. Jo Cox, the Labour MP for Batley, West Yorkshire, was fatally shot and stabbed multiple times in the street by Thomas Mair, a man with farRight views, on June 16, 2016. Stephen Timms, then the Labour MP for East Ham in London, survived after being stabbed twice in the stomach by Islamic extremist Roshonara Choudhry on May 16, 2010, while holding surgery.
Dorries, who describes herself as "a Right-wing, working-class Conservative" has attacked Rishi for wearing £500 Prada shoes and a £3,500 bespoke suit. She later conceded she "may have gone slightly over the top". The image she retweeted is taken from the 1953 film, Julius Caesar. Rishi's face has been imposed on that of the American actor Edmond O'Brien, who played Casca  The business minister Greg hands told Sky TV: "I'm sure Liz Truss would disown this kind of behaviour. I think this is appalling.… I do find it distasteful."
The Wales secretary, Robert Buckland, who is also backing Sunak, told BBC Radio Wales that the "sort of imagery and narrative is not just incendiary, it's wrong". Simon Hoare, the chair of the Northern Ireland select committee, tweeted that it was "utterly, utterly tasteless. Crass and tasteless".
An ally of Dorries defended her: "It's quite obviously a satirical image of Brutus and Caesar which has been clearly Photoshopped to provide political commentary…. Some people, of course, will want to be wilfully offended." But Dorries has made her own side uncomfortable. For example, the work and pensions secretary, Therese Coffey, said: "Well, I wouldn't have done it. I've made her aware that many colleagues were upset by it." Asked whether he was a "backstabber" on BBC Radio 4 on Monday, Rishi would not comment specifically on "what others are choosing to say".
He said: "I will tackle the broader claim that they (the accusations) relate to because I do think there is a risk that people are looking at the last few months of the government with slightly rose-tinted glasses about what it was really like. "Because it wasn't working as it should, and crucially the government found itself on the wrong side of a very serious ethical issue, and, for me, also going down the wrong economic path, and that's why in the end more than 60 MPs at the last count, I think, resigned from the government, of which I, after a lot of deliberation and months of standing by the PM, was one of them."
His campaign was buoyed by a new video released on Monday by William Hague in which the former Tory leader and the foreign secretary said: "I want to address my fellow Conservative Party members directly. "I think about the next Prime Minister sitting late at night in Downing Street, working out how to help people with energy bills, sort out the Northern Ireland Protocol, maintain the unity of the West. The best hope is a highly disciplined, rational individual, one who always does their utmost to understand. "Such a person is a very rare find in British politics. "