Netanyahu spokesperson shares fake video on Twitter
The footage where Palestinian militants in the Gaza Strip appear to launch rocket attacks at Israelis dates back to 2018, and not even from Gaza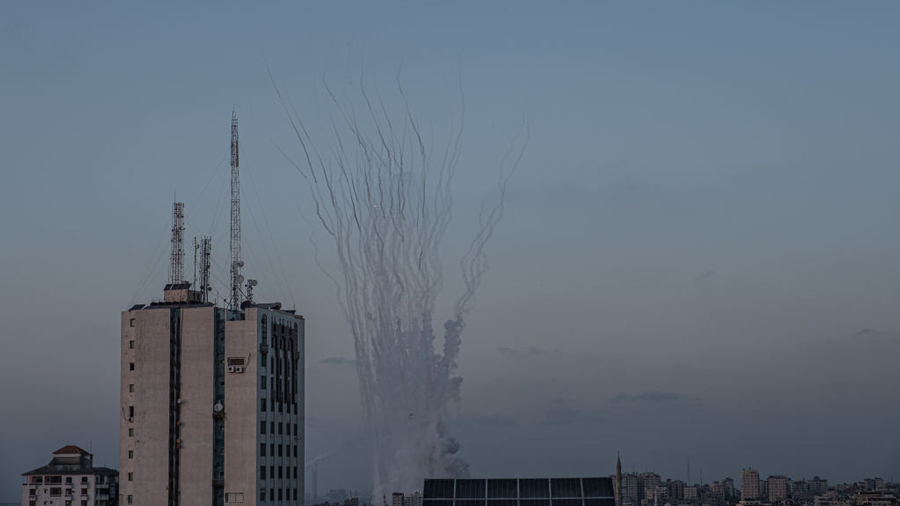 Rockets are launched towards Israel from north Gaza, controlled by the Palestinian Hamas movement, on May 12, 2021 in Gaza City, Gaza. At least three dozen Palestinians and five Israelis have been killed in the cross-border exchange of rockets and aerial bombardment, which followed a series of violent confrontations between Israeli police and Palestinian protesters in East Jerusalem.
Fatima Shbair/Getty Images
---
New York
|
Published 15.05.21, 01:11 AM
|
---
In a 28-second video, which was posted to Twitter this week by a spokesman for Prime Minister Benjamin Netanyahu of Israel, Palestinian militants in the Gaza Strip appeared to launch rocket attacks at Israelis from densely populated civilian areas.
At least that is what Netanyahu's spokesman, Ofir Gendelman, said the video portrayed. But his tweet with the footage, which was shared hundreds of times as the conflict between Palestinians and Israelis escalated, was not from Gaza. It was not even from this week.
Instead, the video that he shared, which can be found on many YouTube channels and other video-hosting sites, was from 2018. And according to captions on older versions of the video, it showed militants firing rockets not from Gaza but from Syria or Libya.
The video was just one piece of misinformation that has circulated on Twitter, TikTok, Facebook, WhatsApp and other social media this week about the rising violence between Israelis and Palestinians, as Israeli military ground forces attacked Gaza early on Friday. The false information has included videos, photos and clips of text purported to be from government officials in the region, with posts baselessly claiming early this week that Israeli soldiers had invaded Gaza, or that Palestinian mobs were about to rampage through sleepy Israeli suburbs.
The lies have been amplified as they have been shared thousands of times on Twitter and Facebook, spreading to WhatsApp and Telegram groups that have thousands of members, according to an analysis by The New York Times. The effect of the misinformation is potentially deadly, disinformation experts said, inflaming tensions between Israelis and Palestinians.
"A lot of it is rumour and broken telephone, but it is being shared right now because people are desperate to share information about the unfolding situation," said Arieh Kovler, a political analyst in Jerusalem.
New York Times News Service