Modi, Trump in West Asia call
The leaders discussed ways to further strengthen the US-India strategic partnership in 2020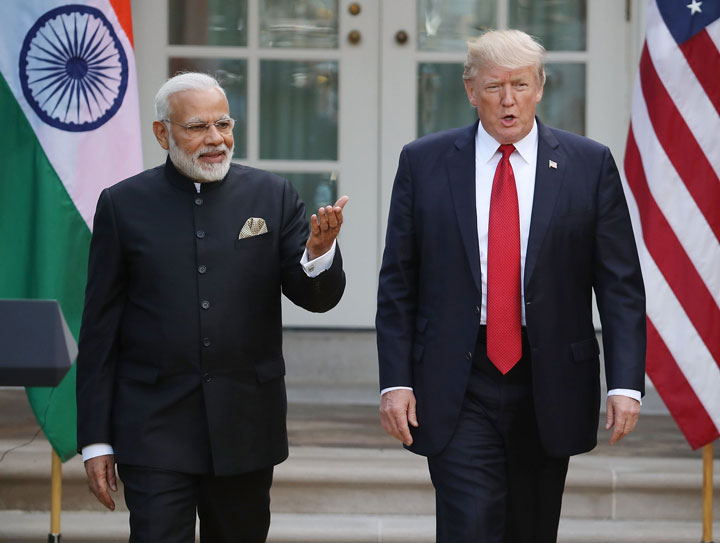 Indian prime minister Narendra Modi and American President Donald Trump during one of their meetings in Washington DC
Shutterstock
---
New Delhi
|
Published 07.01.20, 07:58 PM
|
---
Prime Minister Narendra Modi and US President Donald Trump discussed the situation in West Asia late on Monday night in the wake of senior Iranian military commander Qassem Soleimani's killing in an American drone strike last week.
The White House readout on the conversation — according to reports in the US media — said: "Today, President Donald J. Trump spoke with Prime Minister Narendra Modi of India to exchange New Year's greetings. The leaders discussed ways to further strengthen the United States-India strategic partnership in 2020, and they also reviewed the regional security matters."
The conversation was preceded by a telephonic engagement of foreign minister S. Jaishankar with secretary of state Mike Pompeo on Sunday.
Prior to his conversation with Pompeo, Jaishankar had called up his Iranian counterpart Javad Zarif, the first contact New Delhi had with either capital since tensions escalated following Soleimani's killing on Friday morning.
The Indian readout on the Trump-Modi conversation did not mention regional security matters, dwelling instead on the bilateral relationship that came up during the discussion. "The Prime Minister stated that India-US relations, which are built on trust, mutual respect and understanding, have grown from strength to strength," it said.
"The Prime Minister highlighted the significant progress made in deepening the Strategic Partnership between the two countries in the previous year and expressed his desire to continue to work with President Trump for enhancing cooperation in all areas of mutual interest."
India and the US do not see eye to eye on Iran. Although India stopped importing oil from Iran last month under threat of US sanctions, the two nations have civilisational ties.
and New Delhi continues to view Tehran as an ally in the extended neighbourhood. Also, for India, Pakistan is the source of all terror and not Iran.
New Delhi had advocated restraint after the air strike that killed Soleimani, keen to ensure that the situation did not escalate as that would not only impact oil prices at a time the economy is in slowdown but would also have an adverse effect on the livelihoods of the large number of Indians working in the Gulf.