Mike Pompeo says he listened to Trump call
US policy has been 'about helping Ukrainians get graft out and corruption out'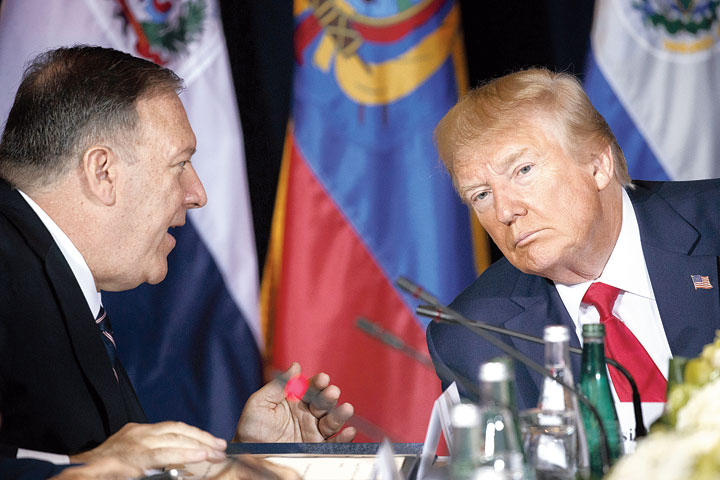 ---
|
Rome
|
Published 02.10.19, 10:33 PM
---
Secretary of state Mike Pompeo confirmed on Wednesday that he had listened in on President Trump's telephone conversation with the president of Ukraine — a call that has become the subject of a whistle-blower's complaint and is at the heart of an impeachment inquiry by House Democrats.
"I was on the phone call," Pompeo said at a news conference in Rome — the first time he has addressed the topic publicly since reports surfaced that he had heard the exchange.
He did not elaborate on what was discussed, but he said that US policy had been "about helping Ukrainians get graft out and corruption out".
In the July 25 call, Trump pressed President Volodymyr Zelensky of Ukraine to investigate the activities in Ukraine of former Vice-President Joseph R. Biden and his son Hunter.
Critics say that Trump suggested, if not explicitly, that American aid was contingent on Ukraine's conducting the investigation and that Trump risked national security and abused his office for political gain.
On Tuesday, Pompeo released a letter that excoriated House Democrats for demanding quick depositions of state department officials involved in policy toward Ukraine, calling it an "act of intimidation" that did not allow his officials sufficient time to respond.
He elaborated on those concerns on Wednesday.
"What we objected to was the demands that were put that deeply violate fundamental principles of separation of powers," Pompeo said. "They contacted state department employees directly, told them not to contact legal counsel at the state department — at least that's been reported to us — told them state department wouldn't be allowed to be present."
Representative Elijah E. Cummings, the chairman of the House Oversight and Reform Committee, accused Pompeo of obstruction.
"In response, Congress may infer from this obstruction that any withheld documents and testimony would reveal information that corroborates the whistle-blower complaint," Cummings said.
In response to Pompeo's letter, he wrote that House Democrats believed Pompeo had an "obvious conflict of interest" because of his presence on Trump's call with Zelensky, and that they would not inform Pompeo about other witnesses.
"The committee may infer that he is trying to cover up illicit activity and misconduct, including by the president," the statement read.
No pressure: Putin
The prospect that Trump solicited Ukraine's help against his potential challenger next year has infuriated Democrats, many of whom blame the loss of the 2016 presidential election on Russian interference. Moscow has denied interfering in that campaign.
On Wednesday, Russian President Vladimir Putin said he saw no evidence of pressure in Trump's July conversation with Zelensky and added that there was nothing wrong with the US President asking for an investigation into potential corruption.
US intelligence agencies and Special Counsel Robert Mueller concluded that Russia interfered in the 2016 election with a scheme of hacking and propaganda to boost the Republican Trump's candidacy and disparage his Democratic opponent Hillary Clinton.
Kurt Volker, who resigned last Friday as Trump's special representative for Ukraine, was scheduled to go to Capitol Hill to give a deposition to House staff.
Marie Yovanovitch, who was US ambassador to Ukraine until she was abruptly recalled in May, has agreed to appear on October 11. In his phone call with Zelenskiy, Trump called Yovanovitch "bad news".