Massacre on Easter in Sri Lanka
Over 200 killed in chain blasts in Sri Lanka churches and hotels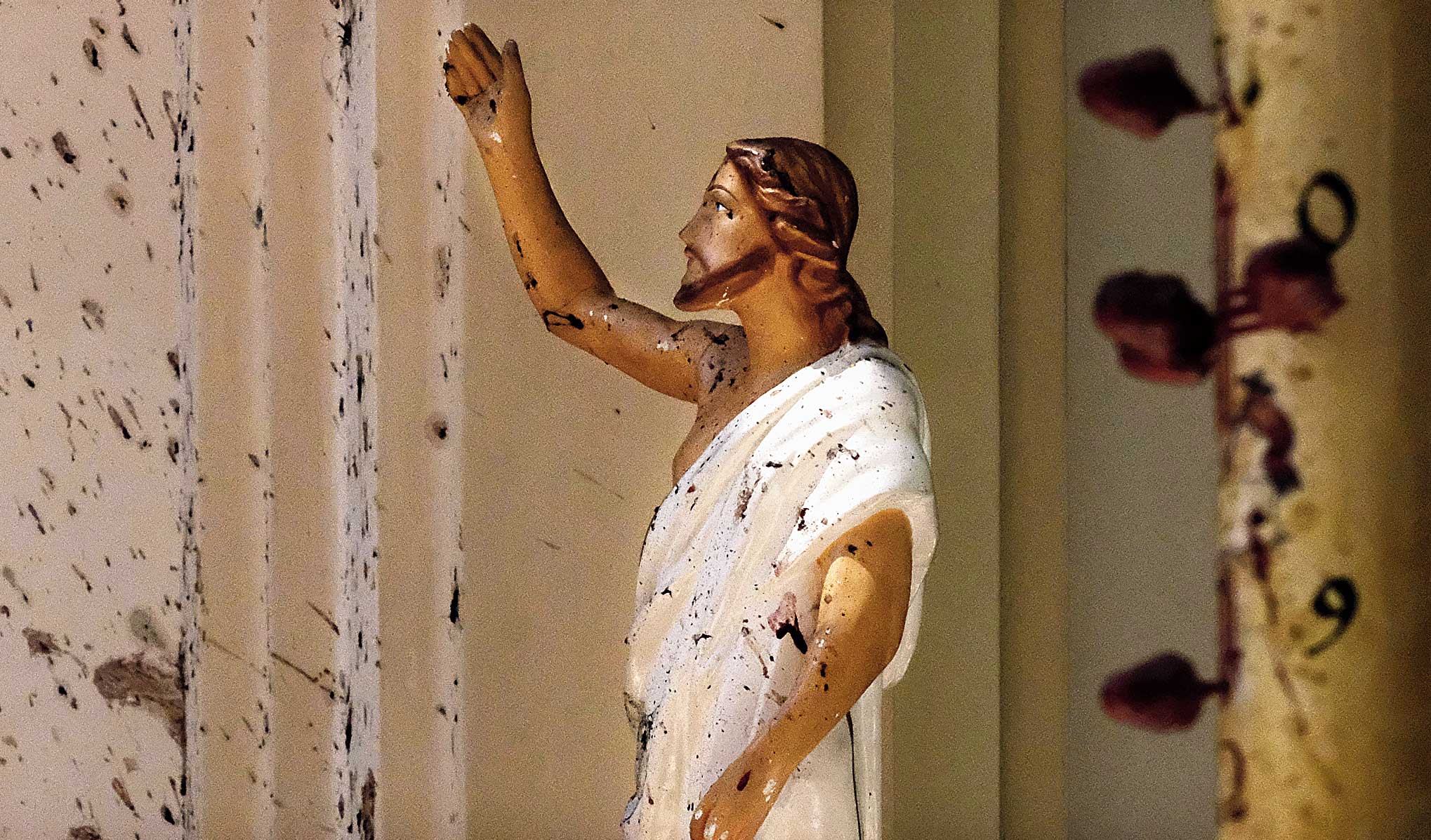 Bloodstains are seen on the wall and on a Jesus Christ statue at the St Sebastian's Church at Negombo, north of Colombo, where dozens were killed.
(PTI)
---
Colombo
|
Published 22.04.19, 12:02 AM
|
---
Over 200 people including three Indians were killed and at least 450 injured as bomb blasts ripped through churches and luxury hotels in Sri Lanka on Easter Sunday, the first major attack on the island nation since a civil war ended 10 years ago.
Seven people were arrested and three police officers killed when security forces raided a house in Colombo hours after the blasts, some of which officials attributed to suicide bombers.
External affairs minister Sushma Swaraj tweeted the names of the dead Indians: Lakshmi, Narayan Chandrashekhar and Ramesh.
"We have information of 207 dead (and) 450 injured people," police said.
Three churches in various parts of the country and four hotels in Colombo were hit. An eighth explosion occurred in the house where the three officers died.
At least 33 of the dead were foreigners, officials said. They included five Britons, several US citizens and three people from Denmark. Media reports said there were also Chinese and Dutch among the dead.
There were no immediate claims of responsibility. News agency AFP said the country's police chief had alerted top officers 10 days ago that suicide bombers from a little-known Islamist group planned to hit "prominent churches". Prime Minister Ranil Wickremesinghe conceded the government had some "prior information of the attack" though ministers were not told.
Local Christian groups said they had been facing increasing intimidation from some extremist Buddhist monks in recent years.
Dozens were killed in the blast at the St Sebastian's Church in Negombo, north of Colombo. Pictures showed bodies on the ground, blood on the church pews and a destroyed roof. Local media reported 25 deaths in an evangelical church in Batticaloa.
The hotels hit in Colombo were the Shangri-La, Kingsbury, Cinnamon Grand and the Tropical Inn.
The first six explosions occurred within a short period in the morning just as church services were starting. One of the blasts was at the St Anthony's Shrine, a Catholic church in Kochchikade, Colombo, a tourist landmark. The explosion at the Tropical Inn happened later.
The government declared a curfew in Colombo and blocked access to social media and messaging sites, including Facebook and WhatsApp.
But in a sign that the attacks could lead to communal violence, police reported on Sunday night that there had been a petrol bomb attack on a mosque in the northwestern district of Puttalum and arson attacks on two shops owned by Muslims in the western district of Kalutara. 
Reuters