Malala portrait with poem in London
The photograph was taken at a sitting in London by Shirin Neshat, an Iranian-born artist and filmmaker.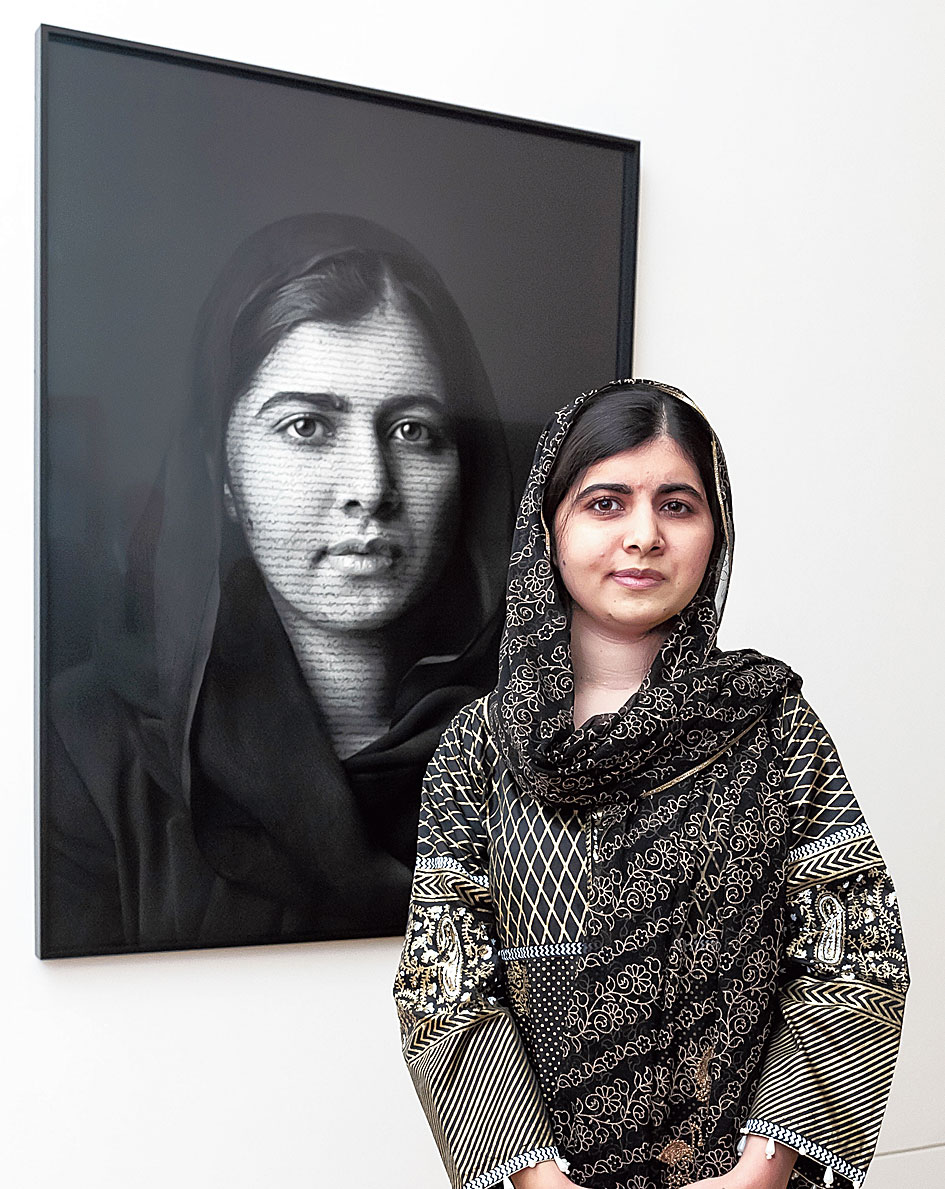 ---
|
London
|
Published 03.10.18, 08:05 PM
---
An unusual portrait of Malala Yousafzai, with a poem written lightly in the Nastaliq script across her face, has gone on display at the National Portrait Gallery in London.
Malala, who is about to begin her second year at Oxford, said: "I am honoured to have my portrait included in the National Portrait Gallery alongside some of Britain's most influential writers, artists and leaders.
"I hope it will remind visitors that girls everywhere are fighting for change in their communities and countries — their stories must also be heard.'
The photograph was taken at a sitting in London by Shirin Neshat, an Iranian-born artist and filmmaker, who introduced the innovation of having the poem by Pushto poet Rahman Shah Sayel written in calligraphy across the image.
The poem, MALALA II, is written in praise of the 21-year-old who is an undergraduate at Lady Margaret Hall where she is reading PPE (philosophy, politics and economics).
The poet has compared Malala Yousafzai to another woman with the same name —the legendary Malala of Maiwand, a "national folk hero of Afghanistan who rallied local fighters against British troops at the 1880 Battle of Maiwand".
Malala, the student, describes herself on Twitter as an "advocate for girls' education and women's equality"; a UN Messenger of Peace, and the founder of the Malala Fund.
Shirin took another photograph of Malala, sitting at a desk, but this will be unveiled in 2020 in Birmingham, where she was brought from Pakistan for life-saving treatment after being shot by the Taliban in 2012, where she subsequently went to school and where her family have now settled.
Shirin said: "I knew of Malala as an extraordinary young woman who had marvelled the world by her victory over death; her fierce fight for women's education and for winning the Nobel Peace Prize, all before she turned twenty years old.
"It was impossible not to feel intimidated … Yet as she arrived at the studio to be photographed, I was immediately taken aback by her timid, gentle and innocent demeanour.
"To this day, when I look back on our encounter, I am left with impressions of humility, wisdom and a rare sense of inner beauty."
Nicholas Cullinan, director of the National Portrait Gallery, commented: "We are delighted to have commissioned these powerful new portraits, which represent an historic coming together of an inspirational and fearless young woman, who has had a profound impact on the education and welfare of girls throughout the world, with a leading international artist known for her unique and pioneering work."