Lonely Queen in Prince Philip adieu
BBC TV cameras did not show the Duke of Edinburgh's coffin being moved after the service had ended to the vault beneath the chapel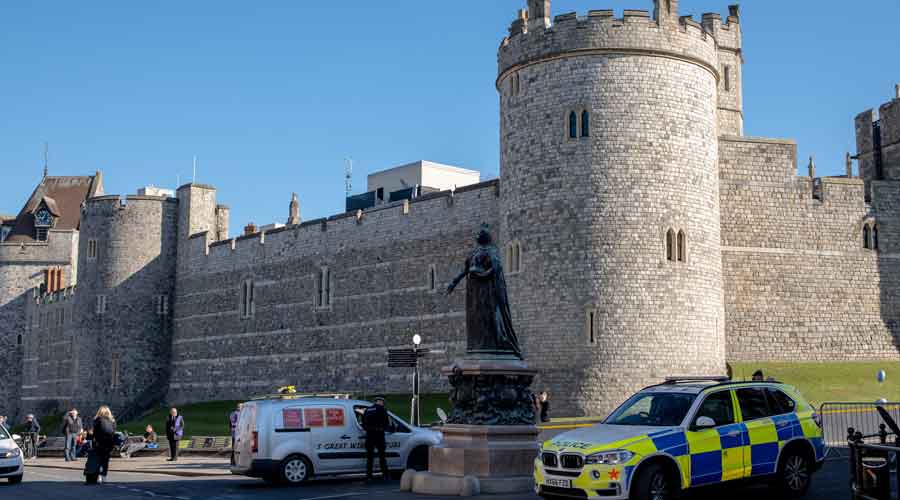 ---
|
London
|
Published 18.04.21, 12:19 AM
---
The Queen, wearing a black mask, cut a lonely and forlorn figure sitting alone by Prince Philip's coffin for his funeral in St George's Chapel in Windsor on Saturday.
She is not normally given to public displays of emotion but as she arrived in a Bentley, the Queen was seen brushing away a tear.
BBC TV cameras did not show the Duke of Edinburgh's coffin being moved after the service had ended to the vault beneath the chapel. But this will not be his final resting place.
Philip died on Friday last week, just two months short of his 100th birthday. The Queen turns 95 on Wednesday. When she passes away, Philip will be transferred to the church's King George VI memorial chapel to lie alongside his wife of 73 years.
As the hour-long service ended, the BBC's main presenter, Hugh Edwards, remarked that the Dean of Windsor, David Conner, "will be comforting the Queen as will other members of the family".
Philip was given a ceremonial funeral, shortened in some ways because of the pandemic, on a beautiful sunny day. On a similar day in May 2018, Prince Harry had married Meghan Markle, Duchess of Sussex.
Then, as during Philip's funeral, Britain was on show to the world. Although Saturday was a family affair, it was also an attempt to shore up the constitutional monarchy, whose long term future has been questioned by many historians.
There was an Indian touch to the funeral service, which was preceded by a nationwide minute's silence. No planes landed or took off at Heathrow for six minutes to coincide with the silence.
Philip's coffin was transported to the chapel within the extensive grounds of Windsor Castle not on a traditional gun carriage but on a customised Land Rover Defender TD5 130, which he had designed himself.
The prestigious company is now in Indian hands, Ratan Tata having bought it in 2008 for $2.3bn. Jaguar Land Rover's chief executive, Thierry Bollore, hailed Philip's "impressive knowledge and deep interest in vehicle design, engineering and manufacturing".
He said: "During his visits to our sites he engaged with hundreds of employees and demonstrated his impressive knowledge and deep interest in vehicle design, engineering and manufacturing."
The coffin was draped in Philip's personal standard, which reflected his Greek origins. On top were his naval cap and sword and a bouquet of white roses and lilies.
The Lad Rover made its way to drum beats, gun salutes and the tolling of bells. In the chapel were nine cushions displaying Philip's many medals, some bearing the word "Empire". They were a throwback to another time.
The Queen restricted the number of guests to 30. The Land Rover was followed on foot by Philip's four children – a tearful Charles,
Anne, Andrew and Edward. His grandsons, Princes William and Harry, who have fallen out over the alleged racist treatment accorded by unidentified members of the Royal household to Meghan, were separated by Peter Phillips, Prince Anne's son from her first marriage.
A Buckingham Palace spokesman said crossly: "This is a funeral and we will not be drawn into those perceptions of drama. The arrangements have been agreed and reflect Her Majesty's wishes."
There was apparently some disagreement over whether Andrew and Harry should wear military uniform. In the end, the Queen settled the matter by deciding the men should all wear morning suits.
Three of Philip's German relatives also attended – Bernhard, the Hereditary Prince of Baden; Donatus, Prince and Landgrave of Hesse; and Prince Philipp of Hohenlohe-Langenburg.
Also there was Countess Mountbatten of Burma, previously known as Lady Romsey and later Lady Brabourne, who was Philip's carriage driving partner and one of his closest friends.
In his commentary, Edwards made a relevant point. Protocol had demanded that Philip always walk behind his Sovereign. But on Saturday, the Queen's Bentley was behind the Land Rover.
"The last journey begins," noted Edwards. "On his final journey the Duke takes precedence for the first and last time."
Meghan could not come from California, where she and Harry now live, because she is expecting her second child. After the service however, Harry was seen chatting to his elder brother and his sister-in-law, Kate.
There was clearly a prior instruction to the BBC that this was above all a day when the Queen was bidding farewell to her husband.
Thus, TV cameras focused on Harry scarcely at all.
Among the 730 members of the armed forces were representatives of the Royal Gurkha Rifles. One of the four regiments which merged to form the Royal Gurkha Rifles in 1994 was the 7th Duke of Edinburgh's Own Gurkha Rifles.
Philip's love of life at sea and his lifelong association with the Royal Navy were honoured in the funeral service. He served with distinction in the Navy during World War Two and once described the sea as "an extraordinary master or mistress" which has "extraordinary moods". He also made two round-the-world voyages in the Royal Yacht Britannia.
Music chosen by him included the hymn, Eternal Father, Strong To Save – traditionally associated with seafarers and the naval services. It has the lines: "O hear us when we cry to thee / For those in peril on the sea."
The Archbishop of Canterbury Justin Welby spoke of Philip's "life of service to the Nation and the Commonwealth".