Kherson civilians told to evacuate city
The announcement followed a plea by the region's Russian-appointed leader for Moscow to assist in relocating residents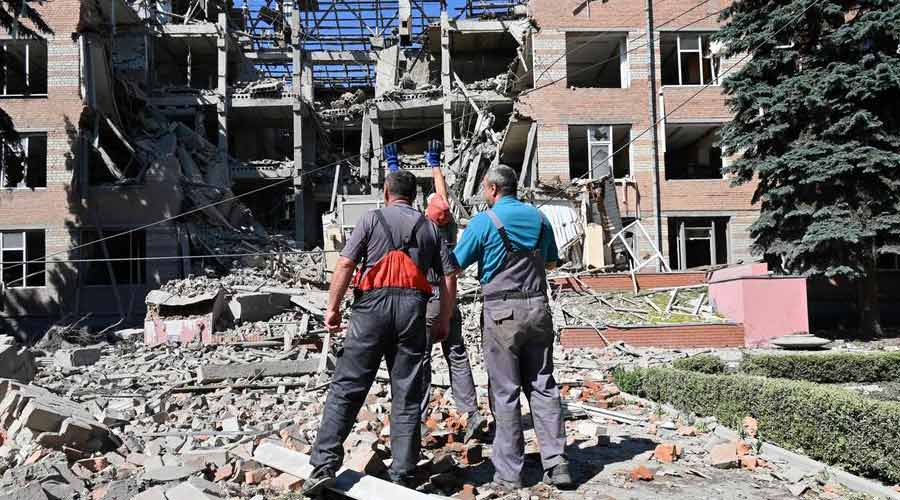 Residents on the west bank of the Dnipro river are a priority for evacuation,
Representational picture
---
New York
|
Published 15.10.22, 12:42 AM
|
---
Civilians in the Russian-occupied Kherson region of Ukraine were being asked to evacuate on Friday, a move that Ukrainian officials called a sign of panic, as Kyiv's forces continued their biggest advance in the south since the war began.
The first civilians fleeing from Kherson were expected to arrive in Russia's Rostov region that borders eastern Ukraine later in the day, according to Russian state news media reports.
Kyiv's forces crashed through Russia's Kherson front line early this month and have continued to make gains as part of an advance toward the city of Kherson itself.
In the past month, Ukraine's forces have retaken more than 600 towns and villages that were under Russian occupation, including 75 in the Kherson region, Ukraine's ministry for reintegration of the temporary occupied territories said in a statement.
On Thursday, Russia made the decision "to organise assistance for the departure of residents" of the Kherson region, Russia's deputy Prime Minister, Marat Khusnullin, said on Russian state television.
The announcement followed a plea by the region's Russian-appointed leader for Moscow to assist in relocating residents.
The official, Volodymyr Saldo, who is viewed as a traitor by the government in Kyiv, said that because of attacks by Ukrainian forces, residents should head to the Crimean Peninsula, which Russian forces have controlled since 2014, or to Russia itself.
Residents on the west bank of the Dnipro river are a priority for evacuation, he said. That area includes the city of Kherson, the only major Ukrainian city captured by Russia. Anton Gerashchenko, an adviser to Ukraine's Interior Ministry, said in a post on Telegram that Saldo's appeal was evidence of panic.
Since Moscow launched its full-scale invasion of Ukraine in February, thousands of people have been detained and deported into Russia from areas of the country that it controls, according to US intelligence assessment. That process is known as filtration.
Thousands of civilians have also fled Kherson in recent weeks and entered territory controlled by Ukraine, often going first to the city of Zaporizhzhia, northeast of Kherson province.
Russian forces have carried out a series of attacks on civilians, with dozens killed in aerial assaults on targets across Ukraine this week. At least 30 people were killed on September 30 in a missile strike on a convoy of vehicles leaving Zaporizhzhia.
Russia says it does not target civilians and has accused Ukraine of hitting civilian targets in areas that it controls. Kherson is one of four Ukrainian provinces that President Vladimir V. Putin said last week were being annexed by Russia. 
New York Times News Service