Khashoggi uproar rattles Saudi royals
Members of ruling family worried about direction of country under MBS leadership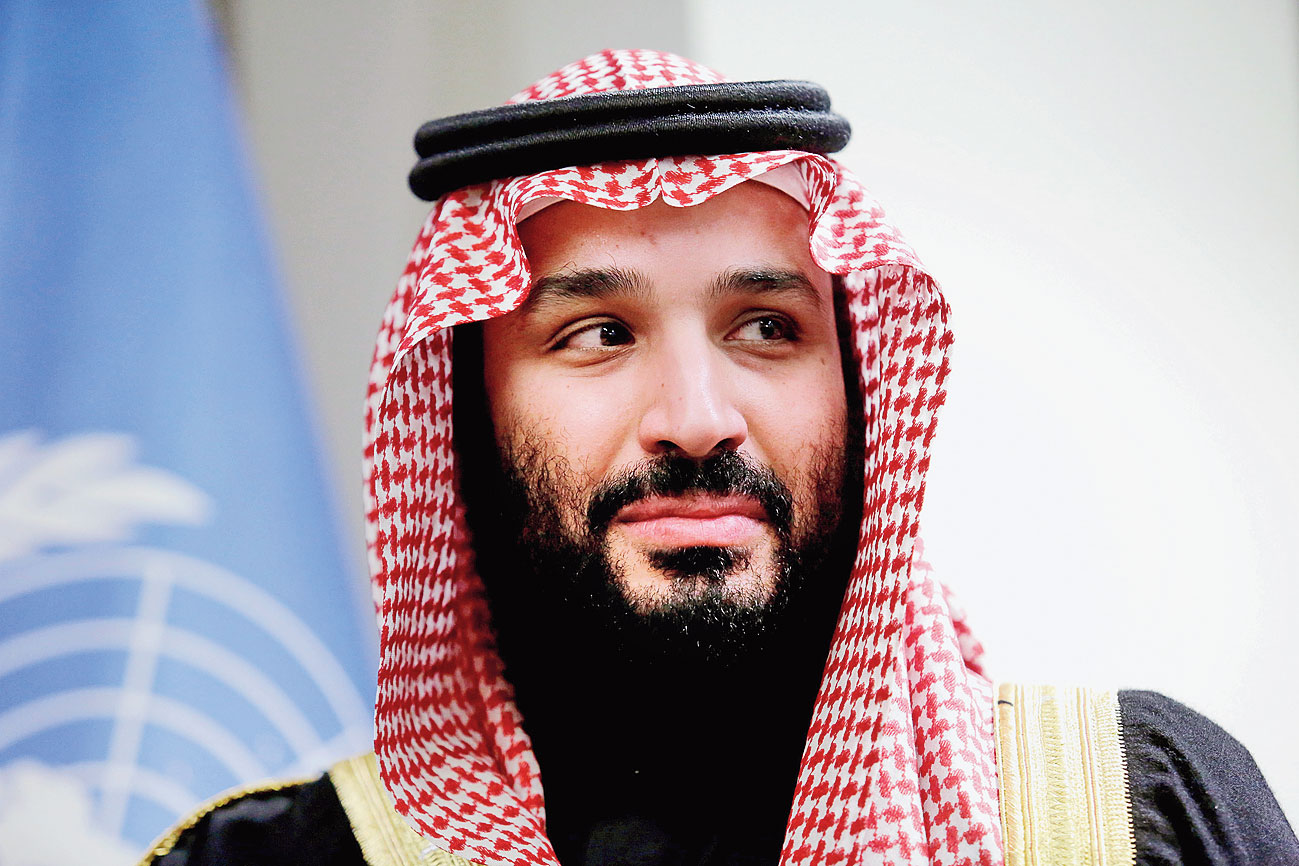 Crown Prince Mohammed bin Salman.
(Reuters)
---
Beirut
|
Published 20.10.18, 07:52 PM
|
---
As international outrage grew at Saudi Arabia over the apparent killing of the Saudi dissident journalist Jamal Khashoggi in Istanbul, an alarmed King Salman dispatched a senior royal to address the matter with Turkey's President.
Prince Khalid al-Faisal returned home from Ankara with a bleak message for the royal family: "It is really difficult to get out of this one," Prince Khalid told relatives after his return, one of those family members recalled this week. "He was really disturbed by it."
Saudi Arabia is facing perhaps its greatest international crisis since the revelation that its citizens planned and carried out the attacks on September 11, 2001.
Members of the ruling family are increasingly worried about the direction of the country under the leadership of Crown Prince Mohammed bin Salman, the 33-year-old favorite son of King Salman and the kingdom's day-to-day ruler.
But unlike 2001, when the royal family came together to protect its collective interests, this time that may not be possible. Instead, there is deep concern, as royals search, so far in vain, for a way to contain the crown prince, who has consolidated power so completely that nearly everyone else is marginalised.
The one person who could intervene is the king himself, but senior princes have found it nearly impossible to bring their concerns to the 82-year-old monarch, and some doubt he is fully aware of what is happening or willing to change course.
"The king has no capacity to handle it," said an employee of a senior prince, speaking on condition of anonymity like others in this article because of fear of repercussions.
Speaking of Crown Prince Mohammed, he said, "He is No. 1 and No. 2."
Since the Saudi state was founded in 1932, the royal family has at times been torn by disagreements, even an assassination. But the thousands of princes and princesses who make up the House of Saud have ultimately found ways to preserve the dynasty. There was simply too much at stake to let family rifts get in the way of lavish lifestyles, exorbitant allowances and unrivalled privileges.
Then came Crown Prince Mohammed — young, brash and eager — who has systematically dismantled the system of consensus that kept the peace for decades.
With all the power in his hands, the crown prince also abandoned the traditional Saudi foreign policy style that used quiet, behind-the-scenes deal making and checkbook diplomacy. Instead, he moved aggressively, launching a disastrous military intervention in Yemen; kidnapping the Lebanese Prime Minister; and rupturing relations with Qatar and Canada. Meanwhile, he marketed a new Saudi Arabia abroad in which a dynamic economy would boom and women would drive.
That pitch won over fans who saw him as exactly the kind of leader the kingdom needed to shake off its conservative past. Among those fans was the Trump administration, which made him the pillar of its West Asia policy.
But his rise irked many of his cousins, who now fear the worst as they helplessly watch the kingdom's reputation become toxic.
Turkish officials have said a 15-member hit team from Saudi Arabia was waiting for Khoshoggi and dismembered him inside the consulate. It seems unlikely that such an operation could have been undertaken without the crown prince's knowledge.
Such a prospect has created something the prince's relatives thought they'd never see: a problem they cannot buy their way out of. And none appear willing or able to match the young prince's Machiavellian tactics.
"They aren't a particularly draconian bunch," said another longtime associate of the royal family, describing the philosophy of some princes as, "We just want to eat burgers and go on foreign holidays."
Associates of the royal family say that senior princes don't have the access to King Salman that they had to previous kings, making it hard to voice concerns. Some princes cannot enter the royal court or the king's palace unless their names have been placed at the door ahead of time, one member of the royal family complained.
Otherwise, they see the king at official events where it is considered bad form to raise thorny issues or they visit him at night when he is playing cards, also a bad time for serious talk. At the same time, Prince Mohammed has been scrambling to mitigate the damage. One western adviser said that even he had been taken aback by the outrage.