Kabul city government's women employees told to stay at home
The decision to prevent most female workers from returning to their jobs is another sign that the Taliban are enforcing their harsh interpretation of Islam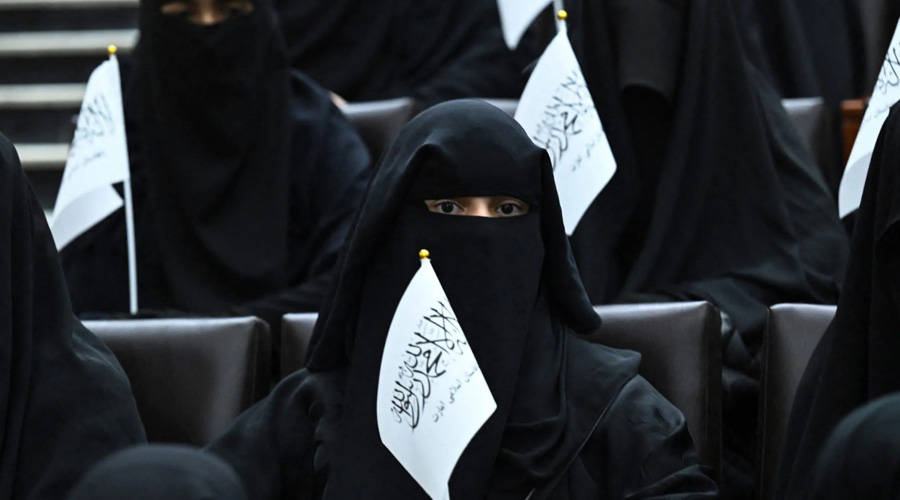 ---
Kabul
|
Published 20.09.21, 12:42 AM
|
---
Female employees in the Kabul city government have been told to stay home, with work only allowed for those who cannot be replaced by men, the interim mayor of Afghanistan's capital said on Sunday, detailing the latest restrictions on women by the new Taliban rulers.
The decision to prevent most female city workers from returning to their jobs is another sign that the Taliban, who overran Kabul last month, are enforcing their harsh interpretation of Islam despite initial promises by some that they would be tolerant and inclusive.
On Sunday, over a dozen women staged a protest outside the ministry, holding up signs calling for the participation of women in public life. "A society in which women are not active is a dead society," one sign read.
The protest lasted for about 10 minutes. After a short verbal confrontation with a man, the women got into cars and left, as the Taliban in two cars observed from nearby. 
Elsewhere in the city, interim Kabul mayor Hamdullah Namony gave his first news conference since being appointed by the Taliban.
He said that before the Taliban takeover last month, just under one-third of close to 3,000 city employees were women, and that they had worked in all departments.
Namony said the female employees had been ordered to stay home, pending a further decision. He said exceptions were made for women who could not be replaced by men, including some in the design and engineering departments and the attendants of public toilets for women.
Namony did not say how many female employees were forced to stay home.
"There are some areas that men can't do it, we have to ask our female staff to fulfil their duties, there is no alternative for it," he said.
IS blast claim
The Islamic State has claimed responsibility for a series of bomb attacks in the city of Jalalabad in eastern Afghanistan, the group's Amaaq News Agency said on its Telegram channel on Sunday.
"More than 35 Taliban militia members were killed or wounded, in a series of explosions that took place," the IS said, referring to blasts on Saturday and Sunday.