India accuses the West of double standard
External affairs minister S. Jaishankar justifies govt's decision to continue business-as-usual with Russia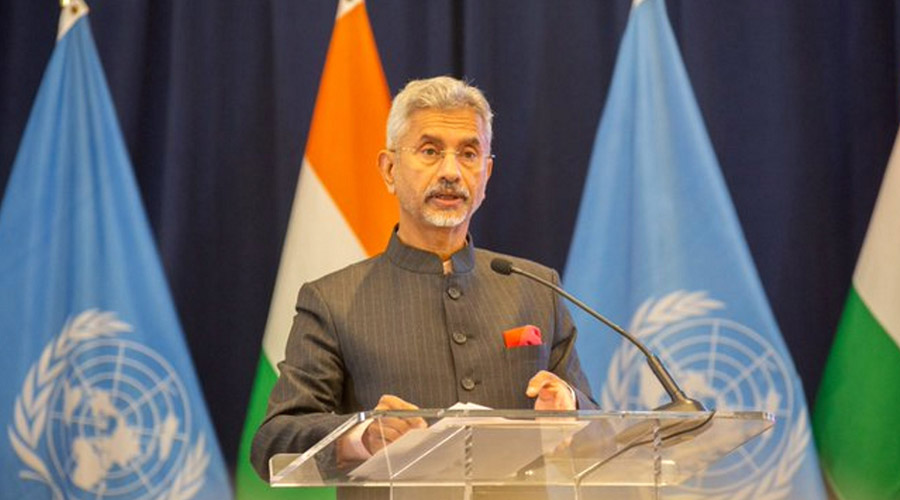 S. Jaishankar
File picture
---
New Delhi
|
Published 11.10.22, 01:33 AM
|
---
External affairs minister S. Jaishankar on Monday called out the double-standards of the West while justifying India's decision to continue as business-as-usual with Russia, underscoring that it is a relationship that has served India well for years when western powers preferred to partner Pakistan.
Jaishankar did not name Pakistan but it was very clear which country he had in mind while responding to a question on whether India planned to rethink its relationship with Russia in view what is going on in Ukraine at a news conference along with his Australian counterpart Penny Wong in Canberra.
"We have really a longstanding relationship with Russia; a relationship that has served our interests well. We have a substantial inventory of Soviet / Russian origin weapons. That inventory actually grew for a variety of reasons: The merits of the weapons systems themselves but also because for multiple decades western countries did not supply weapons to India and in fact saw a military dictatorship next to us as the preferred partner.
"We all in international politics deal with what we have. We make judgements which are reflective of both our future interests as well as our current situation," Jaishankar said in reply to the question which also included a query on whether India planned to scale down its dependency on Russian weapons.
As to how India was likely to vote when a resolution backed by the West to not recognise the annexation of Ukrainian territories is placed before the UN General Assembly later this week, Jaishankar quipped: "As a matter of prudence and policy, we don't predict our votes in advance… ." India had abstained from the vote on the same resolution in the UN Security Council at the end of last month.
He also iterated India's stated position on the conflict. "We have been very clearly against the conflict in Ukraine. We believe that this conflict does not serve the interests of anybody; neither the participants nor the international community. As a country of the global south, we have been seeing first hand how much it has impacted low income countries, the challenges that they are facing in terms of fuel and food and fertilizers. My Prime Minister said a few weeks ago at Samarkand that this is not an era of war. A conflict today in some corner of the world can have a very profound impact on everybody across the world and I think that continues to guide our thinking."
Later in the day, the external affairs ministry once again called for cessation of hostilities after Russia targeted several cities of Ukraine including the capital in retaliation for the attack on a Crimean bridge on Saturday. Expressing concern at the escalation of the conflict in Ukraine including the targeting of infrastructure and civilians – without picking a side -- the ministry underscored that the escalation of hostilities is in no one's interest.
"We urge immediate cessation of hostilities and the urgent return to the path of diplomacy and dialogue. India stands ready to support all such efforts aimed at de-escalation. India has consistently maintained since the beginning of the conflict that the global order is anchored in the principles of the UN Charter, international law and respect for sovereignty and territorial integrity of all states."
Advisory for Indians
In view of the escalation of hostilities, the Indian embassy in Kyiv advised Indians to avoid all non-essential travel to and within Ukraine. Those in Ukraine have been advised to follow the safety and security guidelines issued by the Ukrainian government and also keep the mission informed about their whereabouts.