Dozen 'runners' in race to succeed May
Boris Johnson is the bookmakers favourite with Sajid Javid close behind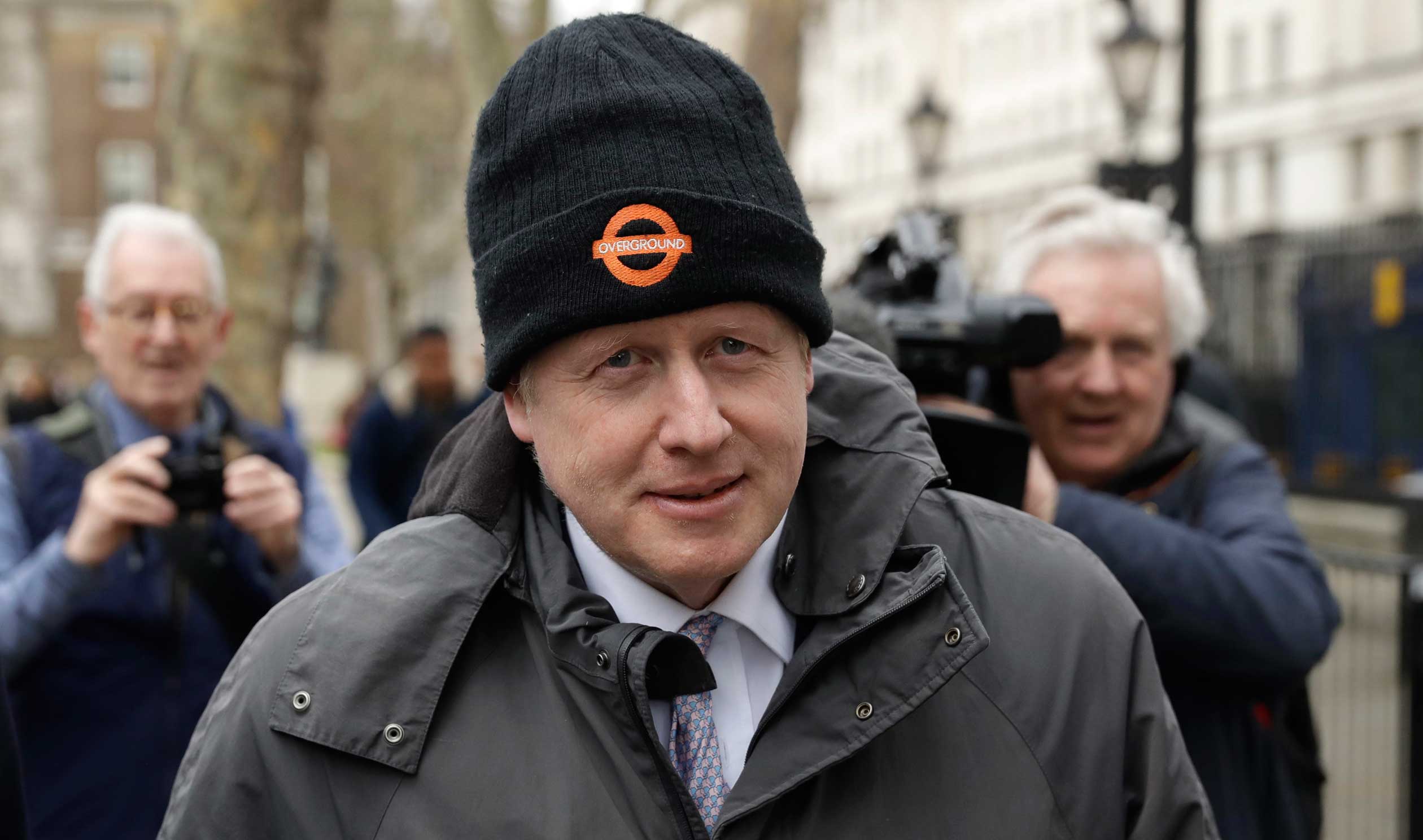 Boris Johnson, Britain's former foreign secretary, outside the Cabinet Office in London, on March 19, 2019.
(AP)
---
London
|
Published 28.03.19, 07:35 PM
|
---
In theory the UK should be leaving the EU on March 29 but the midnight hour will come and go without a resolution of the nation's post-Brexit tryst with destiny.
However, now that Theresa May confirmed to her backbench Tory MPs on Wednesday that she will step down as Prime Minister once her Brexit deal is ratified by the Commons, the starting gun has been fired in the race to decide who will succeed her as the next Conservative Party leader.
May told her MPs: "I know there is a desire for a new approach — and new leadership — in the second phase of the Brexit negotiations and I won't stand in the way of that."
Friday's page one headline in the Daily Telegraph summed up her predicament: "May falls on her sword."
There are about a dozen "runners and riders", with Daily Telegraph columnist and former foreign secretary Boris Johnson, an ardent Brexiteer, being made the favourite at 6-1 by bookmakers William Hill. Others put his chances at 4-1.
There is just as much interest in his personal life because Johnson, 54, currently going through a divorce from wife, Marina Wheeler, 55, has been spotted around town wining and dining his girlfriend, Carrie Symonds, a former Tory party functionary.
For example, he was photographed "celebrating her 31st birthday with close friends at Mamma Mia, an Italian restaurant in East Sheen, the south London district she grew up in". The Pakistani-origin home secretary, Sajid Javid, is tipped at 9-1.
There is no Indian candidate because Priti Patel, the very pro-Modi former international development secretary, lost her job in November 2017 and is currently in the political wilderness. Perhaps Johnson will bring her back into the cabinet if he becomes Prime Minister.
Others in the running include the Jeremy Hunt (10-1), who succeeded Johnson as foreign secretary; Penny Mordaunt (33-1), who replaced Priti as international development secretary; the environment secretary Michael Gove (also 6-1), who stabbed Johnson in the front during the last leadership battle in 2016 after David Cameron stepped down; two former Brexit secretaries, David Davies (33-1) and Dominic Raab (12-1); the work and pensions secretary Amber Rudd (20-1), who used to be married to the late food critic A A Gill, until he dumped her for a young blonde (much as Johnson has done); and the leader of the Commons, Andrea Leadsom (20-1), who has three children and who said in 2016 that May could not be a good Prime Minister because she had no kids of her own (she apologised for the gaffe).
Only two candidates will be picked by Tory MPs, with the decision on leader settled by a national ballot of party members. Johnson can be reasonably confident of winning if his is one of the two names. His messy love life does not appear to have harmed his chances.
There is still no indication what kind of Brexit will finally emerge. On Wednesday, the Commons failed to find a compromise around which all MPs could unite. The speaker John Bercow picked eight out of 15 motions submitted by MPs but in the voting that took place — exceptionally by paper ballot and not going through the division lobbies – all were rejected.
The Guardian summed up the ensuing chaos as: "No, no, no, no, no, no, no, no."
On Monday, MPs will have another go at reaching a compromise. The closest result was a commitment for the government to negotiate a "permanent and comprehensive UK-wide customs union with the EU" in any Brexit deal. Put forward by the pro-EU Tory veteran Ken Clarke and others, it was voted down by 272 votes to 264.
However, if the UK remains part of the customs union, it will not be allowed to sign free trade agreements with other countries, such as the US, China and India.
May, who remains Prime Minister for the time being, hopes to bring back her deal for a third vote even though it was rejected previously by margins of 230 and 149 respectively.
The speaker has said he will not allow the deal to be brought back for a third time if it remains substantially unchanged.
The legal position is that unless May's withdrawal agreement is passed by MPs by the end of the week, Brexit day is set for April 12. This is the final day on which the UK can set out its next steps to the European Council, if it wishes to be granted a longer extension. If it does not do so, the UK would crash out without a deal.
If May finally gets her deal through parliament the UK will leave on May 22.