Boris rejects Farage 'leave alliance' offer
Farage wants his Brexit Party candidates to have a clear run in up to 150 seats out of 650 where the Tory would stand down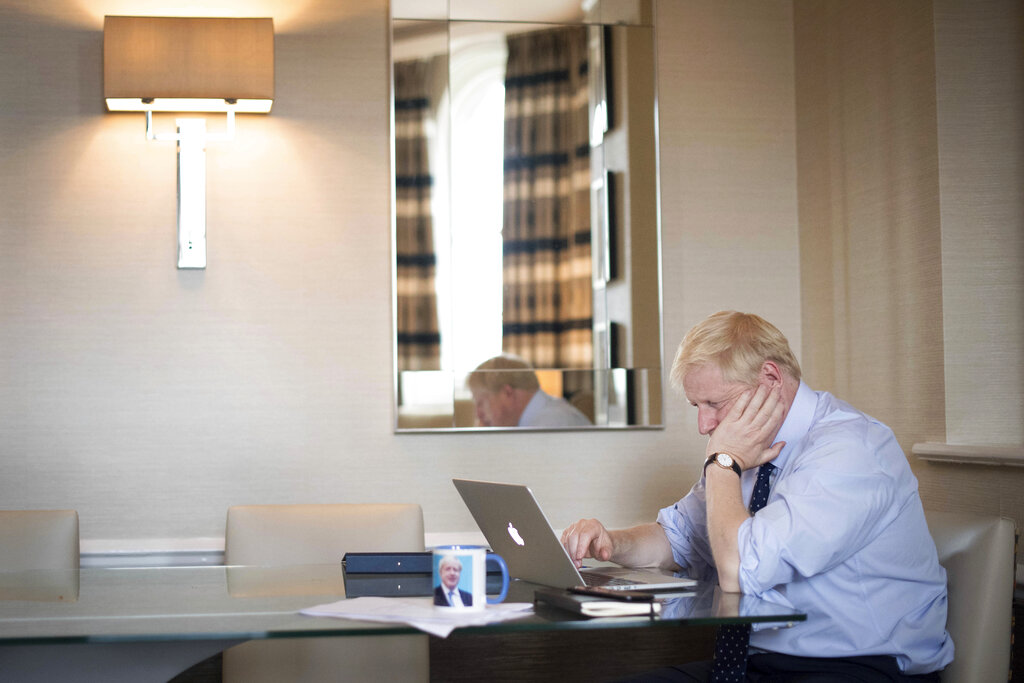 ---
|
London
|
Published 02.11.19, 08:39 PM
---
The British Prime Minister Boris Johnson has rejected an offer from Nigel Farage, leader of the Brexit Party, to form a "leave alliance" ahead of the general election on December 12.
It was not so much an offer as an ultimatum because Farage wants Boris to dump the withdrawal agreement he has negotiated with the EU and instead team up with the Brexit Party in support of a no deal Brexit. His offer of a political romance was spurned by the Prime Minister: "Thanks but no thanks."
However, Farage has warned that unless Boris agrees to his terms by the time nominations close on November 14, the Brexit Party will put up some 500 candidates to contest every seat in England, Scotland and Wales.
Ideally, Farage wants his Brexit Party candidates to have a clear run in up to 150 seats out of 650 where the Tory would stand down.
There are those who say that if the pro-leave vote is split between the Tories and the Brexit Party, this will allow the Labour leader Jeremy Corbyn to sneak into 10 Downing Street via the back door.
This is certainly a strong possibility but there is also the prospect that the Brexit Party will also take votes from Labour in many working class constituencies in the north of England.
Warning that a vote for another party increased the likelihood of a Labour government, Boris told Sky News: "I've ruled out a pact with everybody because I don't think it's sensible to do that. We're proud of our beliefs, we're proud of our One Nation Conservatism.
"The only likely consequence of voting for them (other party leaders), rather than for us as Conservatives, is that you are making it more likely that you will get Jeremy Corbyn and Labour and a chaotic constellation of other parties... with nothing but dither and delay."
The Daily Telegraph on Saturday gave space to Farage to repeat his offer: "Drop your dreadful deal, Boris, and in the national interest let's get Brexit done properly.
He declared: "To be returned to Downing Street, Johnson needs to appeal to as many Brexiteers as possible but he has two problems."
Firstly, there is a swathe of those Labour Leave constituencies which for cultural reasons will never vote Tory. Second, his Brexit 'deal' is a disaster."
Farage could drop names: "Worse than that, as Donald Trump told me when I interviewed him on Thursday, it is likely to hinder the
UK's ability to do a trade deal with the US. 'To be honest with you, this deal, under certain aspects of the deal, you can't do it, you can't do it, you can't trade,' Trump said."
Corbyn will be hoping this will be like one of those American movies where a shootout between rival gangs – in this case the Conservative and the Brexit parties – leaves everyone dead.
The Libs Dems, who want to cancel Brexit altogether under new leader Jo Swinson, expect at the very least to be kingmakers. With Tory and Labour defections they now have 20 seats.
Former Tory MP and Times columnist Matthew Parris revealed on Saturday that for the first time he would vote Lib Dem because the Tories were drifting to the far right.
"We will win 150 seats," predicted Dinesh Dhamija, a Lib Dem MEP from London who told The Telegraph that he intended to campaign in marginal seats.
Incidentally, Dhamija, who is chair of the delegation for relations with India in the European Parliament, has met the businesswoman Madi Sharma who organised the recent MEPs' Kashmir visit.
"She invited me and had I gone it would have been an official delegation but the notice was too short for me to go."
But another Lib Dem MEP who did go was Bill Newton Dunn who represents the East Midlands. He has said that Madi is his constituent.
The BBC announced on Friday it would interview him for its flagship Today programme on Saturday but this was abruptly cancelled without explanation. Asked why by The Telegraph, the BBC has not so far responded.