38 people killed in Chinese factory blaze
According to official statement, fire started at around 4pm at Kaixinda Trading, a wholesaler that deals in a range of goods, in Anyang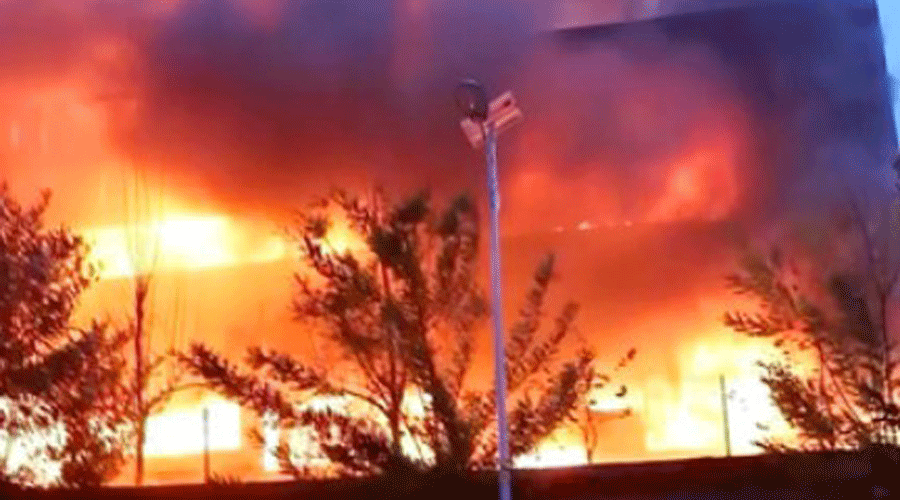 A picture taken from a Chinese CCTV video shows the factory on fire in Anyang, Henan province of China, on Monday.
AP/PTI
---
New York
|
Published 23.11.22, 01:48 AM
|
---
A fire swept through a two-storey factory in central China on Monday, killing 38 people in one of the most deadly fires in the country in recent years.
According to a statement from local officials, the fire started at around 4pm at Kaixinda Trading, a wholesaler that deals in a range of goods, in Anyang, a city in Henan province known as a high-tech development zone that was once an ancient Chinese capital. Teams of rescue workers extinguished the fire by around 11pm, state media reported.
On Tuesday, state media attributed the cause of the fire to electrical welding that violated regulations. In a statement released on Monday, the Anyang police said they had "placed relevant suspects under control."
A video shared by state media showed a bright-orange fire raging at the end of a street, as firefighters fastened a hose onto a fire truck and a column of smoke billowed up.
New York Times News Service
Dams shield Venice from high tide
Venice: A dam system built to protect Venice and its famous Piazza San Marco from flooding withstood the challenge of an exceptionally high tide on Tuesday as heavy rains swept across Italy.
Weather bulletins had forecast a tide of 170 cm for Tuesday — near record levels — raising an alert for flooding that could have left large areas of the city underwater.
However, the Mose, a system of 78 floodgates rising from the Venetian lagoon floor, was activated overnight, shielding the city from the high waters seen at sea.
Locals and a few brave tourists were seen roaming around the city's historic centre.
Reuters