SSC scam probe team alleges links to top brass
Who's Santanu Banerjee, the now axed Trinamul leader ED claims is a kingpin of the SSC scam?
For someone whose official annual earnings are capped at Rs 5 lakh the disproportionality of his assets spread across Hooghly district, as alleged by investigators, is difficult to reconcile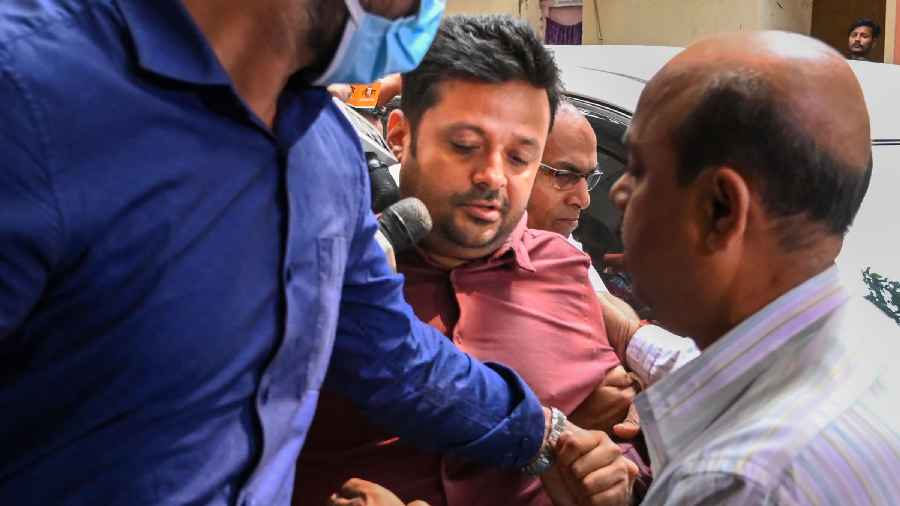 Expelled Trinamul Congress Youth leader Shantanu Banerjee (red shirt) being produced before court in the last week after being arrested by the ED in connection with the teachers recruitment scam
PTI picture
---
Calcutta
|
Published 14.03.23, 08:39 PM
|
---
Picture this: A black SUV comes to a halt in front of the West Bengal State Electricity Distribution Company's Somrabazar customer care centre of Balagarh in Hooghly. Out comes a stubble-faced man in his 30s, flanked by two bodyguards and a couple of followers. The man heads straight into the office and, after spending about 30 minutes or so inside, comes out and leaves the premises in a jiffy just as he had arrived.
The regulars in the crowded office den of Balagarh hardly bat an eyelid, since they are quite familiar with these 'occasional visits' of the man. His official designation with the state-owned company: Senior Technical Support Hand. His salary: A modest Rs 35K – 40K a month, stopped since February this year for reasons undisclosed.
But Santanu Banerjee's familiarity in the area is without question. His once-a-month occasional visits to work, though not unnoticed, was ignored by co-workers. For they are bereft of a choice. After all, one hardly has the wherewithal to take on the Youth President of the ruling Trinamul Congress in Hooghly or question his gross professional indiscipline, that too in his own stronghold.
On Tuesday, Banerjee, along with his alleged partner in crime, Kuntal Ghosh, were expelled from his party. The Enforcement Directorate, probing the state-wide recruitment scam cases, arrested Banerjee last week for his suspected key role in not only running a racket of fraudulent appointments through the state School Service Commissions but also fixing the bribe rates for undeserving candidates at various levels of recruitment. Ghosh was also arrested by the ED on similar grounds in January this year.
For someone whose official earnings are capped at Rs 5 lakh annually the disproportionality of Banerjee's assets spread across Hooghly district, as claimed by investigators, is difficult to reconcile.  An 1800-square foot flat in Chinsurah, a three-storey apartment in Bandel, a swanky roadside dhaba-cum-hookah bar on the Balagarh-Assam Road in Jirat and a luxury guest house opposite to that property, a holiday resort and luxury cars are among assets Banerjee allegedly owns, though not directly.
The ED has already summoned Banerjee's wife, Priyanka, to come this week and explain the source of funds for these assets, some of which are registered in her name. The duo allegedly also ran multiple companies whose financial credibility are under the ED scanner as well. A real estate company, registered in the name of Banerjee's son, was also operated by the suspect for real estate developments in Balagarh and Chinsurah areas.
The meteoric rise of Santanu Banerjee from rags to riches, though not in a positive sense of the phrase, took place over a period of just eight years, the ED claims. In court, the investigators branded the accused as the "mastermind" of the state's recruitment corruption who received a kickback of no less than Rs 20 crores from a scam on which the Directorate now puts a figure of "at least Rs 350 crore".
Banerjee's humble beginnings can be traced back to a rag-tag mobile phone repairing shop at the Jirat bus stand where he worked as a mechanic while, simultaneously, remaining active in students' politics in colleges in the area.
In 2008 Banerjee, who never cleared the undergraduate level, was recruited as a technical hand in the state power supply concern to support skilled electrical technicians on the field to address supply snags. The job was offered to him on compassionate grounds after the demise of his father who worked in the same office as a head clerk. Old timers at the department confirm that in the beginning Banerjee carried ladders and other equipment to assist the skilled technicians in their job.
It was around that time that Banerjee was appointed the president of Trrinamul Chhatra Parishad's Balagarh block following his role at a local student body elections which pleased his party bosses. In less than a decade, Banerjee rose to the position of the Trinamul youth president of Hooghly district. With the Trinamul in state power since 2011, Banerjee's political clout in the region was, more often than not, greater than some of the senior most elected representatives of the party, insiders say.
In 2018, Banerjee won the zilla parishad elections unopposed and was appointed 'karmadhakshya' of the state public health engineering department.
"Santanu always had the blessings of the party's top brass. He had access which very few leaders in the district had. Now that things are coming out in the open after his arrest, we are shocked at the span of financial gains he may have made from corruption," said a former youth leader of TMC, requesting anonymity.
Manoranjan Byapari, the party's MLA from Balagarh, said: "I never received any help from Santanu during the 2021 elections. I was told he was planning to jump to the BJP but I have no idea why that didn't happen. I had an open spat with him and his followers after I removed his picture from the premises of the Jirat college. His matter is currently under judicial scrutiny. If he is innocent, let him come out clean. If he isn't, he deserves to rot in jail."
The ED, which has secured Santanu's custody till 24 March, has submitted before a special Prevention of Money Laundering Act (PMLA) court in Calcutta that investigations have so far has revealed the suspect's connections to certain pre-eminent personalities of the state whose names cannot be disclosed in open court and forensic reports of his mobile phones are expected to reveal more incriminating evidences in connection with the case. The agency claimed that evidence found on the suspect has revealed further involvement of the now-discredited former education minister Partha Chatterjee in the scam.
That begs the question, has the agency found in Banerjee the medium through which it is planning to knock on the doors it wanted to reach right at the start?