Bengal Polls 2021: Narendra Modi reminds Asansol of 2018 riots
The PM also glossed over the fact that turncoat politics has ensured that the politician his party had targeted over the riots is now a BJP candidate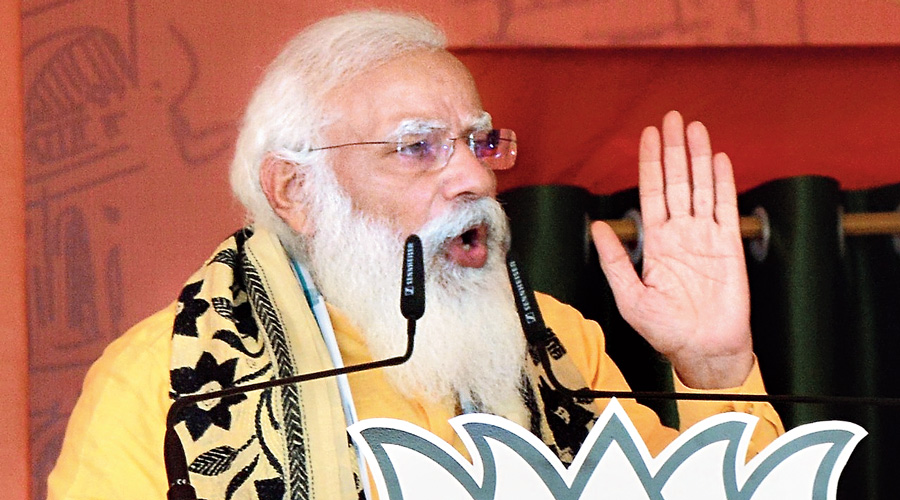 ---
---
Narendra Modi on Saturday reminded Asansol of the riots of 2018, drawing charges that the desperation to win the elections has made him fall back on an ill-concealed polarisation tactic unbecoming of a Prime Minister.
Modi also glossed over the fact that turncoat politics has ensured that the politician his party had targeted over the riots is now a BJP candidate.
Neither did Modi, whose tenure as Gujarat chief minister witnessed one of the worst riots in the country, betray any signs that he was conscious of the irony.
"Do you remember the Ram Navami of three years ago? Who can forget the riots of Asansol-Raniganj? The entire life's earnings of hundreds of people got burnt to ashes in these riots…. The poor were the worst affected. People who had shops on stations and small businessmen," Modi told a rally in West Burdwan.
In 2018, a clash had broken out between two communities over a Ram Navami procession in Raniganj and spread to adjoining areas. At least three persons were killed, including 16-year-old Sitbulla Rashidi, the son of a local Imam, Maulana Imdadul Rashidi.
Although the saffron camp had then blamed the state government for the riots, the administration's prompt action — and an appeal by Rashidi, who had urged people to restore amity and not to avenge his son's death — had brought peace back to the area.
In the 2002 Gujarat communal riots, at least a thousand people, mostly from the minority community, were killed.
Modi, however, said at the meeting in Asansol's Nigha: "Who supported the rioters? Who undertook the policy of appeasement? For whom did the police support the rioters? There is only one answer. Everyone is saying 'because of Didi'."
A local Trinamul leader said: "The BJP had then accused Jitendra Tiwari, the former MLA from Pandaveswar and Asansol's mayor, of being a mute spectator during the riots. Now, he is in their party and he is also a candidate. The people of Bengal will not be fooled by this polarising agenda."