Bengal Polls 2021: Let women poll agents replace cowards, says Didi
The TMC chief's directive came after her party failed to depute the officials in some 28 booths in Nandigram on April 1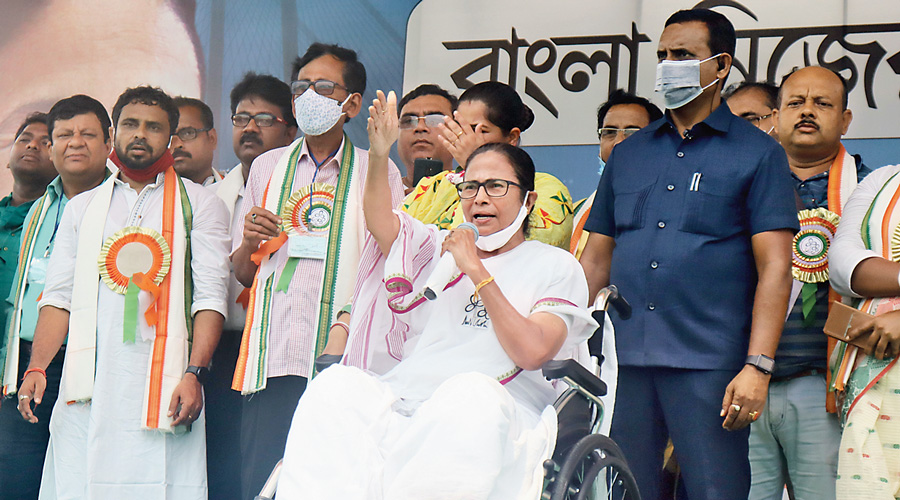 Mamata Banerjee campaigns in Hooghly's Khanakul on Sunday.
Ananda Adhikari
---
Arambagh
|
Published 05.04.21, 01:56 AM
|
---
Chief minister Mamata Banerjee on Sunday asked Trinamul leaders to depute women as polling agents to replace "cowards" who leave booths unguarded on vote day in the face of alleged threats from the BJP.
Her directive came after her party failed to depute polling agents in some 28 polling stations in Nandigram on April 1, where she contested against her former party colleague and BJP leader Suvendu Adhikari in what is being seen as the epic poll battle of 2021.
"I am not ready to listen to excuses like BJP's threats or BJP's attacks for not (someone from Trinamul) being present at the booth on the day of polling. I request those who are not brave, please don't go to the booth. I am asking you (leaders) to depute women as polling agents in a booth. Assign my Kanyashree sisters, my students as polling agents," said Mamata at a rally in Hooghly's Khanakul on Sunday.
"In case the bravehearts are not available, find a woman who can argue, who has the strength and place them as polling agents. Depute the women at booths and I will see who comes to threaten (them)," Mamata said.
Sources said that though Mamata spoke of the BJP's threats, in Nandigram many Trinamul agents were actually hand-in-glove with the BJP, indicating the saffron camp's alleged use of money power.
A polling agent plays a vital role in ensuring fairness inside the booth by objecting to and reporting electoral malpractices. Thus, the absence of a polling agent of a particular party gives an advantage to its rivals.
Trinamul leaders welcomed the suggestion to depute women at polling booths but they also pointed out  that there were not many women who had the experience to handle the job.
"The job is very tough as the agent needs to mark all voters in the list who have cast their votes. We always send experienced persons inside booths. Agents need to be trained about their duties inside the booth. We don't know whether we will get sufficient women to work as polling agents at this eleventh hour. However, we will try," said a senior Trinamul leader in Hooghly.
On Sunday, Mamata asked her party workers at a rally in Howrah's Amta to bring polling agents from other places in keeping with new norms of the Election Commission of India.
The earlier rule of a polling agent having to be a voter of that specific polling station has been amended this time.
The Election Commission this time has ruled a person enrolled as a voter in an Assembly constituency can be a polling agent anywhere in that constituency.
"Those who say that they are afraid, don't allow them to be inside the booth. Now, according to the BJP's wishes the Election Commission has allowed deputing polling agents from other booths, too. Think about it.  You (leaders) have to keep polling agents always in booths in some pockets where the BJP will try to loot the votes," Mamata said at a rally in Howrah's Amta.
The chief minister also spoke about the reason for her going to the polling booth in Nandigram's Boyal on April 1 and staying there for over "three hours".
She said that it was her way to foil the BJP's "plan" to capture 70 booths with the help of the police or BJP supporters in police uniforms.
"They had planned to cast false votes in 70 booths with the help of the police or their (BJP) men in police uniforms. I went and stayed there for three hours. I did not enter inside the booth but waited outside. I know the rule. Let the (Election) Commission send me a notice," said the chief minister at a rally in Baruipur of South 24-Parganas on Sunday.