Two key leaders of the Gorkha National Liberation Front (GNLF), Ajoy Edwards and sitting Darjeeling MLA Neeraj Zimba are locked in a subtle battle for the Darjeeling ticket in the Bengal polls.
The GNLF is an ally of the BJP.
Edwards, GNLF Darjeeling branch committee president, and Zimba, GNLF leader who won the Darjeeling seat on a BJP ticket maintain they would obey the party's decision. But, their social media posts and recent media interactions tell a different story.
Edwards, who has shot to political prominence through his social work right from the Covid-19 lockdown days has stated in his Facebook status: "Not in a Race….Just in Love with my people and my place."
In fact, even Zimba recently acknowledged Edwards's social work and termed him a "socially political leader" while calling himself (Zimba) a hardcore politician.
Zimba is also upfront about his hopes of contesting from Darjeeling in recent media interactions.
"After playing the semi-final, who will play the finals? After scoring a goal in the semi-final, it is not the right system to play another player in the finals," Zimba recently said in Darjeeling, adding that ultimately he would agree with whatever the party decides.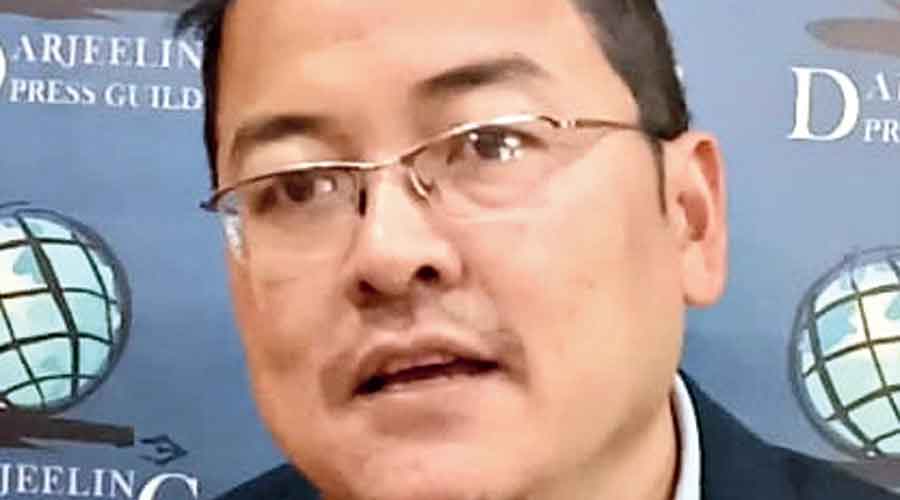 Ajoy Edwards Telegraph picture
In the 2019 Darjeeling Assembly bypoll, Zimba defeated Gorkha Janmukti Morcha leader Binay Tamang who had been supported by Trinamul.
Zimba apparently referred to this win as a "semi-final" and Bengal polls as the finals.
Shadow games between Edwards and Zimba spilled over to some GNLF supporters. "We want Edwards to be the candidate from Darjeeling because we feel he has better chance of winning. Zimba should be given a ticket from Kurseong," said one.
Zimba's supporters maintain there is no reason why the sitting MLA would not win the Darjeeling seat.
While Zimba had to fight on a BJP ticket due to "coalition compulsions" in 2019, some in the party now wants the BJP to support GNLF in Darjeeling.
"We cannot say for other two hill seats, Kalimpong and Kurseong, but in Darjeeling we want our candidate to fight under the GNLF banner and be supported by BJP. Our candidate should not contest under the BJP symbol," said a supporter who believes that the GNLF has become a force to reckon with in Darjeeling.
Query for Bista
Keshav Raj Pokhrel, spokesman, Morcha (Binay camp) on Saturday questioned Darjeeling BJP MP Raju Bista on issues such as tribal status for 11 hill communities and a "permanent political solution" for the region. "Do not eye the GTA but concentrate on your work...Where is the tribal status, where is PPS permanent political solution?" said Pokhrel.
The Binay camp was reacting to Bista's letter to the chief election commissioner, Sunil Arora, to remove "non-elected political nominees" from GTA alleged they were using the hill body to influence voters. Binay camp leader Anit Thapa currently heads GTA.