West Bengal Assembly Elections 2021: Final phase witnesses 80% voting in three rural districts
The seven city seats recorded only 57.53 per cent polling till 5pm, which suggested that the rapid surge in Covid-19 cases kept the voters away from the booths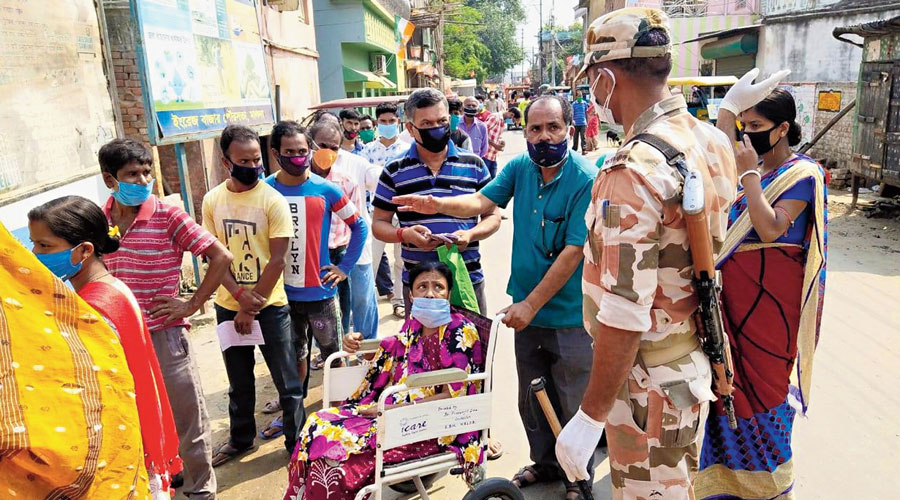 A sick woman being taken to a booth on a wheel-chair in Malda on Thursday.
Soumya De Sarkar
---
Calcutta
|
Published 30.04.21, 01:12 AM
|
---
The eighth and final phase of Bengal Assembly elections in which voting was held in 35 constituencies on Thursday witnessed 76.07 per cent turnout till 5pm, but the polling was less in seven north Calcutta seats.
Sources in the Election Co­mmission of India said Birbhum had recorded 81.87 percent voter turnout till 5pm, followed by Malda with 80.06 percent and Murshidabad with 78.07 percent.
The seven city seats recorded only 57.53 per cent polling till 5pm, which suggested that the rapid surge in Covid-19 cases kept the voters away from the booths. This captured the urban-rural divide in terms of voter turnout.
"Although the polls continued for another one-and-a-half hours, it seems the average voting percentage in seven Assembly segments of north Calcutta would not be close to the average of 64 per cent witnes­sed in previous elections.… Primarily, it appears the pandemic has cast a shadow on voter turnout in Calcutta and its surrounding areas," said a poll panel source.
Although Assembly segment-wise voter turnout in Calcutta was not available till the late evening, sources in the Trinamul Congress said seats like Jorasanko, Shyampukur and Maniktala recorded lower turnout and it would help the ruling party.
"Our booth-level reports from the polling agents suggest people living in high-rises in these areas did not come out to vote. This will work as an advantage for us as majority of the high-rise occupants are non-Bengali voters and they are pro-BJP," said a Trinamul insider.
A poll panel source said there was a reason behind the residents of high-rises turning out in lower numbers. "Calcutta is reporting almost 4,000 Covid-19 cases everyday and 75 per cent of the patients are being reported from high-rises. So, people living in the high rises are afraid of going out to cast their votes," said a source.
Unlike in the past, when poll percentage had occasionally dropped because of violence, Thursday didn't witness any major incident of the kind.
Police and central force ja­w­ans resorted to baton-charge in areas like Tangra and Maniktala in Calcutta to disperse gatherings while there were also reports of crude bombs exploding near Mahajati Sadan in the morning.
The EC, however, said some firecrackers had been burst, which led to panic.
The common factor in the rural districts was that a high polling percentage was reco­rded in minority-dominated areas.
For example, Murshida­b­ad, which has the minority population of about 65 per cent, recorded 78.07 per cent till 5pm.
"Trinamul thinks minority voters back it across the state to prevent the BJP from wresting power in Bengal. It appears Mamata Banerjee's appeal to vote for Trinamul heavily during her visit to Behrampore recently wor­k­ed," said a political observer.
Violent incidents were reported from Domkal, Hariharpara and Ra­ninagar where workers of Trinamul and the Congress-Left combine clashed.
The picture was no different in Malda where 80.06 per cent turnout was reported till 5pm. The contest in Malda is equally interesting as the BJP has been eyeing only four to five seats where Hindu voters are in majority. In the remaining seven-eight seats, the battle was between Trinamul and the Congress-Left combine.
"Here also, the minorities apparently stood behind Trinamul to prevent the BJP. It would be a huge gain for the ruling party as it did not get a single seat from the district in the 2016 Assembly polls," said a source.
In case of Birbhum, where the polling percentage was 81.87 percent, the turnout in minority-dominated areas of Birbhum like Muraroi, Nalhati, Hasan and Nanoor was very high. Although Trinamul had an organisational advantage in the district, police sources said there was an even fight between the BJP and Trinamul for the 11 Assembly segments. "Trinamul left no stone unturned to keep its machinery running in the areas where it has a strong support base. The BJP also tried to organise its machinery in areas with its dominance," said a source.