Bengal polls 2021: Dilip Ghosh's convoy attacked
The BJP state president accused Trinamul of organising the ambush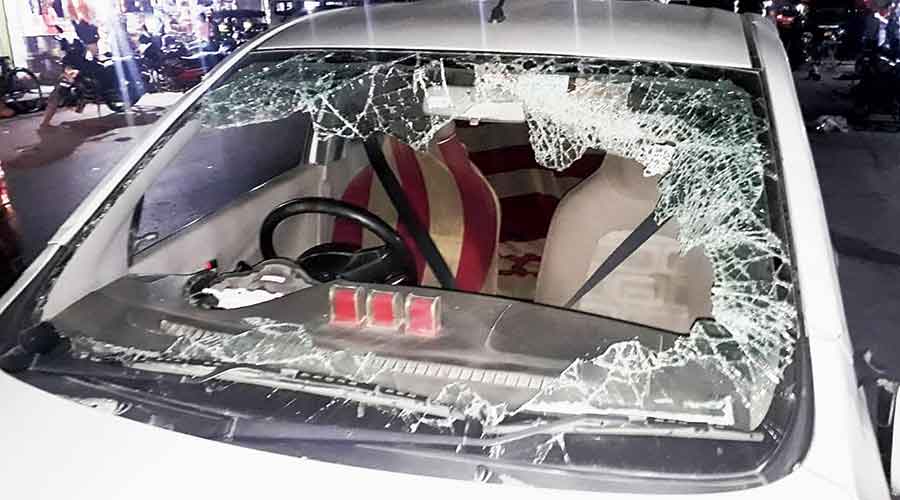 ---
---
The convoy of BJP state president Dilip Ghosh was attacked when he went to Sitalkuchi in Cooch Behar district to campaign for the party's candidate on Wednesday evening.
Ghosh, who suffered injuries to the left hand, has accused Trinamul of organising the attack. He said the attackers had lobbed crude bombs at the convoy and ransacked his car and a number of other vehicles of BJP leaders and workers with iron rods, bricks and stones.
Ghosh went to Gossainhat in Sitalkuchi, the Assembly seat where Barendra Chandra Burman of the BJP is contesting against Partha Pratim Roy, the Cooch Behar district Trinamul chief. Gossainhat is around 60km from Cooch Behar, the district headquarters.
"The public meeting was about to end when 100 to 150 Trinamul supporters carrying party flags started lobbying bombs at the venue. As we left the place, they hurled bombs at my vehicle and ransacked it. Many other vehicles were also ransacked…. I had faced attacks earlier also but today's was the most horrible assault on me. It seems we have to campaign with life in danger," said Ghosh.
"If such a situation persists, we doubt how the elections will be…" he added.
BJP leaders accompanying Ghosh said the situation had turned to such an extent that he had to wear a helmet while sitting in his car to avoid injuries.
Supporters of the BJP and Trinamul clashed at a number of locations in and around Sitalkuchi following the attack on Ghosh.
BJP leaders launched a demonstration at the chief electoral officer's office in Calcutta to protest the attack on Ghosh.
On Thursday — the last day of campaign in Cooch Behar, BJP supporters will demonstrate in all police station areas.
Trinamul leaders denied the charges.
Roy, the district Trinamul president, said BJP supporters had attacked their people when they had gone to attend a public meeting of Mamata Banerjee that was held in Sitalkuchi earlier on Tuesday.
"While they were heading for the meeting, some vehicles were ransacked by BJP supporters. Again, while returning home, an attack was organised which they resisted. Dilip Ghosh could not draw people to his meeting and is now trying to create a false hype in the final hours of the campaign," he said.