Bengal Polls 2021: Development vs identity in Gautam Deb's constituency
Tourism minister seeks a hat-trick in Dabgram-Fulbari in a contest with Trinamul turncoat from BJP and CPM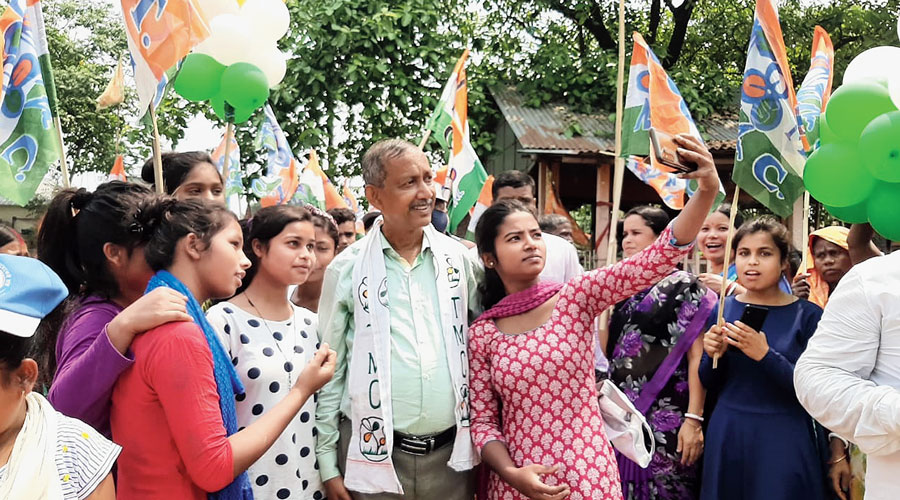 ---
---
Identity politics and development cards are at play in Dabgram-Fulbari, one of the prominent Assembly constituencies in north Bengal.
State tourism minister Gautam Deb, who won the seat twice in 2011 and 2016, is taking on the challenge posed by former Trinamul Congress colleague Sikha Chatterjee. She had left Trinamul and is contesting the polls on BJP ticket. Dilip Singh of the CPM is also in the fray.
As Dabgram-Fulbari near Siliguri goes to the polls on Saturday, The Telegraph underscores the issues which have been highlighted by parties in campaign, the aspirations of local people and the promises made by leaders.
The seat
The Dabgram-Fulbari seat was constituted in the last delimitation and election was held for the first time in 2011. It is spread over 14 wards of the Siliguri Municipal Corporation and four adjoining panchayats of the neighbouring Jalpaiguri district.
There are around 3.09 lakh voters who will exercise their franchise at 435 polling stations. In total, 10 candidates are in fray this time.
Past results
In 2011, Deb could beat Singh, who was the CPM candidate then also, by 11,236 votes. In the 2014 Lok Sabha polls, Trinamul had managed to secure a lead of 4,710 votes from this Assembly segment.
In 2016, Deb doubled his winning margin and had won by 23,811 votes. However, in the 2019 Lok Sabha elections, Trinamul suffered a major setback in Dabgram-Fulbari as BJP managed to secure a lead of 86,117 votes from this Assembly segment.
Issues at play
Like many other parts of north Bengal, identity politics is also being played in Dabgram-Fulbari. Both Trinamul and BJP have focussed on different communities like Rajbanshis, Matuas and non-Bengalis and have played their own cards.
"This is probably the only seat where Trinamul has come up with a parallel phrase of 'Bangla Nijer Meyekei Chay' campaign to draw Rajbanshi votes. Yellow 'gamchas,' a common accessory of Rajbanshis that is also used to greet and honour people, are being randomly used in poll campaigns. In fact, the minister is being seen posting videos in social media where he is addressing the electorate in different languages," said Deepak Dutta, a schoolteacher and a voter of the constituency.
The saffron camp, on the other hand, has taken the task to woo Matuas. Sikha Chatterjee, the candidate, along with a number of state and regional leaders, is being seen moving into areas where the community resides.
Trinamul, however, is no ready to relent, particularly because it is a prestige fight for them as Deb, considered as the tallest Trinamul leader in north Bengal, is the candidate.
"We have come up with specific details of the development works which have been carried out in this constituency. We doubt whether there is any other Assembly seat in north Bengal where the Mamata Banerjee government has spent 664 cores in past 10 years. A number of important infrastructure have come up in the area during this period," said Debasish Pramanik, the Trinamul president of Dabgram-Fulbari unit.Among these are Uttarkanya, the branch secretariat of the state, the Bengal Safari Park, new roads, bridges, marketplaces, fire stations and other facilities.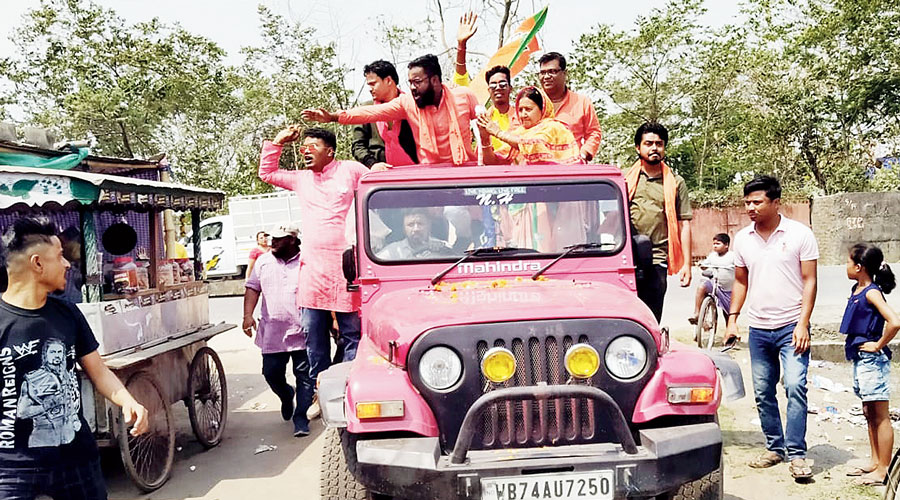 The BJP, on the other hand, is flagging issues like highhandedness of land brokers in different areas of the constituency and highlighting how syndicates backed by the ruling party are active in places like New Jalpaiguri, where the largest railway station of north Bengal is located.
"We are also referring to the recent vandalism at the Inland Container Depot by Trinamul backed miscreants. There are many people who have lost their land in the hands of these brokers," said Sikha, the BJP candidate.
Voters' wish, promises
The constituency is a mixed bag of rural and urban voters. Thus, their aspirations are different. While those dwelling in the municipal wards want improvement of civic amenities in their localities, those living at the panchayats want a separate civic body while highlighting the rapid urbanisation which has taken place in their areas.
"Most of the areas of these four panchayats can no longer be considered as villages. Though these localities still bear the rural tag, there has been rapid urbanisation and hardly a handful of them are dependent on agriculture. That is why we want a separate civic body," said Milan Chhetri, a Salugara resident.
The demand has made the political parties to act and Deb was the first person to confirm that once voted to power, he would strive to see that a municipality is constituted by the state government.
Chatterjee, the BJP candidate, is not behind and confirms that they too have similar plans.
"We would also focus on private investments as there are a number of industrial areas in this constituency. There is a scope to set up new industrial units which can create employment for local youths," she said.