Wedding in December, family forced out of Calcutta home
At a loss in hotel while cash and list of invitees locked in house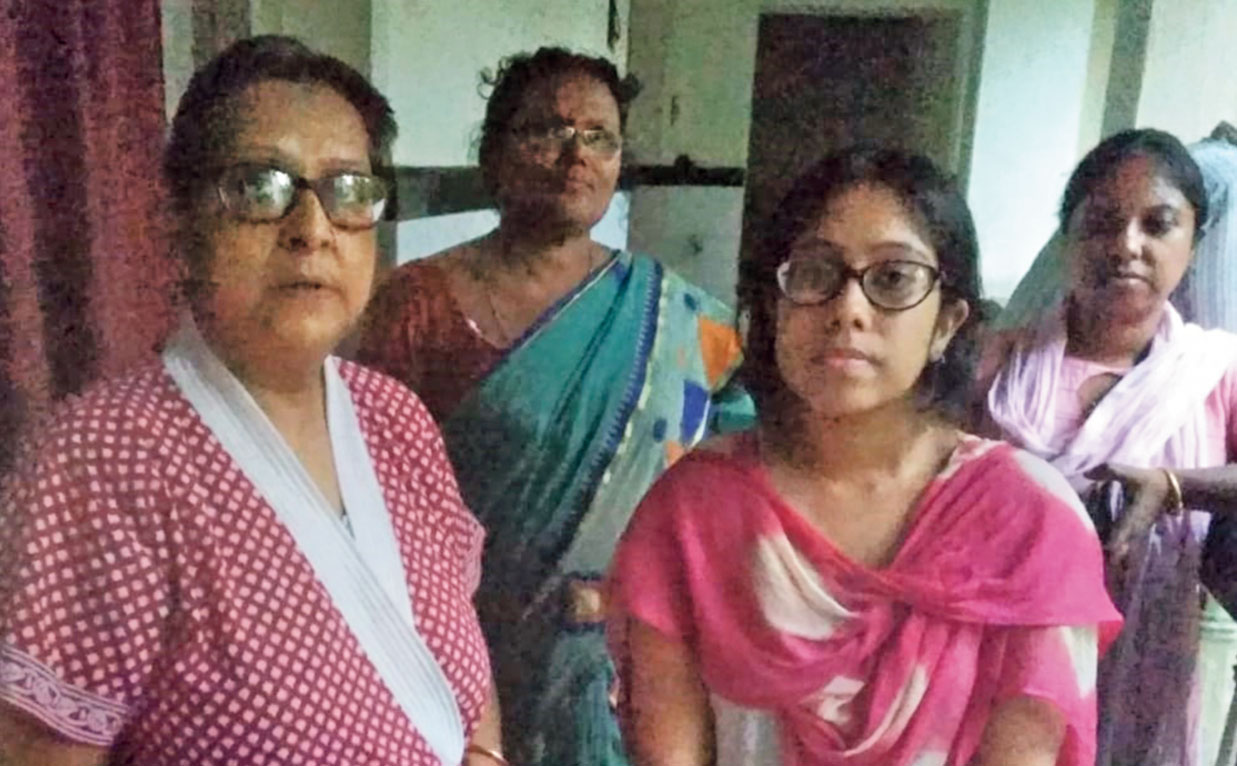 Shila Dey with her daughter Anindita at the Sealdah hotel where they have been staying since moving out of their Bowbazar house on Sunday afternoon.
Picture by Kinsuk Basu
---
Calcutta
|
Published 03.09.19, 10:03 PM
|
---
The Deys of Durga Pituri Lane in Bowbazar were trying to call up a caterer last Sunday afternoon when two policemen turned up at their four-storey house. The family has a wedding scheduled for December and it was time they finalised the menu with the caterer.
But the police would not give them more than five minutes. Several buildings in the neighbourhood had developed cracks and the Deys were asked to evacuate immediately as a precautionary measure.
"We left behind everything, including the Benarasi (sari) I am to wear on the wedding day," said Anindita, a PwC employee. "It's less than three months to my wedding and we are homeless. The police did not even give us the time to pick up clothes."
Anindita and her parents are spending restless days and nights in a Sealdah hotel, worrying over the gold ornaments, documents, identity cards and the cash they had left behind at home. The family had withdrawn the cash to make some advance payments for the wedding.
At least 52 buildings were damaged and more than 500 people had to be evacuated after the machine that was boring the tunnel through which Howrah Maidan-bound trains of East-West Metro will run hit a sand acquifer.
Chief minister Mamata Banerjee on Tuesday announced financial help for the wedding of Trisha Sil, daughter of Jayanta and Sonali Sil of 13A Durga Pituri Lane. The announcement came hours after the house came crashing down. Mamata said the government and the railways would offer Rs 5 lakh each to the family.
Trisha's wedding is scheduled for January 22 and Anindita's for December 1.
"The chief minister should also think about us and my daughter's wedding," said Anindita's mother Shila.
Joined by some relatives in the hotel room, the family wondered where the ceremony would be held if their house was pulled down.
As for now, they are desperate to bring back the valuables from their house.
"Our is a 250-year-old house. No cracks have appeared.... We badly need to visit the house at least for an hour to collect the items without which we cannot live," Shila said. "Even if we don't get any help like the Sils, the government can at least allow us to enter the building once."
The groom's family has got in touch with the Deys and assured them that nothing would come in the way of the wedding.
Anindita is not being able to attend office because she lacks a change of clothes. Asit, her father, has not slept for two days. "We know one thing for sure. The wedding cannot be held in this small hotel room," Anindita said.