Vow to shun IndiGo over Kamra ban
The sisters were at Calcutta Book Fair to listen to a panel discussion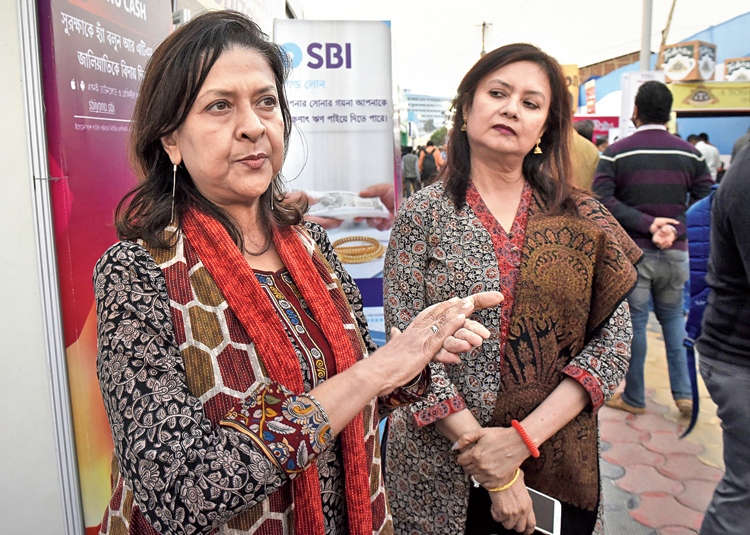 Sumava Paul and (right) Sutapa Ghosh at the book fair on Tuesday.
Pictures by Sanat Kumar Sinha
---
Calcutta
|
Published 04.02.20, 08:38 PM
|
---
Two sisters have decided against flying IndiGo because "the only way to make a business learn is to make them feel the pinch".
Sutapa Ghosh from Virginia, US, and Somava Paul from Salt Lake said it was "their contribution" to the protest against the airline's high-handedness, revealed in its ban on stand-up comedian Kunal Kamra for six months.
IndiGo took the decision following Kamra's onboard incident with television anchor Arnab Goswami last week.
The sisters were at Calcutta Book Fair to listen to a panel discussion where one of the speakers was actress Swara Bhaskar.
The women took a cue from film director Anurag Kashyap, who has decided not to fly IndiGo because he thinks the ban on Kamra was "unreasonable".
"Anurag Kashyap decided not to fly IndiGo. I have decided not to buy IndiGo tickets. I have told my husband not to buy IndiGo tickets. This is our contribution to a protest…. These people who show us the way… unless they (the airline) feel the pinch, the business never learns," said Sutapa, a clinical psychologist who also works on human rights.
Younger sister Somava echoed her: "Money is important, so let them feel it… all citizens should teach them a lesson by not boarding their flight."
Somava, who works with an author, said she would not fly IndiGo unless the ban on Kamra was withdrawn. "But it has to spread among all people and at all levels. If the two of us don't fly IndiGo, it won't make a difference to the airline. If a lot of people decide to reject the airline, it will make a difference," she said.
The women said common people felt encouraged when celebrities from all fields, not just the film industry, joined a protest. "They show us the way. We learn from them. When we see them, we learn that we can join a protest march," said Somava.
Kashyap, who was in town on Monday to open a film fest, had told Metro that he had to wake up at 4am and reach the city seven hours before the programme because he had decided against flying IndiGo to voice his protest over the Kamra incident. "…as I wanted to register my dissent, I thought I would not fly IndiGo," he had said.
Air India, SpiceJet and GoAir, too, have banned Kamra.