BJP 'shield' in wall protest
Locals, students and traders point at the violation of Tagore principle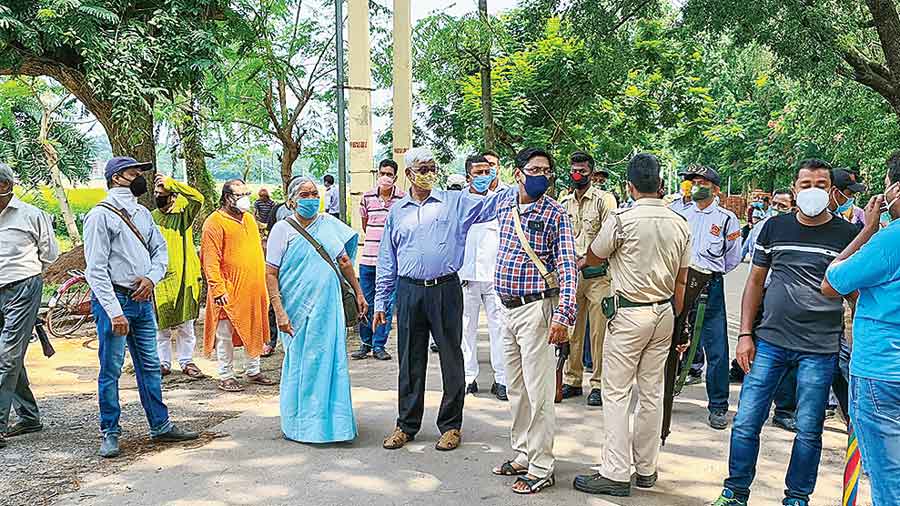 ---
---
Visva-Bharati authorities on Sunday allegedly roped in BJP workers, along with over 150 staff and teachers, as a "shield" against a protest by residents, traders and students against a proposed boundary wall for the Pous Mela ground, violating Covid-19 protocols.
Visva-Bharati officials, sources said, have taken up the initiative to put up walls around its land and Pous Mela ground is a part of it. Some Rs 70 lakh have been sanctioned from the Santiniketan Trust so far for the purpose.
But the move to put up a wall near the eastern side of the century-old Pous Mela ground did not go down well with many traders, artisans, students and residents who said the area was used by all as a playground and walling it up went against the principles of varsity founder Rabindranath Tagore.
Tension erupted over the wall on Saturday morning, when protesters and the contractor's agents clashed, resulting in police complaints filed by both sides. Varsity officials alleged on Saturday that traders from Bolpur came to the site and stopped the boundary wall work by intimidating and thrashing the contractors.
After the incident, varsity authorities allegedly asked staff and teachers to gather at Pous Mela grounds, and called up BJP workers to act as a shield against those protesting the wall's construction, varsity student leaders alleged.
"At least 25 BJP workers came on Sunday to stop our protest. It was a plan by authorities to use the BJP on campus. It is shameful for the varsity. The VC was present," Somnath Sow, an SFI leader at Visva-Bharati, said.
A well-known BJP leader from Bolpur, Ujjal Majumdar, admitted that he and other party members had been present. "But we went to the Mela ground to back Visva-Bharati not as BJP workers, but as alumni," said Majumdar, one of coordinators of BJP's Birbhum outreach drive launched by the Syama Prasad Mookerjee Research Foundation.
Officiating public relations officer of Visva-Bharati Anirban Sircar sent a copy of an undertaking of the university to a WhatsApp group of mediapersons on Sunday, claiming: "Visva-Bharati has to inform Honble NGT (National Green Tribunal) by 19th August 2020 whether the work (boundary wall) has started or not."
The order further read, "...Visva-Bharati will demarcate the Mela ground and barricade the same so that the Mela ground will be a separate self-contained unit from the university and locality."
Sircar did not take calls or reply to texts from this paper about the BJP's involvement or Covid protocol violations.
Sailen Mishra, an advocate and Birbhum-based secretary of the Association for Protection of Democratic Rights, filed a complaint against the "violation of Covid protocol" on Sunday, naming vice-chancellor Bidyut Chakrabarty and others. "It was a planned mass gathering by the VC and other authorities violating Covid protocol," he said.
District police chief Shyam Singh said they received the mass-gathering complaint and two cases over the wall issue filed by a trader and a contractor. Probe is on, he said.
An elderly Santiniketan resident, Suvaluxmi Goswamy, said she was pushed around by varsity staff when she came to the protest site.
"I went to talk to the VC to request him not to put up walls as it goes against the culture of Santiniketan. He did not hear me and his men stopped me forcibly," said Goswamy.