Visva-Bharati registrar Ashish Agrawal 'quits'
Varsity officials said the VC was yet to approve Agrawal's resignation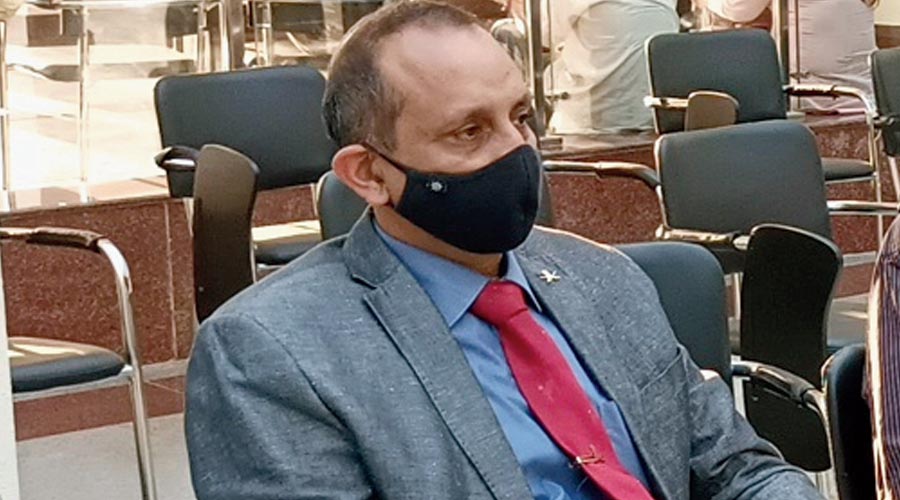 Ashish Agrawal on Tuesday.
(Amarnath Dutta)
---
Santiniketan
|
Published 16.03.22, 01:47 AM
|
---
The registrar of Visva-Bharati, Ashish Agrawal, on Tuesday informed varsity officials that he had sent his resignation to vice-chancellor Bidyut Chakraborty, amid a fresh gherao by protesting students that started on Monday at the varsity's Bangladesh Bhavana.
"The registrar told me that he is no longer the registrar of the university, as he had sent his resignation to the higher authorities. He did not inform me the reason for his resignation and I did not see his papers," said Atig Ghosh, the officiating public relations officer for Visva-Bharati.
Varsity officials, however, said the VC was yet to approve Agrawal's resignation.
Agrawal, who joined the varsity in December last year, put in his papers within three months, raising questions among students and faculties as to why.
Asked, Agrawal said the reasons were "completely personal". However, a section of varsity officials and students alleged that the registrar was "unhappy" for "not being allowed to resolve" the ongoing impasse between varsity authorities and students.protesting for days for the reopening of hostels
"The registrar told us last evening (Monday) that he would put in his papers if he failed to organise a meeting to resolve the issues and meet students' demands. We think the VC did not let him organise the meeting and that led to his resignation," said Somnath Sow, a protesting student.
 The students' movement has been continuing over the past 16 days. The registrar and 60 other staff and teachers had gathered on Monday evening after meeting among themselves at Bangladesh Bhavana, when they were faced with a fresh edition of student protest there.
Protesting students boycotted the physical exams that were scheduled to start from March 11.
Varsity authorities had issued an order saying that students who did not attend the physical exams would accordingly be failed. However, late on Monday night, varsity authorities were forced to withdraw the order under duress as the student protest grew in momentum.
A senior varsity official said the authorities were trying to reopen hostels as soon as possible, and had already carried out surveys in 15 hostels towards reinstating 300 student rooms.