Violence mars Bhatpara Assembly bypoll
Armed gangs roam free and throw bombs in Bhatpara, voters turned away in Bhangar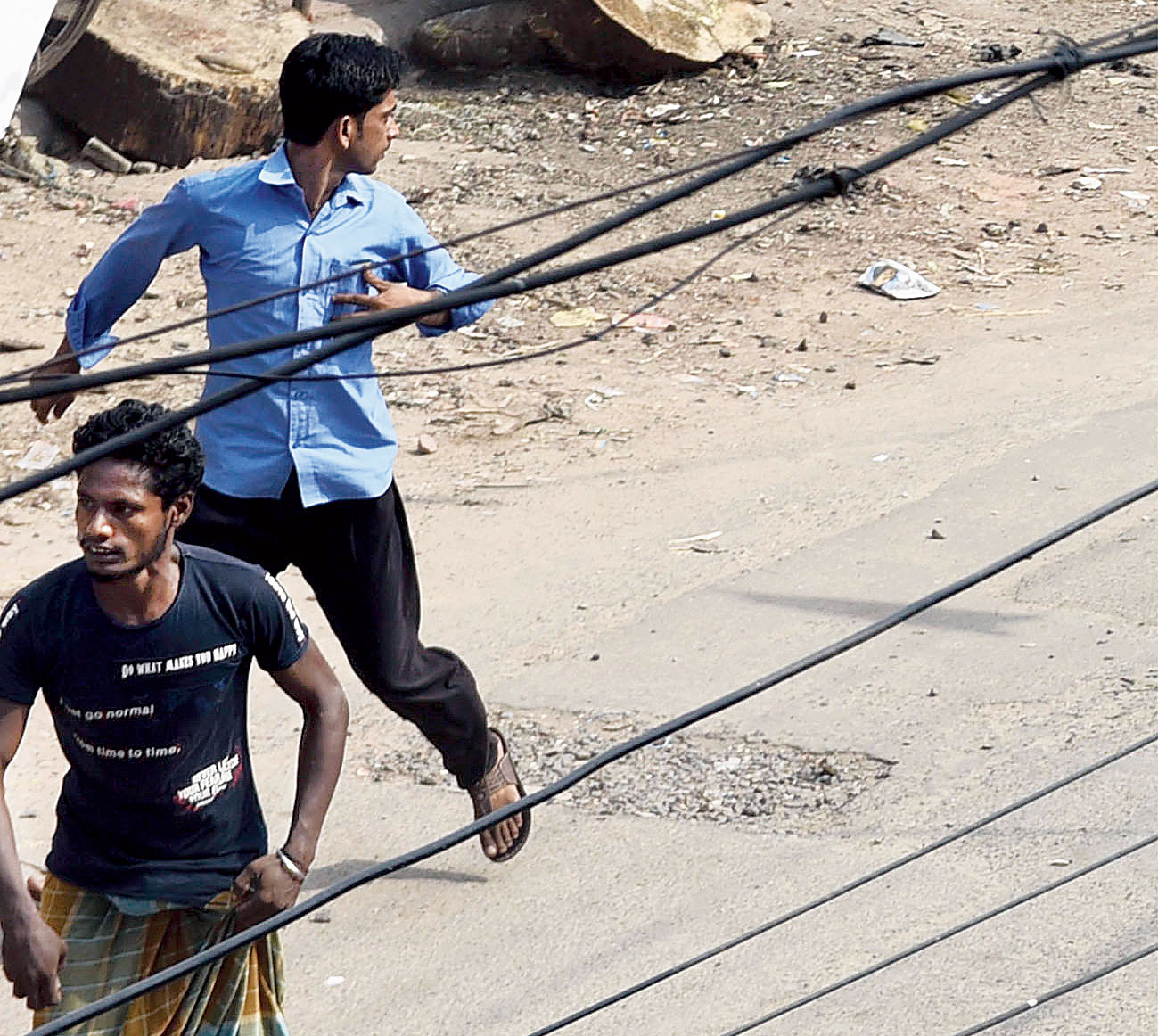 ---
---
A 30-year-old youth suffered a bullet wound during a fight between Trinamul and BJP supporters at Kankinara, which falls under the Bhatpara Assembly constituency in North 24-Parganas.
Bombs and bullets were freely used in the clashes that broke out between the two parties in the Bhatpara Assembly by-election on Sunday.
The situation spun out of control and central forces and police appeared helpless. For around two hours in the afternoon, Trinamul nominee Madan Mitra was restricted within a 5km-stretch on the Kankinara-Nayabazar road.
A large police contingent led by Barrackpore police commissioner Sunil Choudhary and other senior officers rushed to Bhatpara to tackle the situation.
The Election Commission of India has sought a report on the incident.
Mohammed Chand, the youth who suffered a bullet wound in his left leg, was admitted to a hospital in Kalyani.
Trinamul leaders blamed central forces and the poll panel for the violence.
"A youth was injured in the clash. Police lathicharged the warring groups and dispersed them," a police officer said.
Bhatpara has been witnessing violence since Saturday evening, when three vehicles belonging to Trinamul leaders were set on fire allegedly by BJP workers.
Local people said hundreds of youths armed with bombs and firearms had been roaming across Kankinara and Bhatpara since Sunday morning. Neither police nor central forces arrested them.
Police sources said tension mounted after a suspected BJP supporter was caught by Trinamul activists around 1.30pm for allegedly hurling a crude bomb near Bhatpara Municipality. He was handed over to the police.
Soon after, a Trinamul camp office was ransacked and set on fire and clashes broke out in several pockets such as Nayabazar, Katapukur and Tingudam.
Trinamul candidate Mitra was stopped near a booth in Kankinara as a group of suspected BJP workers started hurling bombs in front of the police and central forces. Mitra had to beat a retreat.
"Armed BJP-backed goons were hurling bombs indiscriminately on the Kankinara-Nayabazar road, keeping Mitra confined within a 5km stretch of the road for around two hours from 2pm. The law and order machinery collapsed even after the poll panel promised that the elections would be free and fair," Mitra's election agent Debjyoti Das said.
Trinamul leaders alleged that BJP activists had cast false votes in at least a dozen booths in Bhatpara when Mitra was kept confined on the road. "The BJP rigged the election by terrorising the area with the help of central forces," Das said.
Mitra was seen urging party workers not to resort to violence as it could harm the polling process.
"I request you not to get involved in any clash as the polling will be hampered," Mitra was heard telling party workers.
He also called up party workers and asked them to tell polling agents in the booths where he feared false votes were being cast to appeal to the election authorities to suspend polling.
Mitra called up the poll panel himself and made the same appeal.
"I have talked to our chief minister and am requesting you to stop polling. I have been told that votes will be looted as several booths were captured. The goons are hurling bombs and firing in the presence of the police and central forces. You please send more forces here," Mitra was heard telling over the phone.
Police sources said the election commission had sought a detailed report from the district administration about the violence in the Bhatpara bypolls.