Violation norm at Gariahat accident site
Police feel these accidents are mostly because of the tendency of the drivers to speed away caring least whether a passenger could board or alight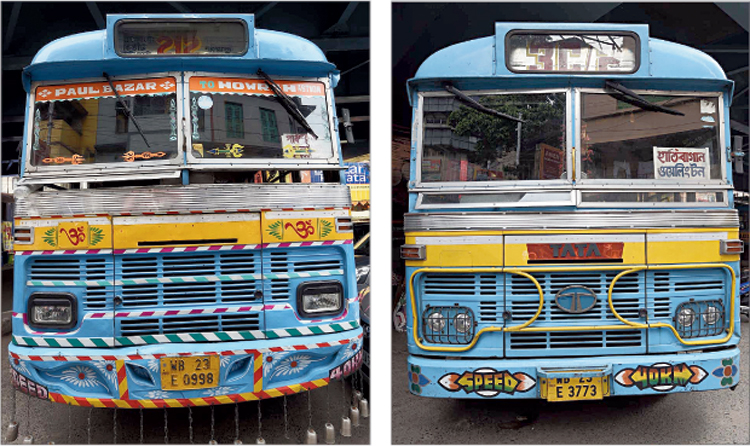 The two buses that were involved in Friday's accident at the Gariahat crossing. Samir Pal, who was injured, fell off the bus on the left.
Pictures by Pradip Sanyal
---
Calcutta
|
Published 09.08.19, 08:29 PM
|
---
Hours after a man almost lost his ear and fractured his arm because of two buses racing at Gariahat crossing, vehicles and pedestrians continued to flout road rules at the accident site on Friday afternoon.
In July, six people lost their lives in road accidents involving buses in Calcutta, while 36 others were injured in similar incidents.
Haltu resident Samir Pal, 65, fell from a bus as the driver had suddenly slammed the brake to pick up more passengers.
Before he could get up, another bus hit him in its bid to overtake the vehicle Pal fell from. Being sandwiched between two buses, Pal received serious injuries on both his ears, one of which got almost severed.
When Metro visited the spot at Gariahat crossing on Friday afternoon, vehicles and pedestrians continued to flout the rules.
While buses stood in the middle of the road to pick up and drop passengers, pedestrians kept crossing the road even when the signal was green for vehicles.
A senior officer in Lalbazar said a large number of accidents caused by buses involve reckless driving, while a considerable number also included negligence by passengers and pedestrians.
"It is a fact that when a bus is prosecuted, it is the owner and not its driver who has to pay the fine. So, prosecutions do not affect the drivers directly. Rather, a driver's salary directly depends on the number of passengers he can pick up," said an officer.
A traffic cop said it was a challenging job to manage to the traffic and prevent jaywalking at the same time at a busy crossing like Gariahat.
"People on the road too need to be disciplined," he said.
Incidents of people falling off the footboard while boarding or alighting are common in Calcutta. Police feel these accidents are mostly because of the tendency of the drivers to speed away caring least whether a passenger could board or alight.
Often helpers and drivers encourage passengers to get off a moving bus saying there is no designated stoppage at that point.
Bus accidents are also caused by rampant movement of pedestrians in busy crossings.
"At intersections like Moulali, Gariahat, Rashbehari or Shyambazar crossing where the volume of pedestrian spillover is quite high, the haphazard movement of pedestrians who try to cross the road even when the signal is green for vehicles, often results into an accident," the officer said.