Villagers detain surveyors over NRC fear in Bengal
Central govt officials rescued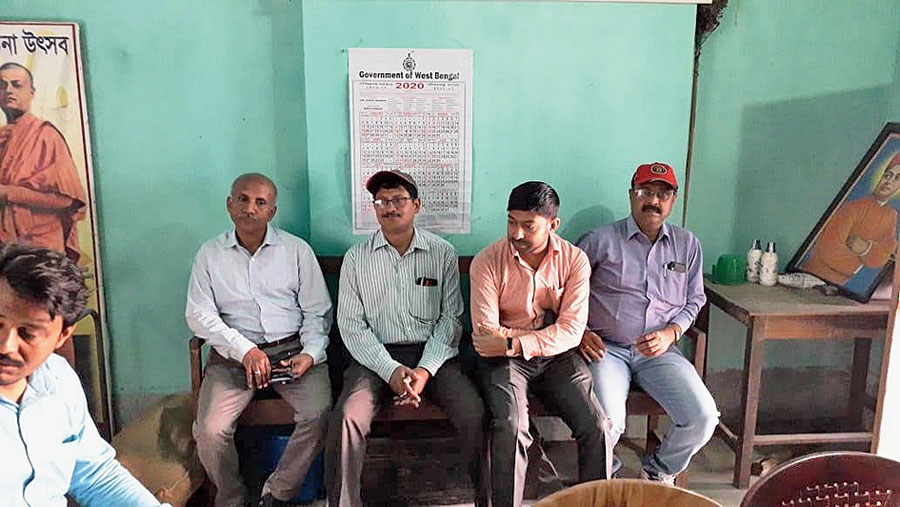 ---
Burdwan
|
Published 12.03.20, 09:28 PM
|
---
A four-member-team from the Survey of India was detained for an hour and physically prevented from conducting field-work in East Burdwan's Galsi on Thursday morning as villagers got apprehensive that they were there to do the groundwork for a National Register of Citizens-like exercise.
The incident at Galsi — around 125km from Calcutta — assumes significance as it is the first such case of a central government agency employees being prevented from carrying out their fieldwork in Bengal over the NRC fear.
The Survey of India is engaged in national survey and mapping.
After a few cases of detention and heckling of employees of the state government agencies or NGO workers over the NRC fear, the Bengal administration had halted most of the surveys.
On Thursday, though the group was detained by 300-odd villagers, who got suspicious with the team's activities, a functionary of local Galsi 2 panchayat samity, Sk Sabir Uddin Ahmed, rescued the quartet and took them to a local BDO office.
Multiple sources said the team was seen taking photographs of different places — ponds, temples and mosques — at the Bahirghana village.
"The survey of India has not taken any permission from us to conduct any kind of survey. The survey has been stopped," said East Burdwan district magistrate Vijay Bharti.
According to the villagers, an SUV — with a 'Govt of India' board — reached Bahirghana village around 10.30am and four persons got off the vehicle with sheaf of papers and maps and started taking photographs.
"We first asked the four outsiders about the purpose of their survey but they did not answer. These days, we are afraid of any survey as it could be the NRC or anything like that. As the state government has already said that there would be no such surveys, we stopped them," said Dipak Das, a villager.
The villagers then forced the team members to erase all photographs and detained them for an hour.
"How can we believe that the team did not come from Delhi for an NRC-like exercise?" asked a villager.
Sk Sabir Uddin Ahmed later said he had rushed to the spot after getting at least two dozens calls.
"When I reached the spot, the four persons were surrounded by 300-odd residents. I asked them to produce permission of the local administration, but they didn't. There was panic in the area and so I took them to the BDO's office," he said.
One of the team members said they were surprised with the behaviour of the villagers as they explained their scope of work. "We tried to tell them that we are from Survey of India and went to the village to update our map with photographs of different places like temple, mosques, school, ponds. That's a routine exercise, but they refused to believe us," said Sushanta Roy, one of the surveyors.
Asked why they didn't take permission of the local authorities, he said: "Our office informed the chief secretary."