United effort at spreading unity
A painting by a father and a son showed the bond of two hands with the message 'Live United'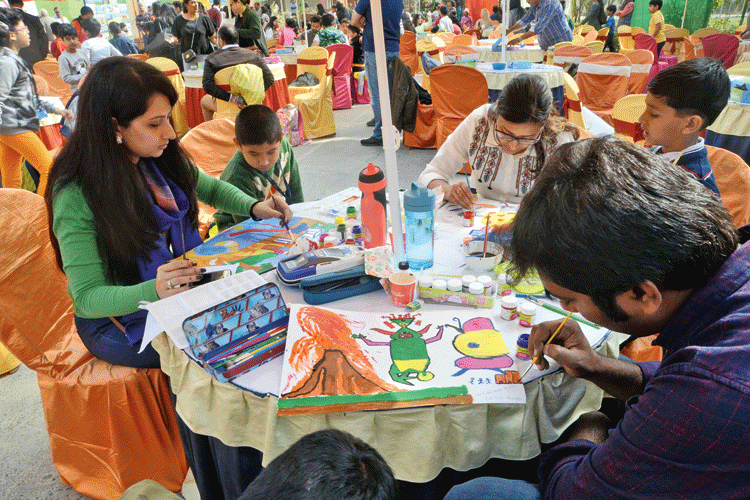 Calcutta International School students and their parents at the art workshop on Tuesday.
Picture by Sanat Kumar Sinha
---
Calcutta
|
Published 21.01.20, 08:34 PM
|
---
The need to stay together and make friends with people from diverse backgrounds found expression at an art workshop in a city school, where children were joined by their parents.
As the parents sat down with the students of Calcutta International School, they took the opportunity to teach their children about unity, diversity, companionship and reaching out to others without discrimination.
A painting by a father and a son showed the bond of two hands with the message "Live United".
"I drew his hand and he drew mine. I wanted to teach him about being in each other's space and talk about tolerance," said Prateek Raja, who was with his son Kaavin, a Class V student. "This is the need of the hour. We are living in a divisive world and the only way to combat that is by staying together and that is what we have tried to denote."
The themes for the collaborative art event, Bond of Colours, for students of classes I to V were decided and conveyed to the students earlier this month.
The choice of themes was aimed at sending out a message of being secular and open-minded. "We have many cultures and communities… it is important to start young to create awareness of acceptance and tolerance and we thought art can be used as a medium. Through such events, we create opportunities for students to learn the values of tolerance, acceptance and open-mindedness," said Pratima Nayar, principal, junior school.
Raja, who has participated in a couple of protests with his son, said as modern-day parents, one need not hide from their children what is happening in the country. Instead, parents can teach the kids why it is important to stay united irrespective of caste, colour and religion, he said.
Richa Debgupta and her son Siddharth made two faces and named their painting Colours of Friendship. Their message: Friendship should not be about ethnicity, colour of skin, religion, geography or community, but about love, companionship, understanding and diversity.
Some parents said children could be taught about unity in diversity by example.
Class V student Sashrika Pyne drew a tree with the names of her classmates on the branches. "Love one another," wrote the 10-year-old.
"People are different in the way they dress and what they eat but we have to respect each other's culture," mother Amrita Pyne said.