Turbanator who met the Terminator
Mission on wheels: Journey has just begun for Delhi exporter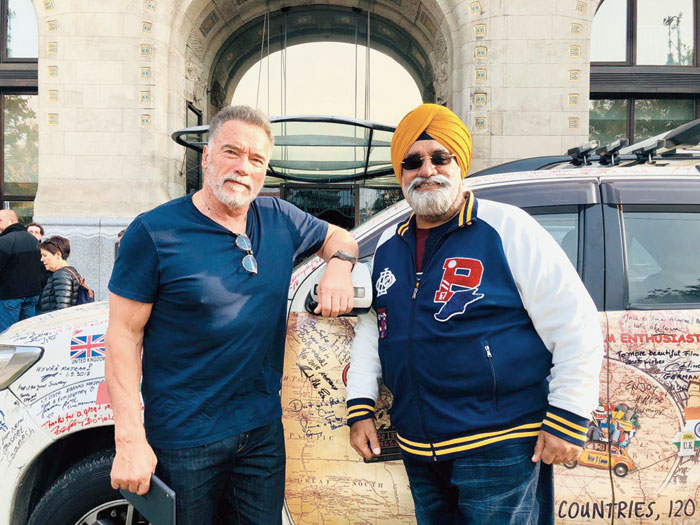 ---
|
Calcutta
|
Published 16.10.19, 11:05 PM
---
A 61-year-old from Delhi who has travelled 40,000km across 30 countries and collected about 900 signatures on his SUV prizes one name on the bonnet of his Toyota Fortuner — Arnold Schwarzenegger.
Turbanator Amarjeet Singh Chawla not only had a chance to meet the Terminator in Budapest recently but also got to pose with the actor.
But Chawla's mission is yet to be accomplished and he has hit the road once again, this time travelling across 29 states of India.
In Calcutta on Tuesday, Chawla recounted his encounter with Schwarzenegger. On reaching Budapest, Chawla had learnt that the Hollywood star was in town shooting and managed to send a word to the actor's manager through a guard.
The next day the actor agreed to meet Chawla. "I was told that Schwarzenegger had agreed to meet me after hearing about my passion of travelling in a car across countries. When I narrated my story, he told me 'Keep it up'," said Chawla.
That was not all, the actor asked Chawla's crew if the shot was okay and obliged them with another click when he learnt that the earlier shot had blurred.
Chawla, a garments exporter, set off from Delhi on July 7, 2018, and reached London on December 16, living a "40-year-old dream" inspired by the journey of a Dutch girl on a road trip he had met in 1979.
"When I had told my father about my dream, he asked me to join the family business instead. After marriage, I had my responsibilities towards the family. But when I turned 60, the dream was mine," he said.
From Delhi, Chawla went to Nepal, China, Kyrgyzstan, Kazakhstan, Uzbekistan, Russia and Europe with a three-week pause in between on account of his health. "Earlier my target was 23 countries and 23,000km but then I extended it to 30 countries and clocked 39,690km," he said .
While the Terminator is all set to reprise his role in the upcoming Terminator: Dark Fate, the journey for the Turbanator has just begun. "I will travel to all continents and cover 200,000 km and 100 countries," said Chawla, who arrived in the city from Sylhet, Bangladesh. "The 50,000km I will be covering in this leg will be a tribute to Guru Nanak Dev."