Trinamul MP Satabdi asks Mamata: Will big fish pay?
Dilip Ghosh tried to widen the scope of the matter to alleged money-laundering by heavyweights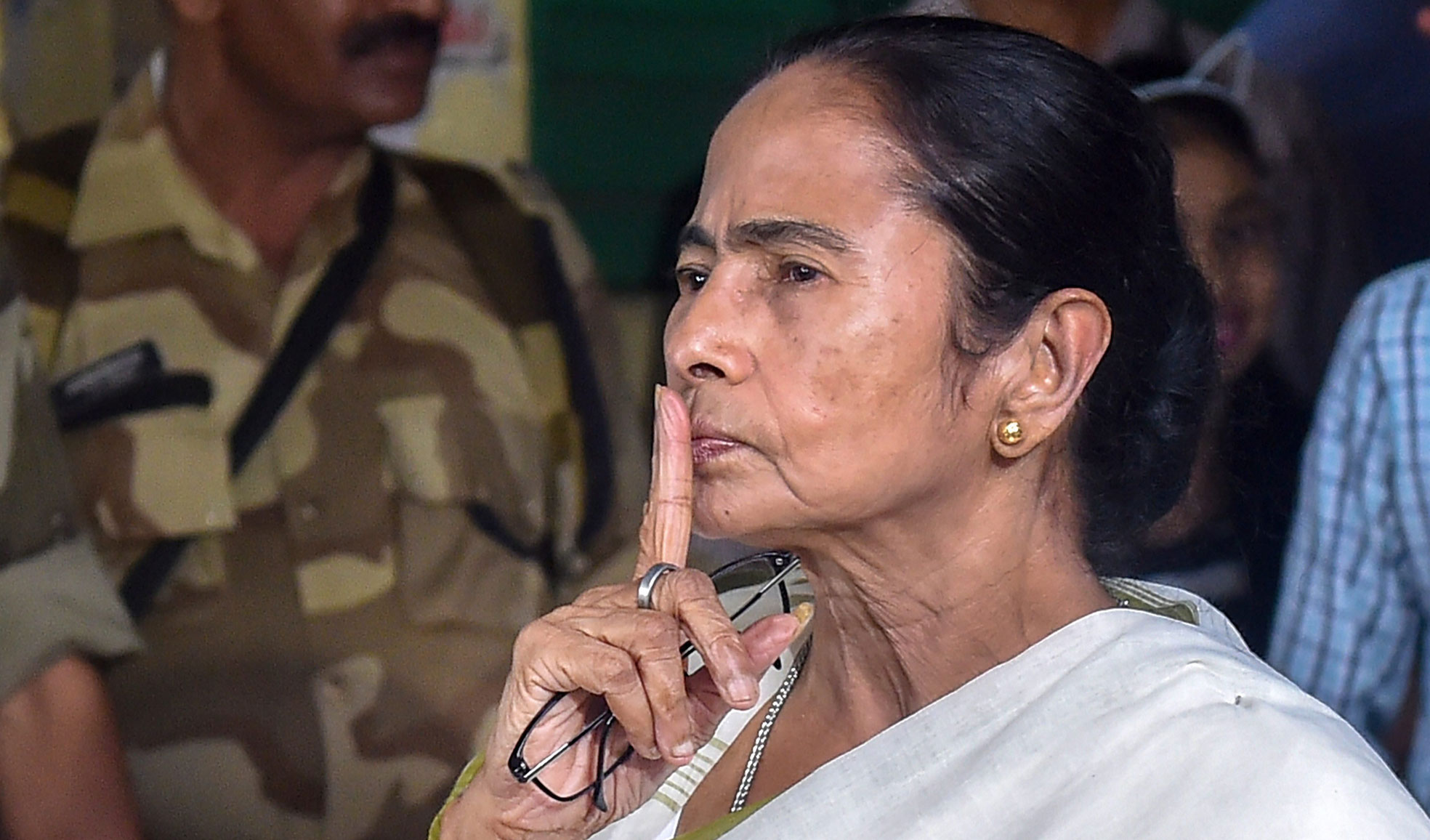 ---
|
Calcutta
|
Published 21.06.19, 01:38 AM
---
A Trinamul MP on Thursday publicly spoke on the potential for "chaos" carried by Mamata Banerjee's recent diktat to party functionaries to return "cuts" and wondered whether it applied to the big fish too, leaving the party embarrassed.
"Didi should pay attention to this. It shouldn't happen that those who took two per cent, one per cent, are stopped from taking (cuts) while those taking more, their percentage increases even more," two-term Birbhum MP Satabdi Roy told journalists at the Parliament complex.
"That will increase the confusion within the party. Nobody is getting — but somebody is getting more…. Ultimately cut money, the total sum, stays the same — that situation should not arise. Didi should keep an eye on that."
Stressing that the step should have been taken "much earlier", Roy underlined that behind the "people you can see" taking cuts are "other people who too have taken it", and that what was taken "chain-wise" should be refunded "chain-wise".
Her comments came as agitations emerged in various pockets of the state for the second day running since Mamata warned Trinamul representatives in a televised address on Tuesday to refund the "cuts" they had taken from beneficiaries of government schemes. The actress-turned-politician's remarks reflected the Pandora's box the Trinamul chief's diktat may have opened.
The BJP rushed to cash in on Roy's candour, state unit chief and Midnapore MP Dilip Ghosh alleging that if everyone forced to pay cuts demanded a refund, Mamata would "lose her sanity".
"She (Mamata) said it without thinking; it was blurted out in the pressure of the situation. She thinks this would whitewash (cleanse) the party; that's not possible," Ghosh said, also on the Parliament House premises.
Ghosh tried to widen the scope of the matter to alleged money-laundering by heavyweights.
"What about the big money — the large sums that went to Singapore? Big sums of cut money, big leaders involved," he said. "Soon, everybody who suffered, who lost money, will hit the streets."
Some Trinamul councillors from the suburbs too alleged kickbacks in big realty projects that saw large chunks of industrial land across the state offered to realtors at throwaway prices.
"The big leaders too should refund the money they had taken from people engaged in illegal coal and sand mining, then. The government lost revenues because some big leaders allowed these illegal activities," a councillor, who did not wish to be named, said.
While Trinamul seniors declined to react publicly to Roy's remarks, most accused her of "political immaturity". Some, however, acknowledged that she had flagged certain valid concerns.
"It's a potential minefield for the party --- I think that's what Satabdi was trying to say. A public statement was a bad idea," a Trinamul leader said.
Roy said the diktat should have come earlier.
"It's fine that Didi has done it now, but more chaos will be created over the return of the cuts. For, the people who took it --- those you can see up front --- they have not taken it alone. There are other people behind them who have taken it too," she said.
"Everybody has to refund it chain-wise, just as it was taken chain-wise. Otherwise, returning money that has gone into one's coffers is a difficult task."
She warned: "Those that did not get (cuts) in the past, they will rush those who did to return it. There's a definite chance of gondogol (ruckus) in this."
Senior minister and Calcutta mayor Firhad Hakim steered clear of Roy's statement but reacted to Ghosh's remarks with disdain.
"Be it Singapore or the US (where money has been laundered) — wherever — the administration will catch it. Boxes full of cut money were carried on someone's planes, someone's helicopters. Nobody in the Indian administration is capable of catching that," he said, taking a dig at the BJP's topmost echelons.
"Neither Dilip Ghosh nor anybody in any other party has the ability to take a stand to free one's own party of graft, which Mamata Banerjee does. I thank her from the bottom of my heart," he added.