Trinamul Chhatra Parishad survey to assess voter mood
While one question asks respondents about their reaction to the price hike of LPG cylinders, another wants to know whether the Swastho Sathi scheme is good or not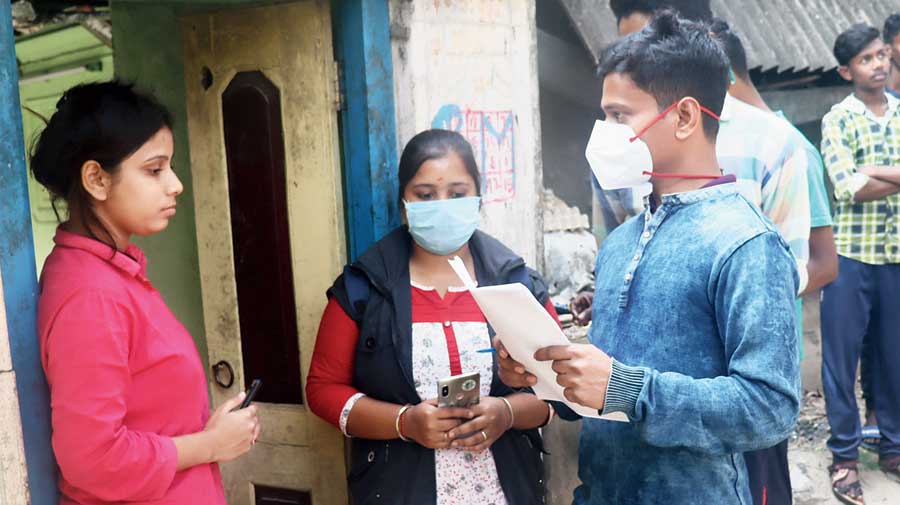 ---
|
Arambagh
|
Published 24.02.21, 12:50 AM
---
A desire to win back voters who had deserted the Trinamul Congress in the 2019 Lok Sabha election in the Goghat Assembly constituency has made the students' wing embark on a door-to-door campaign to conduct a survey and assess the people's mood.
Armed with a set of 10 questions, members of the Trinamul Chhatra Parishad (TMCP) in Hooghly's Goghat started its first-ever survey on February 14 and set a target to visit 75,000 households in an Assembly constituency where Trinamul had lagged behind the BJP by over 8,000 votes in the 2019 Lok Sabha polls. Goghat is part of Arambagh Lok Sabha constituency that Trinamul's Aparupa Poddar had won by 1,142 votes in 2019.
"Our goal is to reach out to the people with questions on LPG price rise, BJP's rath yatra and schemes of the Mamata Banerjee government. Through the campaign, we are trying to tell the people about the achievements of the state government and the failure of the BJP government at the Centre. We are not asking respondents to fill in the survey form in front of us. They have the option to hand over the forms to us later," said Syed Ashik Hossain, TMCP president in Goghat-I block.
While a question in the survey form asks respondents about their reaction to the hike in price of LPG cylinders, another question wants to know whether Mamata Banerjee's Swastho Sathi scheme is good or not.
"The questionnaire has 10 questions that will give us an insight into people's perception about various policies of the state and central governments along with other political issues. A political question that is part of the survey will let us know how people are reacting to BJP leaders riding a chariot for political purpose," a TMCP leader said.
One of the questions reflects the Trinamul's concern about party leaders switching camps and joining the BJP.
"We are trying to get an idea what people are thinking about turncoats. A leader who has recently joined the BJP has a good support base, so we need to know the impact of him leaving Trinamul," said a TMCP leader, who added that five separate groups of supporters were visiting villages every day to complete the survey within 20 days.
Ashik, however, said to elicit honest response from the people, the surveyors were not carrying TMCP flags but disclosed their identity if they were asked about it.
"The team members are not carrying party flags or raising slogans. We are not wearing our identity on the sleeves as the feedback is important to know how voters are responding to the political situation ahead of the polls," Ashik said.
Asked what prompted the TMCP to take up a people's mood assessment tool that is usually associated with Left parties, Dilip Yadav, Trinamul's Hooghly district president, said: "We want to know about the demands of the people. Similar surveys will be carried out in other Assembly segments in the district."