Trinamul aid and protest
Trinamul leaders in Alipurduar have decided to help Bengal-origin people in Assam left out of the NRC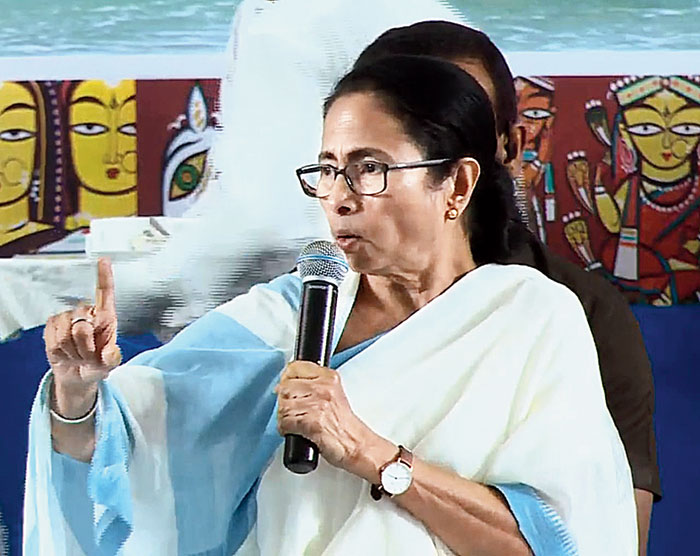 Mamata Banerjee at the administrative meeting on Wednesday
Picture by Jahangir Badsa
---
Alipurduar
|
Published 04.09.19, 09:59 PM
|
---
Trinamul leaders in Alipurduar, one of the two Bengal districts that share borders with Assam, have decided to help Bengal-origin people in Assam left out of the NRC.
The move underscores the ruling party's plans to tap the issue to garner support in areas where it had lost out to the BJP in the Lok Sabha polls. Trinamul has also planned protests against NRC near the border.
"The BJP is aggressively pitching for an NRC-like exercise in Bengal… We want to make it an issue," said a Trinamul minister in Calcutta.
In the Assembly on Friday, a two-hour discussion will be held on NRC, with chief minister Mamata Banerjee as the main speaker. The move is part of a larger strategy by Trinamul to build an anti-NRC movement with the help of non-BJP parties.
In Alipurduar, Trinamul leaders held a meeting at Barobisha, close to the Assam border, on Wednesday.
"We will open a helpdesk at Barobisha where lawyers will be present to extend all possible help to those (left out of the NRC) who have roots in our district and state but have now settled in Assam. Whether it is any document that they need to prove their citizenship or any other assistance, our people will be there at the desk," said Shila Das Sarkar, the head of the Trinamul-run Alipurduar Zilla Parishad.
On September 8, Trinamul will organise a protest march near Barobisha. "Around 10,000 Trinamul workers will join the protest," said a Trinamul leader.
Ganga Prasad Sharma, the Alipurduar BJP chief, described Trinamul's plans as "theatrics".