Rival from SUCI found dead, house set ablaze
TMC leader killed over 'Amphan fury'
SUCI member found hanging at home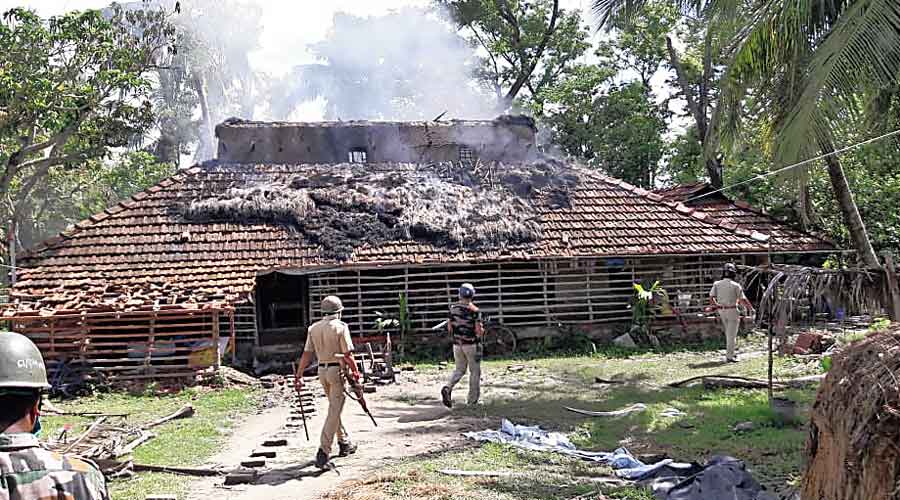 ---
---
The ongoing Amphan relief graft row took an ugly turn on Saturday with one leader each from Trinamul and rival SUCI found dead in Kultali, South 24-Parganas, and at least 40 houses and shops ransacked and set on fire in a clash.
Trinamul youth leader Ashwini Manna, 46, was killed early on Saturday at Maipith village in Kultali. The ruling party blamed the SUCI for the murder, while the SUCI claimed Manna was lynched by villagers over corruption in Amphan aid distribution.
Later, the body of SUCI leader Sudhanshu Jana, 58, with injury marks, was found hanging from the ceiling of his home that had been set on fire.
Trinamul claimed that Jana had committed suicide.
Six persons were seriously injured in the clash. Tensions had not abated fully till evening. Police arrested 10 people from both the parties.
"A Trinamul leader was killed. We found the body of another man (Jana) hanging from the ceiling, but only the post-mortem can determine the cause of death. We have arrested 10 persons for involvement in the violence," said Rashid Munir Khan, the chief of Baruipur police district in South 24-Parganas.
Sources said the SUCI had launched massive protests in Maipith and accused several ruling party leaders and their relatives of taking Amphan compensation illegally.
The panchayat at Maipith is run by Trinamul, but SUCI had won 11 of its 20 seats in the last poll. SUCI leaders said their protests against Amphan aid graft angered Trinamul workers and sparked a clash.
"Trinamul leaders tried to stop us on July 2 but failed as 1,200 people came for protests that day. At night, Trinamul goons went to the homes of our workers and threatened them. Early on Saturday, Ashwini Manna led a group of goons to attack villagers who had been in the protest. Villagers caught him and he was lynched," said Prakash Maity, a SUCI district committee member. "Collective outrage of the villagers over Amphan irregularities led to his death."
CPM MLA in Kultali Ramsankar Haldar also said public anger led to Manna's death.
Trinamul sources said armed SUCI groups attacked the house of Trinamul president in Maipith, Pintu Pradhan, and Manna who had gone to help him was killed. "The SUCI goons planned Ashwini (Manna)'s murder to take control over the area. The issue of Amphan aid has no connection with the violence," said Ganesh Mondal, Trinamul youth president in Kultali. "Jana was not killed, he committed suicide out of fear," he said but did not spell out the fear.
BJP leaders also claimed that at least five of their party workers were missing. "The Trinamul is targeting our party workers for protesting against Amphan irregularities," said Palash Rana, BJP district committee member in South 24-Parganas.