TMC civic project overdrive in Asansol and Durgapur
Civic officials said projects worth around Rs 3 crore had been flagged off in three days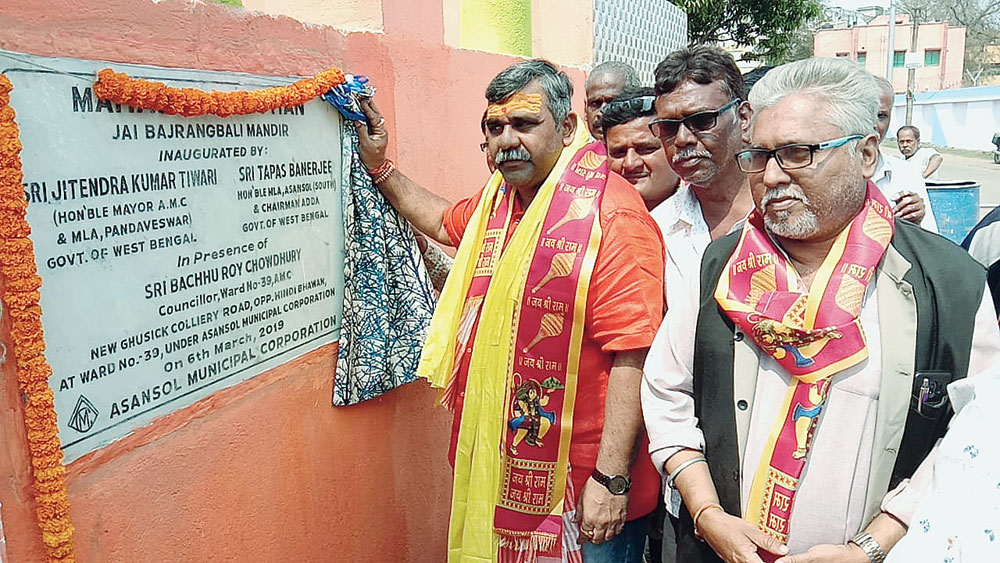 Tiwari inaugurates the Hanuman temple in Asansol on Wednesday.
Picture by Santosh Kumar Mandal
---
Asansol
|
Published 06.03.19, 08:08 PM
|
---
The Trinamul-run municipal corporations of Asansol and Durgapur are on a foundation-laying spree for projects and temples ahead of the Lok Sabha polls.
Sources said Trinamul was not in a "comfortable" position in the industrial zone because of factionalism and was playing the development and temple cards to take on the BJP, whose Babul Supriyo had won the Asansol seat in 2014.
"We are expect the election dates to be declared anytime. Once that happens, we will not be able to start fresh development projects as the model code will kick in. So we are in a hurry to lay foundations," said a Trinamul councillor in Asansol.
Sources said the projects related to roads, drainage, community toilets, drinking water and several temples. Civic officials said projects worth around Rs 3 crore had been flagged off in three days by the two civic authorities.
"We have laid the foundation stones for work worth Rs 50 lakh. People of not my ward and adjoining areas will benefit," said Durgapur mayoral council member for health Rakhi Tiwari.
"We are trying that work should not be stalled because of elections and so we are trying to start it before the elections are declared," said Dilip Agasti, the Durgapur mayor.
In Asansol and Durgapur, a dozen sun temples are coming up with funds mobilised by Asansol mayor Jitendra Kumar Tiwari from donations.
Tiwari on Wednesday inaugurated a Hanuman temple in Asansol and a Kali temple in Kulti on Tuesday. He had recently flagged off the renovation and expansion of a cow shelter in Barakar, close to the border with the BJP-ruled Jharkhand. The mayor has ordered officials to finish the work by April.
Sources said development and temples would be Trinamul's "only trump card" against the BJP. Trinamul is struggling to find candidates for the Asansol and the Burdwan-Durgapur Lok Sabha seats accepted by all factions, the sources said.
"In Asansol the party wants to put up Jitendra Kumar Tiwari keeping in mind his influence among Hindi-speaking people. In Asansol, 45 per cent of the electorate is Hindi-speaking. Tiwari has been trying to woo them," said a Trinamul leader.
However, a large section of party workers owes allegiance to Moloy Ghatak, a known rival of Tiwari in Asansol and this is posing a threat.
In 2014, Trinamul's Dola Sen lost the seat to BJP's Babul Supriyo because of "sabotage" as the candidate was not accepted by the Ghatak lobby.
The Ghatak lobby denied any feud. "We are one in the party and our leader is Mamata Banerjee. She will decide everything," said Abhijit Ghatak, Moloy's brother and a Trinamul councillor in Asansol.