Tiger attack on crab hunter spurs job talks
Foresters said these incidents has increased as more people are entering restricted areas illegally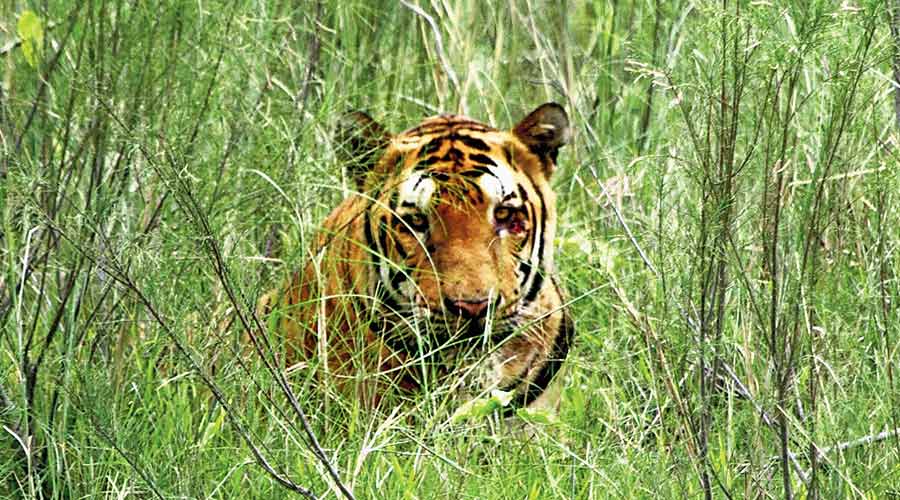 Representational image.
File
---
Bolpur(Birbhum)
|
Published 02.11.21, 12:53 AM
|
---
A 40-year-old woman who had entered the restricted tiger zone to catch crabs at Patharpratima of South 24Parganas on Sunday night, was injured by a royal Bengal tiger.
The attack on Kajal Mallik comes on the heels of another one on Saturday where fisherman Panchanan Bhakta was injured by a tiger.
These incidents have led foresters to plan a meeting on November 5 with the local MLA and district officials to discuss alternative jobs for some 3,000 people who depend on the forests and waters of Sunderbans.
Foresters said the number of tiger attacks has increased as more people are entering restricted areas illegally.
"Some people, mainly belonging to the tribes and residing in islands or villages of the Sunderbans enter the forest without permission to eke out a living. So, will hold a meeting with local authorities, including panchayat and district officials, to arrange alternative livelihood options for such people," said Milan Mandal, the divisional forest officer of South 24Parganas.
Kajal, a resident of Satyadaspur village of Patharpratima in South 24Parganas, along with five others including her husband Subal, had gone to the restricted forest of Kalash island to catch crabs.
Foresters said the group was having dinner on their boat around 8.30pm on Sunday when a royal Bengal tiger pounced on Kajal and attempted to drag her away inside the forest. For around 30 minutes, the others, including her husband, fought the big cat with oars and sticks till the tiger left. Kajal, who received injuries on her hand, neck and face, was taken to Patharpratima primary hospital.
Foresters said they had done a survey to find around 3,000 people who are not traditional fishermen depend on the forests of the Sunderbans.
"They are mostly from the tribes and collect honey, crabs or firewood. They never bother about permission. The only way is for the government to arrange alternative livelihood means for them," said a senior forest department official.
Samir Jana, Trinamul MLA of Patharpratima, admitted the man-animal conflict and promised to attend the meeting for a long-term solution to this problem.
"It has become a regular event here that people are being injured or killed by tigers. I will talk to local panchayat and forest officials to find out if they can provide alternative jobs in a safe zone to these people," he said.
In October, the Sunderbans tiger reserve authorities had banned fishing in and around Jhila forest areas after three persons were dragged away by tigers in four consecutive days.
Forest officials said man-animal conflict had increased in the Sunderbans also because people were desperate to enter the core forest areas of the tiger reserve for their livelihood since the Covid lockdowns had rendered many people jobless.