Thousands stranded at airport
On Sunday morning, too, hundreds of passengers were seen lounging around in front of the terminal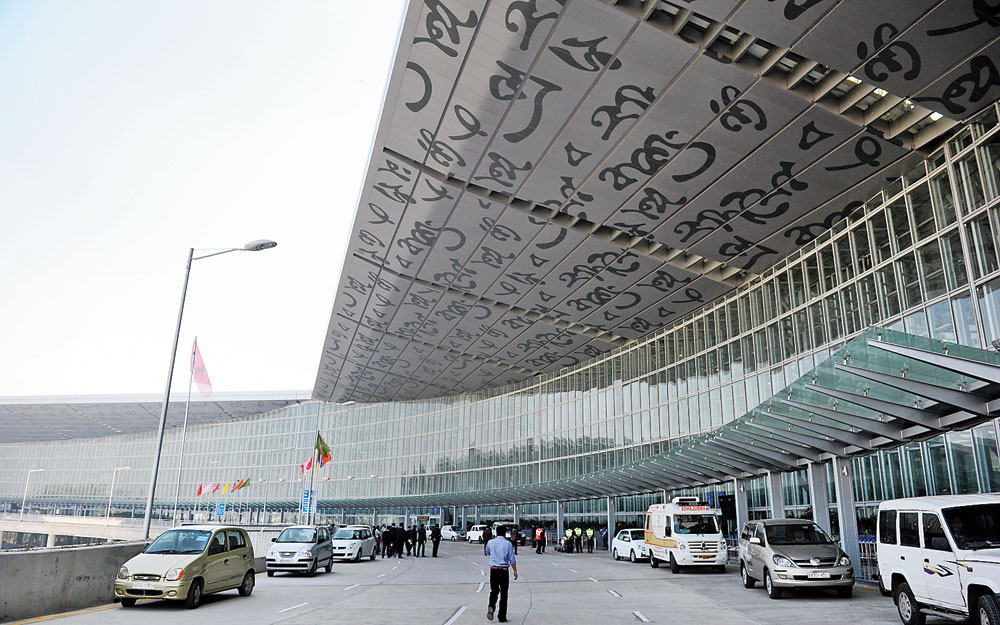 ---
|
Calcutta
|
Published 10.11.19, 09:00 PM
---
The closure of the city airport for 12 hours from 6pm on Saturday left thousands of fliers stranded. While many stayed overnight at the airport, others headed to the hotels and guest houses.
An AirAsia flight to Hyderabad was the first to take off from Calcutta — at 6.17am — after the services resumed, officials said. An IndiGo flight from Singapore was the first to arrive, at 6.21am.
On Sunday morning, too, hundreds of passengers were seen lounging around in front of the terminal. Cellphone and laptop charging points were among the coveted spots.
Most of the stranded passengers spent their time sitting on chairs near the airline ticket counters at the departure level, getting up every now and then to enquire about the resumption of flights. Many spread bed-sheets on the floor and lay down, their eyes glued to the information boards.
Sushmita Basak, 26, who was headed for a job interview in Ahmedabad, was sitting on a bench outside the terminal building on Sunday afternoon.
Basak's flight was to take off on Saturday evening but was cancelled. She rushed to find accommodation and booked a room at a hotel nearby.
"We live in South Dinajpur and there was no way we could head back home. There was a mad rush among the passengers whose flights got cancelled to find hotels. Fortunately, I found a room near the hotel on an app," said Sushmita, who called up the prospective employer's office to explain her predicament to them.
"I hope they will consider my case favourably," she said.
Krishna Singh, from Silchar in Assam, said he had reached Calcutta from Port Blair, where he works in a hotel, on Saturday morning. He was booked on an evening flight to Silchar, which was cancelled.
Singh spent the night at the airport. "I have been given a ticket on a flight that leaves on Monday afternoon. Till then I will be at the airport," he said on Sunday afternoon.
Many who were stranded took to Twitter to voice their grievances. Nikhil Bothra tweeted: "All I can see for the last hour or so is the revision in departure gates of almost all flights at #kolkataairport. What mismanagement! No points for guessing the PA quality."
An IndiGo official said: "We had planned to cancel flights after 8pm on Saturday. We were not prepared for the cancellations from 6pm till 8pm. Ten flights had been cancelled in those two hours."