The Bidhannagar Mela is spread over more area but visitors are confused
Bigger but better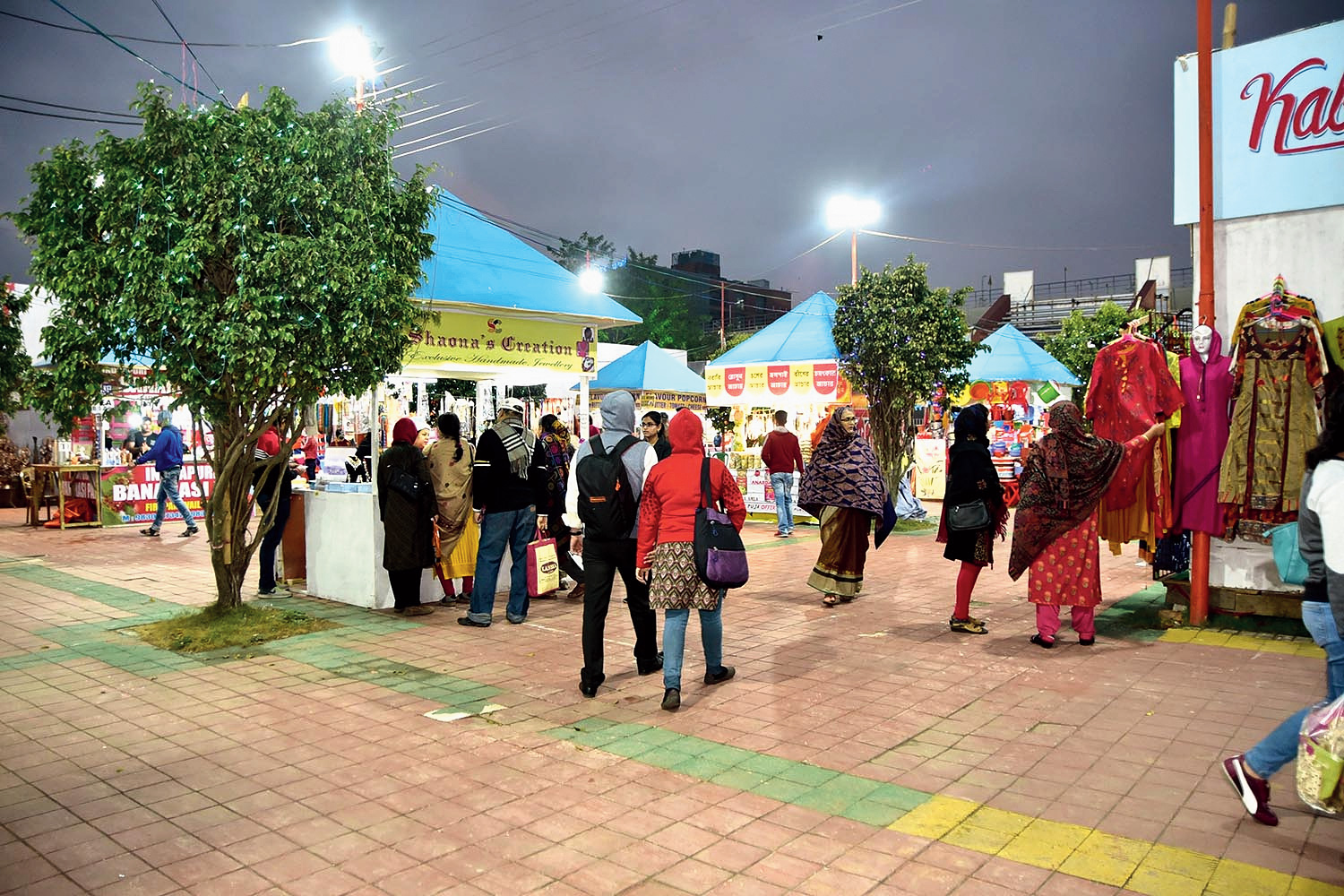 Visitors roam the fair.
Shubham Paul
---
Published 21.12.18, 03:00 PM
|
---
Bidhannagar Mela (Utsav) has a new look. It's spread over more acres, the organisers claim there are more stalls but the residents are yet to decide for themselves
"It looks empty this time. Are there fewer stalls?" asked visitor Kakoli Chakraborty of Purbachal. "Hasn't Egypt come this year?" asked Madhuja Pal of Ultadanga.
While last year, the fair hosted about 470 stalls, the Mela committee claims this year there are 542. But if the grounds still look empty it's because the area has increased disproportionately. Last year the fair was spread over 10 acres. But since the International Kolkata Book Fair took place at Central Park last winter, the corporation cleared encroached land next to the grounds. This year the fair is spread over 13.5 acres.
So this year, the fair has a lot of breathing space. This has allowed for some cosmetic changes. A huge office has been built facing the stage, with a viewing gallery of sorts on its first floor terrace. A floral gallery has been set up outside the office too. But many stalls have got displaced from their usual locations.
"Regulars expect the international stalls to be right next to the stage but this year we have been given space further down that alley. Shoppers cannot spot us now. And the fair is so wide-spread this year that many get tired before even reaching our stall," said Samser Alam, who is selling onyx showpieces from Pakistan.
The organisers, however, are claiming the new look of the fair has been appreciated. "Visitors are saying they finally have room to move about freely. They claim the fair looks so neat and clean that they themselves were feeling bad to litter," said an official.
The food court is on the land reclaimed from encroachers and although on Tuesday evening it was quite empty, the official said it was choc-a-block last weekend.
Fake scare
Incidentally after last year's fair, there were complaints about stalls passing off onyx from Agra as Pakistan's and saris from Burrabazar as Dhakai. The authorities have taken note and claim to have got genuine traders this time.
"It's true that there are fewer Bangladeshi stalls this year, in an attempt to filter out the fake ones. I feel conscious to go scrutinise their saris myself but I've heard from others that some of the products are still not genuine," says Keka Paul of Mabesha sari pavilion.
On the other hand, Bangladesh's Mojibar Rahman of Mousumi Jamdani House, says his sales have never been better. "We have been bringing original and exclusive products from Bangladesh for 21 years. Other stalls are grumbling about low sales this week due to rains and the cold but we're getting bumper business."
Cure for the chills
The Kashmiris have put up numerous stalls selling shawls, stoles, ponchos and pherans. "We're grateful for the sudden dip in temperature," said Momin Tariq on Tuesday. "If the cold spell continues we are sure to do good business."
Fashionable ponchos in several Kashmiri stalls cost about Rs 2,500, shawls Rs 3,000 and leather jackets, from an outlet in Tiljala, are selling for Rs 4,000.
A Rajasthan stall has got attractive footwear for ladies. Bright yellow camel leather soles with contrasting blue buckles for Rs 550 and block heel sandals with the heels and buckles done up with embroidery for Rs 300.
In another first, the fair has cars on display — from Maruti Suzuki, Mahindra, Hyundai… "As part of stock clearance car companies usually give discounts in December so it's a win-win," said Bappa Mondal, selling Santro Magna.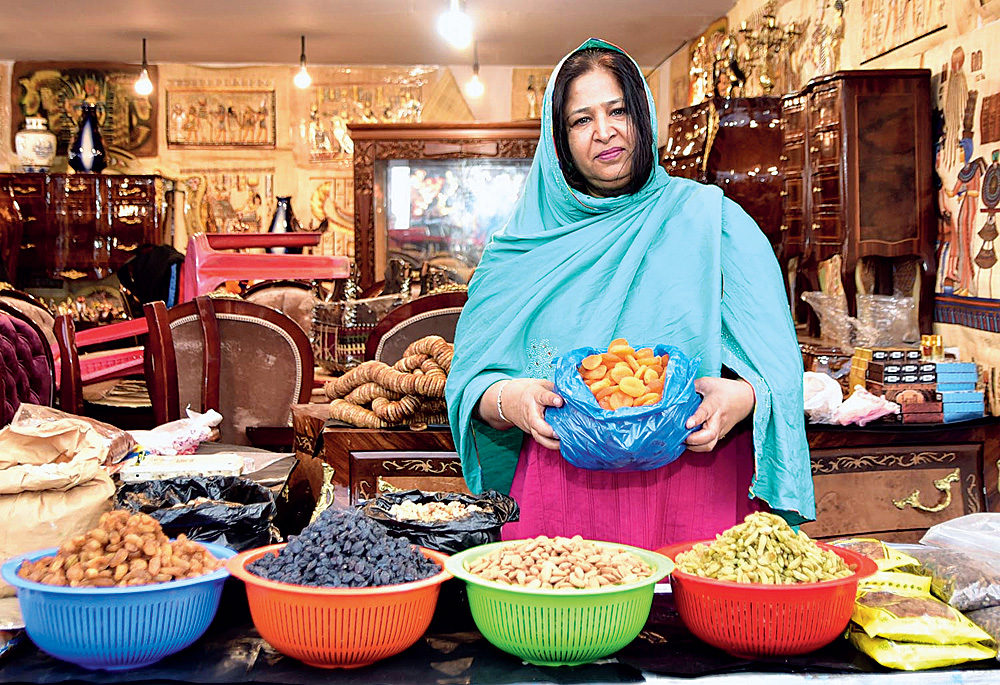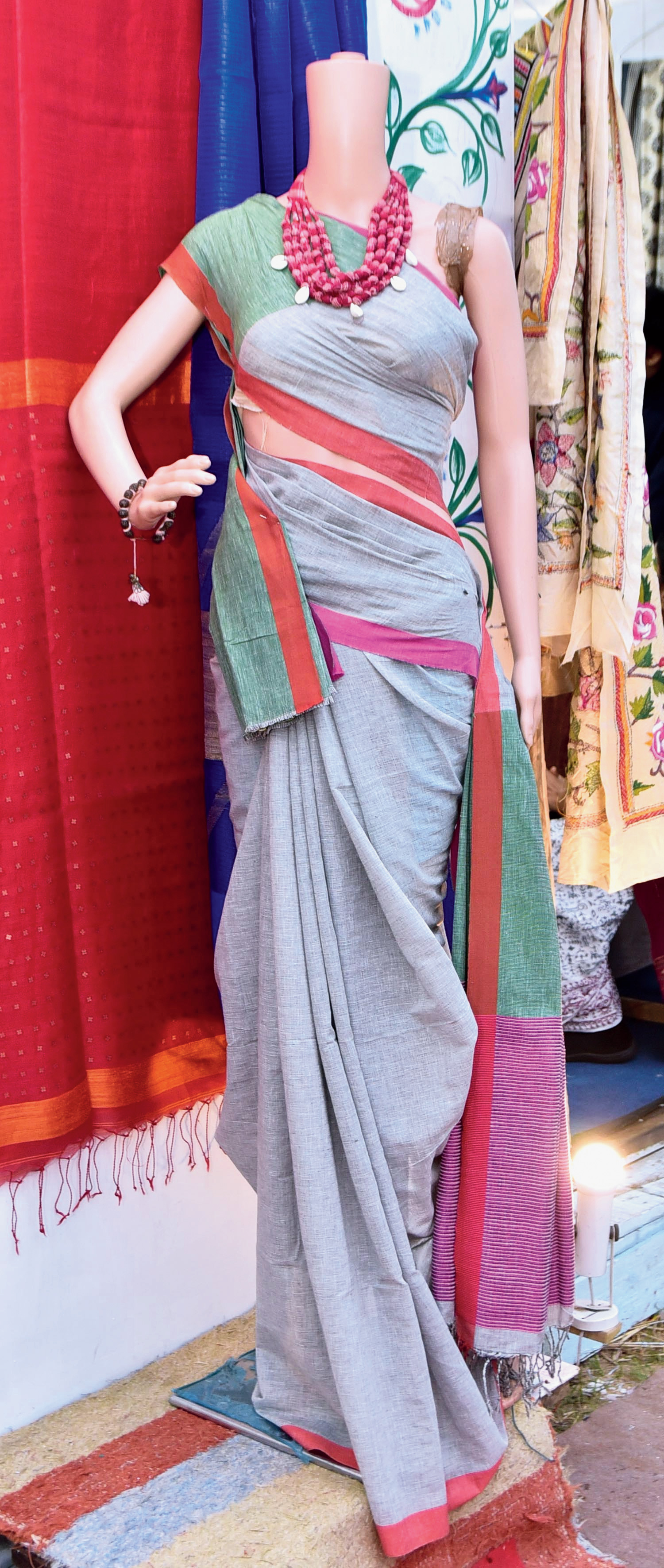 In the international section, Hanan Shams of Abu Dhabi has brought delicious Arabian black dates (Rs 1,600/kg), Iraqi saffron (Rs 400/g) and some green jeera that she says has medicinal properties. "They control diabtes," she says. "The dry fruits you get in the market could be a year old but I've picked this stock from fresh crops. They are less than a month old."
The Egyptian stall has brought beautiful showpieces, paintings and wooden furniture and the lamps at the Turkish stall, once again, have become the most popular photo op at the fair.
In case you run out of money, they've set up an ATM counter near the stage. You can stop for a cup of Kashmiri Kahawa tea (Rs 30) or Mission Hill's Darjeeling tea that has set up a stall.
"The Kahawa has saffron, crushed roasted almonds and roasted corn to keep you warm," says Bilal Manzoor, serving from the coal-lit tea making utensil samawar. They are selling the samawar too. A small-sized one costs Rs 10,000.
Mission Hill is selling cups of oolong tea for Rs 50 and also packets of white tea. "White tea is handmade. These leaves have to be plucked in a specific way and machine-processing would ruin its flavour," said Biplab Bhattacharjee, manning the counter. The tea costs Rs 10,000/kg and gets its name from its liquor, that tends to be greenish-white.
Some government agencies such as Hidco and Haldia Petrochemicals have a presence at the fair. Creative Museum Designers have pictures and miniatures of some museums they have built around the country and also a working model of the world's first nuclear reactor, Chicago Pile.
On Saturday, a Japanese musician will perform the clarinet and on Sunday Riddhi Bandopadhyay will sing. On December 24, Indranil Sen will perform and on Christmas, members of Salt Lake Sanskritik Sansad will put up cultural programmes.
The fair will continue till January 3 from 3pm to 9pm and entry is free.