That's the spirit!
Read more below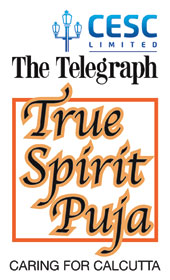 ---
---
On Panchami, they will be out on the streets, visiting 298 pandals across Calcutta and Howrah for the movement called CESC The Telegraph True Spirit Puja, being held in association with Kutchina. In the run-up, the judges of the contest gathered on Thursday at Park Plaza, the premier hospitality address of the Mukti group in Gariahat that opened its doors nine months ago. They were briefed on the points they needed to keep an eye out for — fire and electricity measures, crowd and traffic management, efficiency in waste management, drinking water, toilets etc. "The best thing about CESC The Telegraph True Spirit Puja award is that it promotes social harmony and inclusive growth by encouraging puja organisers to think about comfort of visitors and bring smiles to the lips of the less fortunate," said Amitava Shome, general manager, customer relations, CESC.
I used to admire the lights, fear whether the children with us would get lost and in a crowd, note with disapproval the narrowness of the exit. But despite being a chemistry teacher, never did I bother about use of plastic. I take a Band-Aid with me when I go pandal-hopping but had no idea that pujas could keep first-aid boxes. When I was ill, I had to stand all the while waiting for anjali to begin on Ashtami, wishing there was a place to sit. Today it touched me to hear talk of checking for wheelchairs at pandals.
Santa Mukherjee
Our Lady Queen of the Missions, Salt Lake, and a cancer survivor
Since the first year when I started judging TSP, I have ensured that the puja in my own para follows these parameters. One should practise what one preaches.
Anirban Mukherjee
CESC
I find a lot of similarity between what we teach children and the TSP checklist like maintaining cleanliness and discipline and helping others.
Mousumi Saha
Founder-principal, National English School, VIP Road
As an operation and environment manager, I hope to guide fellow judges on electrical safety and green concerns, like whether the material used is biodegradable.
Jayanta Roy Choudhury
CESC
It's a great initiative to promote visitor safety and comfort. The award motivates puja committees to do good work not just during the festival but round the year.
Mukti Gupta
MD, Mukti Group