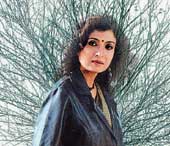 ---
Published 20.09.05, 12:00 AM
|
---
Cocooned in the hilly wrap of Kalimpong, divorcee schoolteacher Teesta (Debasree Roy) feels she can?t communicate with people any more. She speaks to the mountains (!) instead, and even when a much younger man (Badshah Moitra) tries to ignite her passion, she remains aloof. Her second marriage is on the rocks. Teesta is Bratya Basu?s second directorial venture after Raasta.
?Debasree stands out as a frigid and reclusive woman, though she has delivered more nuanced performances before.
?Watch out for Chandrayee Ghosh, with whom director Basu weaves a subplot of romance and rejection. Pijush Ganguly is worth a watch and so are cameos from Lily Chakraborty and Sudip Mukherjee.
?The lilting music scored by Tapan is a treat to the ears. Check out the soothing title track of the movie...
?There?s nothing named shades in the characters. Teesta is pristine white, while her ex-husband is pitch black.
?Soumik Halder?s cinematography is repetitive and monotonous, given that the lushness of the hill station offered a lot to explore.
?Sreela Majumder wasted in a three-minute role. One wanted to see more of her; what happened to her in the film is quite beyond comprehension.
Last word: So-so...