Tea workers rescue jumbo calf from drain
Sources say wild elephants had been roaming around at Banarhat in Jalpaiguri district for the past few days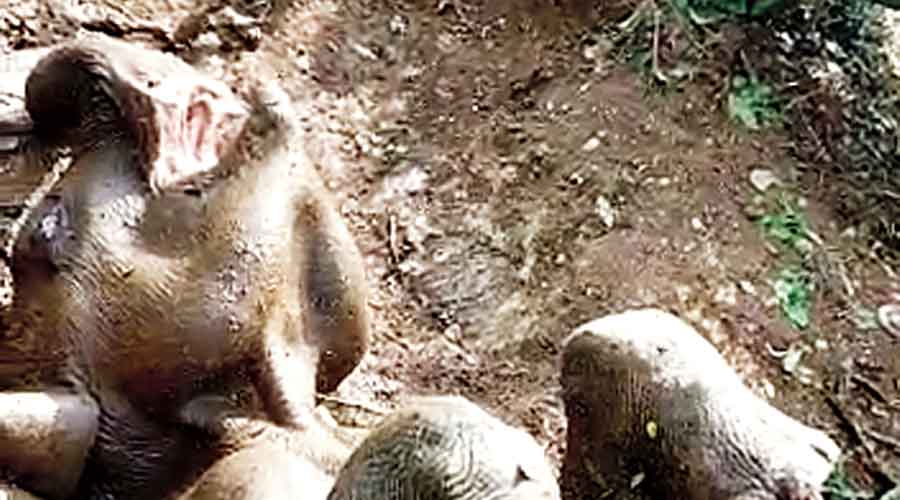 The calf in the drain of the Palashbari tea estate
Telegraph picture
---
Jalpaiguri
|
Published 15.07.20, 02:02 AM
|
---
An elephant calf that had fallen into a drain of a tea garden in the Dooars and got stuck in the mud was rescued by workers on Tuesday before foresters could reach the spot.
Sources said a herd of 25 wild elephants had been roaming around in some tea gardens at Banarhat in Jalpaiguri district for the past few days.
"We were worried over the movement of the herd and the workers were also on alert. When the herd was moving through our estate early this morning, a calf got separated. It slipped into a drain and was stuck in the mud," said Jayanta Sanyal, the manager of Palashbari tea estate.
The calf was lying upside down with all four legs up and shrieking. The management informed the forest department about the incident while workers started digging the earth near the drain.
"The earth was removed to make a slope and help the animal walk out of the drain. We had to be careful so that it didn't suffer any injury. After an hour, we could rescue the calf," said one of the workers.
The calf then headed towards Karbala, a nearby tea estate, in search of the herd.
Subhasish Roy, the range officer of Binnaguri forest range, said: "It took us some time to reach Palashbari as we had been to other areas to prevent wild elephants' entry. The calf has reunited with the herd that is roaming in the Banarhat tea plantation. Our men are keeping a watch on the herd that is expected to enter the forest in the evening."