Tea industry fear loss due to drought-like situation and hailstorm
North Bengal and Assam received less rain in March and April and it directly affected the yield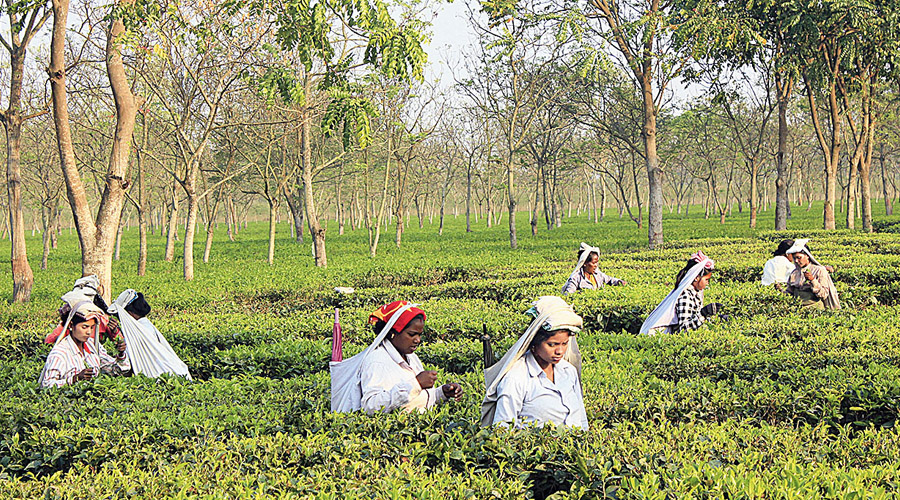 Workers pluck tea leaves in a plantation near Siliguri.
File picture
---
Siliguri
|
Published 22.04.21, 04:35 AM
|
---
Stakeholders of tea industry in Bengal and the neighbouring Assam — which produce the largest amounts of the brew in the country — are apprehensive of losing around 10 to 15 per cent of the crop during March and April because of drought-like situation and hailstorm.
"The industry had lost around 140 million kilos of tea last year because of the lockdown and inclement weather. We were hopeful of a fresh start this year but prospects now look bleak because of the drought-like situation prevailing in Bengal and Assam," said Prabir Bhattacharjee, secretary general, Tea Association of India.
He said tea bushes needed rainfall during the summer so that production maintained a steady pace till the arrival of the monsoon.
North Bengal and Assam received less rain in March and April and it directly affected the yield.
"Unless there is an improvement in weather, we apprehend that the production will be less by 10 to 15 per cent. A hailstorm has damaged tea bushes and even workers' quarters and some other properties in a number of gardens in north Bengal recently. Altogether, the situation appears to be grim," Bhattacharjee said.
He said there was production loss in the north Bengal brew belt in January and February this year. While around 40.4 lakh kilos of tea were produced in these two months in 2019, the figure has come down to 19.2 lakh kilos during the corresponding period this year.
Around 10.5 per cent of Assam's total tea production — which was 618.35 million kilos last year — is recorded during March and April. The two months account for around six per cent of the annual tea production in north Bengal. The total tea manufactured in the region last year was 387.46 million kilos.
A tea planter based in Siliguri said there had been a surge in tea prices in 2020 because of less production. "The low production was largely offset by the price rise," he said.
Representatives of tea planters met Union finance minister Nirmala Sitharaman in Calcutta on Tuesday and took up with her a number of issues pertaining to the sector.
"We underscored that there was a steady trend to import tea into India in the past few years. This has the potential to dent fortunes of the domestic industry. The central government needs to act on the issue," said a TAI representative.
Some of the other issues which the planters discussed with Sitharaman were the need to formalise the small tea sector, subsuming welfare facilities with national programmes and more initiatives to promote export.