Celebrations' bitter brew Tea Board of India's directive to celebrate 75 yrs of Independence draws flak from trade unions
They have asked what the Narendra Modi government has done for the tea workers and their families since 2014 when the NDA government came to power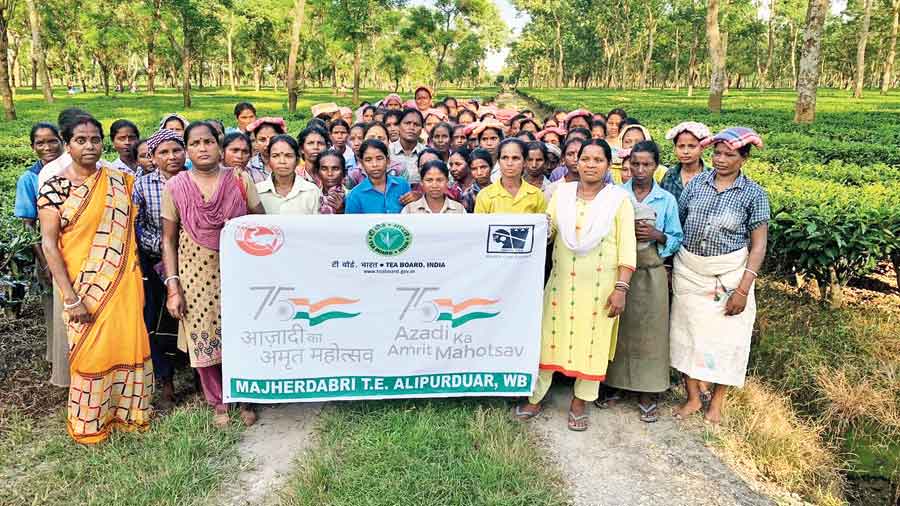 Women workers at the Majherdabri tea estate of Alipurduar district sing the National Anthem.
Anirban Choudhury
---
Alipurduar
|
Published 27.09.21, 12:52 AM
|
---
A directive issued by the Tea Board of India to to the tea industry of the country to celebrate "Azadi Ka Amrit Mahotsav" or seventy-five years of Indian Independence has drawn flak from various tea trade unions in north Bengal.
Tea trade unions have asked what the Narendra Modi government has done for the tea workers and their families since 2014 when the NDA government came to power.
Around six lakh workers serve this sector. 
On September 2, an official of the tea board issued a directive, saying that on September 26, each tea estate and small tea grower should celebrate the seventy-fifth year of India's Independence.
In the tea estates, workers were told to congregate and sing the National Anthem while small tea growers will join the celebration by planting around 1.50 saplings in the villages, the instruction went.
"It was stated that the management of a tea estate should hand over a packet of 250 grams or 500 grams of tea to each worker as a token of appreciation for participating in the celebrations," said a tea garden manager in the Dooars.
Accordingly, on Sunday, the tea workers were seen joining together in different gardens, holding a banner that was predesigned and sent to the gardens, and singing the National Anthem. 
After the event, they stood in queues, accepting the tea packets from a distribution point at the garden.
"No one has a problem if the workers sing the National Anthem. But the larger question is when the country is celebrating its seventy-fifth year of Independence, all that a tea worker gets is a packet of tea. Since 2014, we have seen central ministers, and even the Prime Minister, making tall claims about the development of tea workers but no initiative has been taken so far. It is unfortunate that the Centre wants the tea population to join in the celebrations but seems to be least bothered about them," said Mannalal Jain, a representative of Cha Bagan Trinamul Congress Mazdoor Union.
In north Bengal, questions have been raised over commitments made by ministers of the NDA government that they would speed up reopening of closed tea estates.
Before the Assembly elections of Bengal and Assam in 2021, the Union finance minister had announced a corpus of 1,000 crore in the budget, supposedly on  the welfare of the tea population, especially women and children.
"No fund has been allotted in any tea estate out of this corpus, though half the fiscal year has passed. This is yet another glaring example of the hollow promises of the BJP government," said Gopal Pradhan, a veteran RSP leader and a trade unionist in the Dooars.