TCS techie from Karnataka dies as his bike hits police guard rail in Calcutta's IT zone
Police claimed he was speeding along the east-west extension of the Major Arterial Road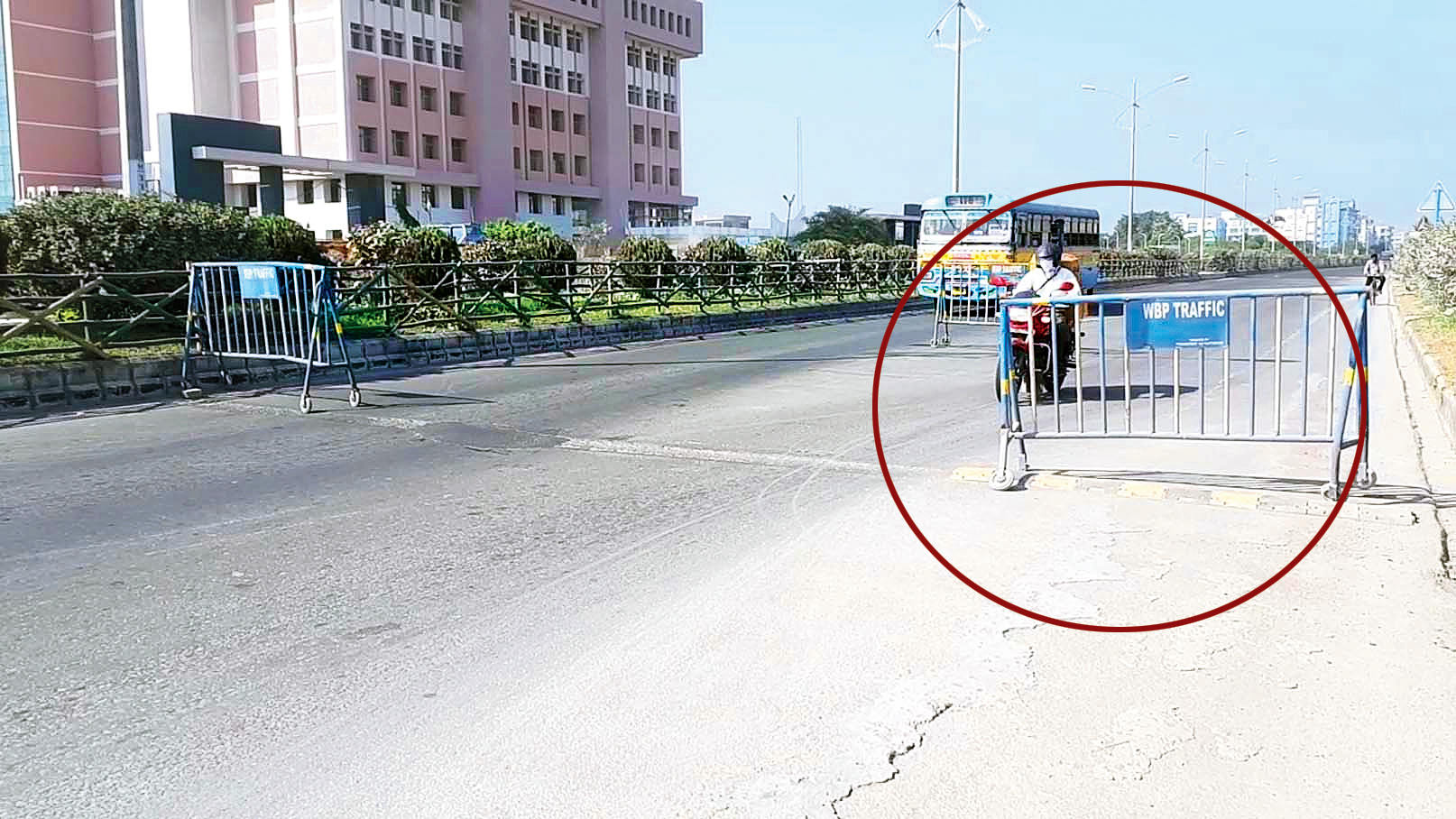 The accident spot in New Town. The crash barrier (circled) the motorcyclist had rammed into.
Picture by Snehal Sengupta
---
Calcutta
|
Published 30.11.18, 05:17 PM
|
---
A motorcyclist was killed when he rammed into a crash barrier on a road in New Town before hitting the divider late on Wednesday.
Subham Kohiwale, 23, a software engineer with Tata Consultancy Services, was headed towards Sukhobrishti housing complex in New Town's Action Area III from the Unitech bus stop when the accident occurred around 2am.
Police claimed he was speeding along the east-west extension of the Major Arterial Road.
Kohiwale, originally from Karnataka's Belgaum, was working in Calcutta for the past year, the police said.
The crash barriers Kohiwale rammed into did not have any reflectors or warning lights to alert two-wheeler riders or motorists.
Cops place the barriers in a zigzag manner to slow down vehicles.
Kohiwale was riding back to his rented accommodation when he crashed into the barriers and the divider, an officer of Bidhannagar commissionerate said. "He had tried to zigzag past the barriers at high speed. But he lost control when the bike's handle brushed against one."
He claimed cops had found the man's helmet tied to the seat grab rails.
He was flung off the bike on impact and he landed headlong onto the road, the officer said. "He lay on the road unattended for some time before some motorists spotted him and alerted the police."
Cops took him to the sub-divisional hospital in Salt Lake where doctors declared him dead.
"He lost lot of blood from a head injury. He was unconscious when he was brought in. We could not revive him," a doctor said.
An officer of the commissionerate said his family had been alerted.
Cops are working on fixing reflectors on crash barriers, Amit Javalgi, deputy commissioner, headquarters, said. "The accident is unfortunate... we will fix signage to warn motorists about barriers."
Woman injured
In Entally, a taxi hit a 65-year-old woman while she was crossing CIT Road on Thursday. Dolly Sarkar had to be admitted to hospital with head injuries. The driver was arrested and the cab seized.