Suvendu heckled with black flags by TMC supporters in Cooch Behar
Leader of Opposition says Bengal may face similar consequences as Maharashtra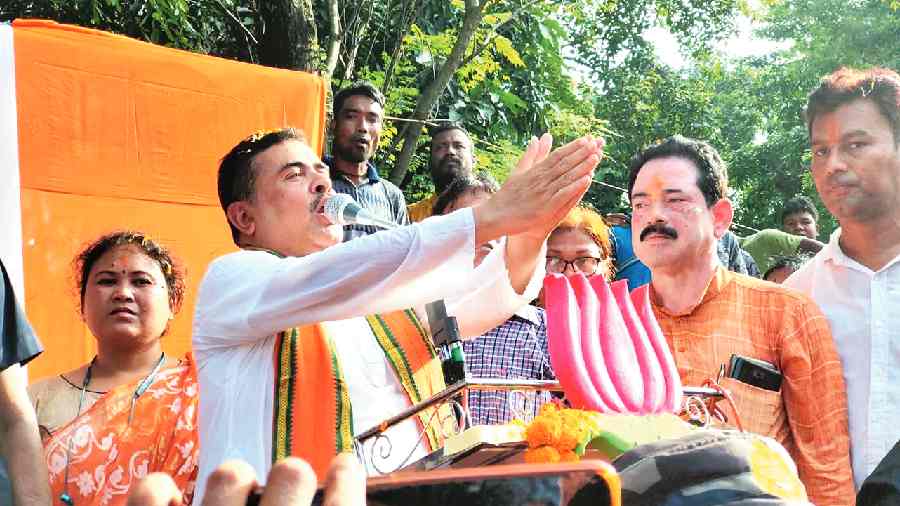 Suvendu in Cooch Behar on Monday.
Main Uddin Chisti
---
Calcutta, Cooch Behar
|
Published 28.06.22, 12:30 AM
|
---
Suvendu Adhikari, the leader of Opposition in the Bengal Assembly, faced black flags and "go back" slogans from hundreds of Trinamul supporters in Cooch Behar on Monday.
Suvendu had come to Cooch Behar town to attend a rally of the BJP for the eighth anniversary of the Narendra Modi government.
Trinamul supporters, who had assembled in Station Chowpathi, a prominent crossing of the town, waved black flags, along with their party flag, and shouted "Suvendu Adhikari go back".
Some of the BJP supporters, who were with Suvendu in but on bikes, chanted "Jai Shri Ram" in response. Policemen at the spot, however, managed to control the situation and the motorcade moved safely through the area. 
"He (Suvendu) has taken money from Sudipto Sen, the main accused in the Saradha scam. We demand his immediate arrest. Why is the CBI not taking steps against him? Today, our supporters spontaneously protested on the issue," said Partha Pratim Roy, district Trinamul chief of Cooch Behar. 
Since Monday morning, the political climate in Cooch Behar was heated up with leaders and supporters of Mamata Banerjee's party gathering in groups  a number of locations of the district headquarters and in some other towns of the district to demonstrate  against the BJP MLA.
According to Trinamul, protests were held at Khagrabari near Cooch Behar town and in Tufanganj, Dinhata, Mathabhanga and Sitalkuchi. 
Trinamul supporters blocked Bypass More on the Dinhata-Cooch Behar road. Party members also held a protest march in Cooch Behar town, shouting slogans against Suvendu and the BJP.
Suvendu, along with BJP MLAs and leaders, took part in a rally and spoke at a public meeting at Sunity Road of the town.
Suvendu said that just like Maharashtra where the Uddhav Thackeray government is in crisis as a section of Shiv Sena MLAs have turned dissidents, non-BJP governments of some other states including Bengal will face similar consequences in due course.
"We have to wait till 2024 when we remove this government of Bengal. It has just started in Maharashtra and will then happen in Jharkhand and Rajasthan. We will then reach Bengal," he said.
Suvendu also alleged that the Bengal government was changing the names of social welfare schemes funded by the Centre. 
"Everybody is aware that the crisis in Maharashtra has been created by the BJP. Such conspiracies will not work in Bengal," said Roy, the district Trinamul president. 
Protests against Suvendu were also seen in some other parts of the state, including Calcutta.
In Calcutta, Trinamul organised a sit-in demonstration in front of the CGO complex in Salt Lake, which houses the CBI and ED offices.
Babul Supriyo, the Trinamul MLA of Ballygunge, and party's state secretary Kunal Ghosh joined other leaders in the protest that continued for hours.
Also, the party organised rallies in Haldia and Contai, both known to be Adhikari's strongholds.
These activities were taken up after Sudipta Sen, principal accused of the Saradha scam, had alleged that Adhikari had blackmailed him and had taken money from him.
Mukul steps down
Mukul Roy, the Krishnanagar North MLA, resigned from the post of the chairperson of the Public Accounts Committee of Bengal Assembly on Monday.
In a letter to the Speaker, Roy has requested to accept his resignation, while citing health issues.
Roy, who had won on a BJP ticket in last year, however, went back to Trinamul, his old party, soon after the election results were announced. 
Since then, there has been a legal tussle between the BJP, especially the leader of the Opposition Suvendu Adhikari, and Roy, where the former has been demanding cancellation of Roy's membership while citing the anti-defection law.
BJP had also protested against the appointment of Roy as the PAC chairperson, since it is a tradition to appoint a legislator from the opposition to this post. The Speaker has, however ruled that Roy is still a BJP MLA.
On Monday, BJP claimed that Roy's resignation was a moral victory for them.
The party's co-minder to Bengal Amit Malviya took to Twitter, saying: "If Mamata Banerjee thinks she can coerce, lure or intimidate BJP legislators into switching sides without consequences for both, TMC and the legislators in question, it won't be the case. BJP is determined to put an end to Mamata Banerjee's unprincipled politics in West Bengal."