Storm hits three districts in north
Agricultural fields, houses and schools damaged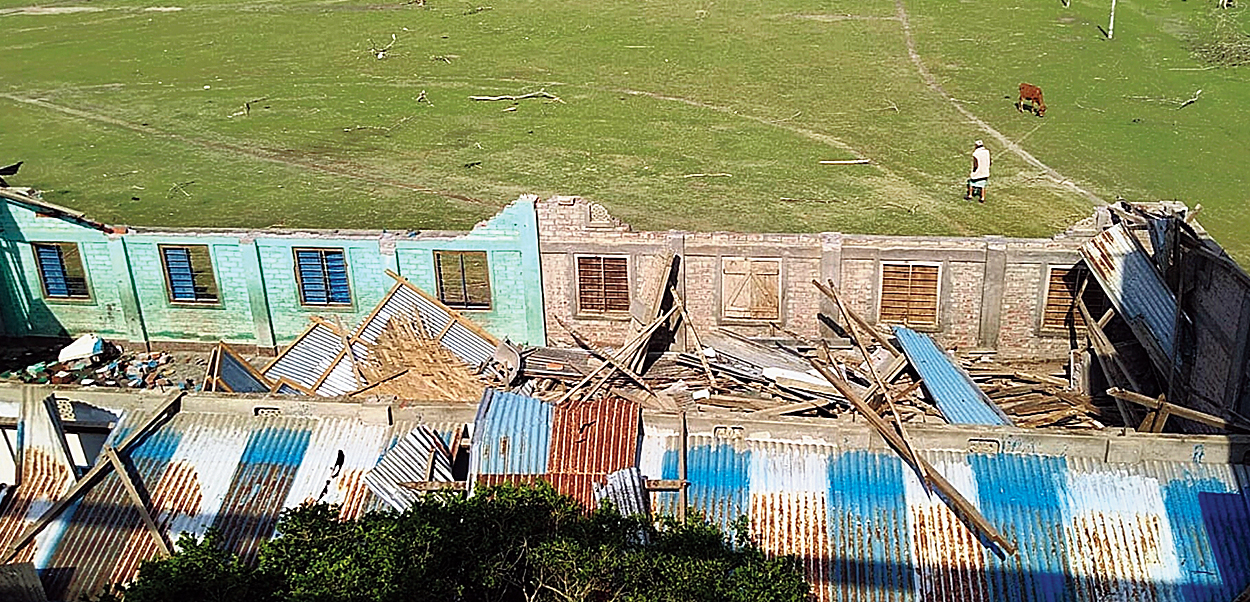 A primary school damaged in the storm at Marichbari in Cooch Behar district.
Picture by Main Uddin Chisti
---
Alipurduar
|
Published 10.04.20, 10:06 PM
|
---
A Nor'wester or Kalbaisakhi cut a swathe through different areas of Cooch Behar, Alipurduar and Jalpaiguri districts on Thursday evening, damaged agricultural fields, houses and schools.
Marichbari in Cooch Behar 2 block and several areas of Tufanganj subdivision were hit by the storm in Cooch Behar district. "Akhil Sutradhar, 55, died when a tree fell on him at Marichbari," Cooch Behar district magistrate Pawan Kadyan said.
According to him, around 150 houses were damaged completely and 400 homes were partially destroyed at Marichbari.
At least 25 persons suffered injuries. Hundreds of acres of corn and vegetables were damaged. North Bengal development minister Rabindranath Ghosh and former MP Partha Pratim Roy visited the affected areas on Friday.
Electricity supply was disrupted as trees had fallen on power distribution cables. The fire service department started clearing roads, while the power department was trying to restore electricity.
In Alipurduar district, over 2,000 huts were damaged in the storm that was accompanied by a hailstorm.
At least 10 persons suffered injuries and were admitted to the Alipurduar district hospital.
The most affected areas are Falakata and Alipurduar 1 blocks.
"The storm has posed an additional problem for us. We were already bothered over the lockdown and struggling to arrange food for our families. Now, the storm has left us homeless. We hope the administration will help us. We have been asked to move to relief centres but many are worried if social distancing could be maintained there," Harish Barman, an affected resident of Alipurduar 1 block, said.
In Jalpaiguri, around 250 huts were damaged in the Ramsai area of Maynaguri block. Twenty-one homes were destroyed at Budhuram, a village in the fringes of the Gorumara National Park.
The storm also affected some areas in the Malbazar subdivision of the district. "We are making an assessment of losses and trying to help affected families," said Pallab Bikash Majumdar, the officer looking after disaster management in the Malbazar subdivision.